Maybe for traveling reasons or to simply figure out a new way of living, you have decided to find out about cheapest way to stay somewhere for a month. And this exciting thing to do can also be pretty horrifying without proper reach and information. Today I'm planning to write about a few ideas that you can implement on getting an inexpensive deal for living someplace for at least 30 days.
Of course, it's not the easiest thing to do in a few localities. However, there's nothing bad to try, so keep on reading…
Let's Talk About the Cheapest Way to Stay Somewhere for a Month.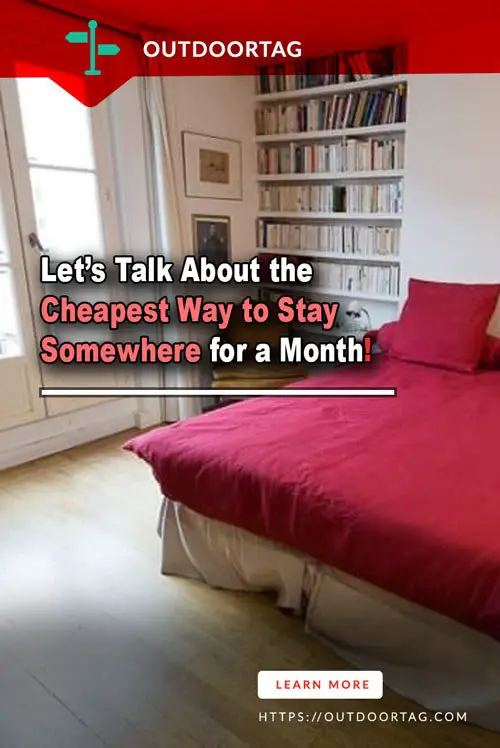 The whole hunt for spots that offer cheap deals with you staying there for a month can be intermediating. However, if you start with sensible and working ideas, there's a good chance you'll find something out. I've sorted down a few tips that can help you reach that goal.
Look for The Cheaper Residence After Arrival.
Now with the budget being your major concern, it's best to keep all negotiations to happen after arrival. In that way, you can expect a cheaper expense. The online information of a certain place where you're willing to stay is often in English. And it basically targets short vacation taking visitors or tourists.
When you arrive at a place, simply check into a short-term apartment. You can also opt for a cheap hotel. Then go around and tell your regular meeting people about looking for an apartment to stay. This method will get you more flexibility budget vise compared to what you've found online.
Staying at Hotel as A Permanent Guest.
Now you can simply choose to live in a hotel for a month. It's going to be an extended stay and some hotels will provide you special services. You can do your research and find affordable ones and choose to spend a few nights outside doing other activities such as camping or visiting a family member.
That way some night stay cost won't be added to your bill. There are many other fantastic tips you can use for making the extended stay at the hotel less costly and more budget-friendly. Finding how much are extended stay hotels per month can greatly help in this case.
If you are planning to move somewhere in Asia, then know that a few popular parts do have a lot of digital nomads. And for that reason, a whole system instead of rentals are available in the areas. Extra room and daily maid service included tiny hotel room like systems are very popular. You can even manage to find short term rentals inside apartment buildings.
Read Also: Guide to Choosing a Hotel to Stay In
Trying Home Exchange.
It is not a good idea for those who are basically homeless. However, if staying the whole summer at your home seems pretty grounded, then maybe the house exchange idea can help. There are some home exchange websites.
You can simply sign in and find someone interested to trade places. In cities like Manhattan, this is a very common and easy thing to do. However, it may not be very flexible for Oklahoma or similar cities.
House Sitting Can Also Be an Option.
There are many examples where a traveler finds home base through house sitting opportunities. However, make sure the website you use for finding such thing are legit and trustable.
You simply need to do some chore for people while they let you stay at their place. It could be as basic as taking care of their pets to even watering the plants. The main motive usually is to make a house look occupied. In some cases, the owners also provide bikes or cars for commuting.
Read Also: Where to Live Temporarily
Trying Hospitality Exchanges.
Another fantastic idea can be finding someone who already lives at the place you're willing to visit. If you manage to find such a person who is offering a hospitality exchange, then this could be a great opportunity.
As there will be not only a shelter managed but also a person you can hang out with. This is a great way to involve and experience other cultures. Saving money comes as another bonus part of this plan. There are quite a few websites that can help you find such a partner.
However, you may have a bit of difficulty with staying at a stranger's place. And also, there's a matter of safety. Usually, the website where you find such open-minded friends willing to help, also take some actions assuring your safety. You need to check and get information about it though.
Dorms, Hostels, or Halls.
Hostels can also be an option for someone who's willing to spend a month at a certain place. This is basically a few people sharing facilities and space together so that the whole cost can be also divided among themselves.
As someone with a temporary need of residence for only a month, this is more than enough actually. There are dorms with single, double, and tiny rooms designed for travelers. You may believe that hostels are a very dirty and gross place, however, that's just a myth and nothing else.
If you manage to find a dormitory that has good services, this should not be a case. Also, with traveling becoming a regular thing for many people, hostels are also improvising their services and environment.
Watch This!
Wrap Up
Finding the cheapest way to stay somewhere for a month is always varying from one person to another. The ideas we just talked about above are pretty helpful and make sense for someone willing to stay for just a month in a certain place.
Of course, there are many more ways that are cost-effective and also convenient. But these were the most common one's travelers and tourists like to opt for. Hopefully, you'll be able to find yourself cheap accommodation for a month with these ideas.