The arrival of summer often means sitting down and making a list of things you need to get done . This list usually includes buying some extra sunscreen, getting those grills cleaned up for upcoming summer parties, and also uncovering your outdoor patio furniture. The last one is what we are going to talk about today . The interesting part is, we'll be focusing on how to clean patio furniture with vinegar used recipes. Yes, the usual vinegar from your kitchen cabinet !
How to Clean Patio Furniture with Vinegar Made Cleaning Recipes
Since you may have patio furniture made from different materials, it's only fair to think about the diversity and include more than a few varying tips for cleaning. Let's talk about the vinegar cleaner recipes depending on some of the most common patio furniture materials .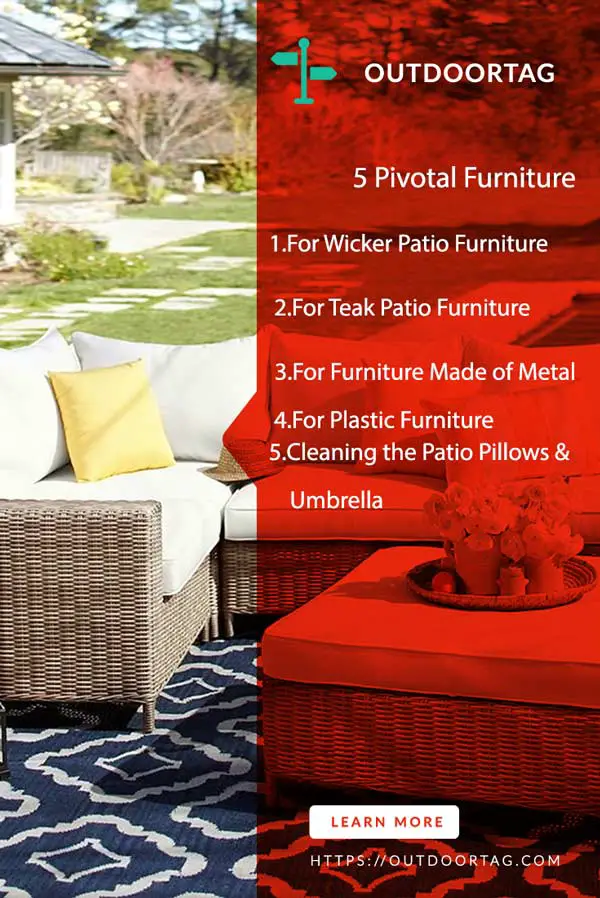 1. For Wicker Patio Furniture:
Rattan is one tropical climbing plant that is the main material for wicker furniture. Decks, patios, and porches are often seen well glammed with this go-to option for quite a few years now. It's one exceptionally popular patio furniture that uses an astounding weaving mechanism for the creation. It's also one wonderfully easy to clean patio furniture you can ever have. So, if you are a proud owner, there's no need to stress about messed up long cleaning sessions. Things are going to be pretty simple and straightforward.
Now coming to the recipe, you need a quarter cup of ammonia, one-quart warm water, and of course two tablespoons of white vinegar from your pantry. This is a go-to cleaning solution that you can use for cleaning such wicker furniture without the fear of any damage.
Make sure to use a vacuum for occasional dust, dirt, and grime elimination from your Wicker furniture. Also, don't forget about those spider nets hidden in corners mostly. These are seen more on the crevices of furniture. A low-pressure hose can be your savior to get the trouble of excessive dirt build-up out from your life.
Once you are happy with using hose off, look at the weave. You need to ensure it has gone through no movement. However, if you think it has moved a bit, simply use your fingers to get it back to its place gradually.
Also, sometimes you may think that vacuum cleaning was not sufficient. Or maybe your wicker is just suffering from too much soil. Just use some sponge in that case and any oil-based soap. Using warm water, you want to get rid of that rough rigid dirt. The go-to vinegar cleaner may not be very strong to fight with too sturdy dry dirt. But it's excellent with the mild ones.
After cleaning rinse and let it dry for required time. Also, you want to stay further away from any sort of foam cleansers. The foam will definitely slide into the woven strands. It can start to collect and that is enough for causing deterioration. You should also never sit on wicker furniture that is yet damp. It will start to sag and that's horrible news.
2. For Teak Patio Furniture:
Because of how durable this material is and the way it makes maintenance super easy, people love packing their patios with furniture made by these. Yes, we are talking about teak wood. This furniture is usually treated or sanded. The teak oil is used for treating while sanding shows original form of this material. There's very high resistance to mold and rot with this material. However, if you care less about proper cleaning, mildew is still not absolutely impossible to take place on the surface.
So, it's best to bet on a proper clean up session that helps in avoiding any sort of discoloration plus the mildew buildup issue. Use a deck cleaner recipe for regular cleaning. One cup of vinegar mixed with a gallon of warm water is all you need to make a home-made fantastic solution.
Use any plastic brush to gently scrub the areas but make sure it is soft enough. Never try any metal brush with teak furniture. It's very damaging for a wooden surface. Focus on water stains before cleaning. Let the mixture sit above the surface for fifteen minutes. And then you need to rinse the areas with clean water.
In case your teak furniture has gone through serious exposure to certain elements, you should try looking for a more severe store-bought solution. A polishing session after that will also help in restoring the lost shine of your patio furniture.
Also, you can keep any water-repelling away by using a suitable light coat. This will also prevent any chance of staining. Occasional cleaning and polishing are proven to help in maintaining the new-like shine of teak patio furniture.
3. For Furniture Made of Metal:
Metal made furniture often means materials such as iron, steel, and aluminum. These are usually durable and comes in various designs to make the patio look rough. There are some key factors to remember while dealing with patio outdoor furniture made from steel, aluminum or metal.
First of all, get rid of any cushions sitting on the furniture. Use a squirt of dish soap into a bucket full of clean water. Then through a gentle brush, you need to gradually scrub the surface as much as you can.
This type of material made furniture that is very easy to rust will need some extra caring. Usually, metal frames are free from such issues but the others are pretty weak at it. you can simply go for a wax paste or naval jelly coat application on such furniture. Aluminum is a non-ferrous metal so there's less to think about it. But if you use steel or iron made patio furniture, it's something to pay attention to for sure.
Also, you should use some sandpaper or steel wool to gently get rust out of the spots. That's usually how you can win over the rust situation. These tools are pretty safe for buffing corrosion. And there's zero to no chances of damage while doing so.
Now for the vinegar part, it works excellently to treat oxidation issues with metal made patio furniture. You can use equal portions of vinegar and water to create an anti-oxidation solution. This will help as a metal polishing paste to treat the furniture. And so, the patio furniture will lead towards rust and corrosion rarely.
Also, with aluminum patio furniture, the only way to stay on top of it is by always following basic cleaning regime. That's the only proven way to keep the natural luster alive for years. You can use non-abrasive patio furniture cleaners only to treat scuff marks on aluminum. Don't go for abrasive options or even brushes. These are extremely harsh for metal. Soft and damp clothes are your best bet here.
If you notice that your wrought iron furniture looks a bit dull or old, do one thing. Go for a sandblasting session. Also, you can try powder coating. This will add some extra protection and at the same time improve overall looks.
4. For Plastic Furniture:
The cheapest and usually short time used furniture one owns is made from plastic. These are great for huge families where durability is not the main concern. But enough sitting space is a legit concern. How you can deal with plastic furniture cleaning requirements, let's talk about that.
For the most basic cleaning, you simply need a quarter cup of dish soap mixed with one gallon of warm water. Use a scouring pad and clean the plastic surface. Coldwater won't be able to melt down the dirt and grime. So, don't use that. Also, avoid extremely hot water since that will melt the plastic itself.
To get rid of mildew, basic cleaning won't be enough sometimes. In that case, you want to add one extra thing into the soap water mixture. And it's oxygen bleach. Two tablespoons should be enough for the ratio. You can make the solution strong for stubborn mildew issues. In that case, one cup of oxygen bleach should go with every gallon of water.
Now for colored plastic furniture, vinegar solutions are super effective. You need a quarter cup of white vinegar mixed well with one quart of water. A spray bottle will help to apply even and better. After spraying, wait for at least ten to a maximum of twenty minutes. Then you can rinse the colored furniture nicely. Using a hose here will take less time for rinsing. Then let it dry under the sun for a while.
One important note here is that if you have pretty old plastic furniture, then vinegar can cause discoloration. So, try the solution first on a tiny and less visible area. Then if you find there's no negative reaction, go for using it.
Finally, use an automotive wax paste to apply a decent coating over plastic patio furniture. This will help to preserve the condition better. Simply apply the coat, wait for a few minutes, and wipe off any extra residue with a clean fabric.
5. Cleaning the Patio Pillows & Umbrella:
Pillows, cushions, and umbrellas are often used along with patio furniture. So, when you are looking into the outdoor stuff cleanup matter, these should also include in that list. Here's what you need to do.
For the throw pillows that are okay with machine washing, simply put them in your washer. You also want to put some tennis balls inside. A gentle cycle along with the balls will get rid of all possible dirt. Also, go for dry on low to make sure there's no moisture left. Including the balls will help with quick-drying too.
Now the ones that are not meant for machine washing, simply take out cases from those pillows first. You can wash the removable covers in washing machine most probably. Do this the same way you'd wash any regular fabric or clothing.
Also, you want to wash the fabrics separately. If even one little stain gets onto your piece of furniture, it's going to definitely decrease the vibrancy of colors. This will also lead to making your fabrics worn out too quickly. So, in the case of small areas that need washing, you should try spot cleaning. Simply soak a sponge with some soap water to clean the problematic areas with spots.
The patio umbrellas are more prone to get attacked by mildew. You need to use a vinegar solution as well as a good scrubbing brush for this patio furniture. Using the brush first, gently scrub as much dirt as possible. Now you want to make a spray with similar portions of vinegar and water. Squirt this solution to problematic areas that still need cleaning.
Let it stay that way for at least half an hour. This will allow the mixture to soak nicely on those spots. Now again bring the brush and go for another scrubbing session. This time also you want to be enough gentle. And that should be perfect for getting rid of any leftover mildew from your patio umbrella. You can use a hose to spray it with water for rinsing. Let the umbrella get dry under sun. You should skip the scrubbing for regular cleaning and try it only once in a while. Using a fabric water repellant to the umbrella will also help. This will keep it dry and avoid any sort of water damage chances.
A Few Points to Keep in Mind:
Using oxygen-bleach instead of chlorine bleach will be more effective. It's also a more environmental-friendly option to go for.
While using these chemicals, you should wear proper gloves to protect your hand's skin.
At all costs, avoid using trisodium phosphate or ammonia category chemicals for metal furniture. These are surely going to result in oxidation.
Wrapping cushions with plastic is not a good idea. This will disrupt the cushion to breathe and also it causes more moisture preservation inside. Hence, there will be more chances of mildew forming.
The fumes after mixing ammonia and bleach are extremely dangerous. Never mix those two things.
And You Are Good to Go!
Looks like now you have a pretty broad wisdom about how to clean patio furniture with vinegar recipes aside to much more important information. This whole outdoor furniture cleaning matter is extremely crucial topic for those who love to maintain a clean and healthy environment not only inside their house but also at the patio outside.
After being terribly exposed to various winter elements, your poor patio belongings need some affection before summer rings the bell. Don't Deprive Them of That Much-Needed Attention!