Not everybody spend time and give enough effort to make their patio look beautiful. And if you are not like these people, you've got a pretty nice will to live elegantly, kudos. Decorating a patio can't be the only graceful thing, I know. But hey, it's still part of the whole process. Maybe adding some pieces here and there at a time will make your space much more livable as well as comforting.
Patio lights are one of those few items that can make a world of difference. The fact that you are pretty caring towards the patio ambiance will be one great impression on every guest visiting your place. Now some don't like the idea because nails and drills are a big no for them. But even without those holes, you can light your patio with beautiful lighting. And to do so, there are a few notes you need to take on how to hang patio lights without nails.
Here's How to Hang Patio Lights Without Nails
Some people know how to hang outdoor string lights on stucco. For them adding patio lights isn't a very complicating thing. Still, let's get through the a few ideas that you use to make things easier, even for those who have no clue. Keep on Reading…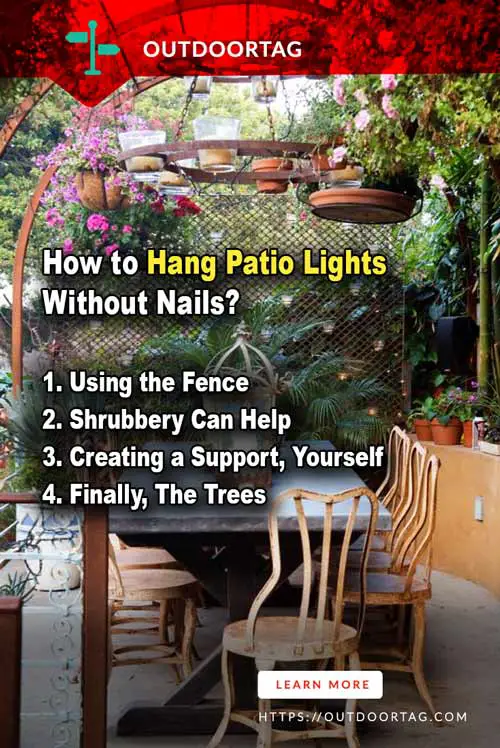 Using the Fence
Some of you may have guessed that I'll start by talking about using a tree. But no, let's start with something easier. And that's through using the fence. You need to decide on which portion of the fence those light can hang from. Below the fence, simply lay light on ground once you decide that spot. This way you will be able to get a better idea of how the whole thing would hang.
There's no hard and fast rule of how exactly you should be hanging the lights. It's more dependent on your personal preference. But leaving a little slack is usually the one thing everybody should be doing. Instead of pulling things too tight, this works better.
As soon as you are done deciding on your favorable layout, focus on attaching it to the fence. Since you don't want to make any marks with hooks or nails, draping is the simplest alternative. Keep on draping the patio lights along fence according to your preferred layout. Also, you want to ensure that the light is closer to a power outlet.
Shrubbery Can Help
When I say shrubbery, it's not necessarily referring to the trees nearby. It can also be a planter. There are more than a few fixtures inside your garden that can play the role pretty well. The only trick that you need to work on is making layout look good. Because usually with these items, it's a bit complex to achieve a cute result unless you are a deco master.
And this is due to the fact that all of these fixtures are actually quite closer to ground. Unlike the more likely to be used for such stuff for example gazebo, porch pole, or fence. If you are not paying attention to making the layout look nice, there's a good chance whole thing will seem pretty funny at night. However, once you successfully are done with it, the absence of nails won't be bothering at all.
Creating a Support, Yourself
Making a support yourself is also a great idea for such intension. However, it will need some money and time to make things work. Also, you will need to put some effort into it. But the results are so much worth it if you do the right way.
You can go with a lot of ways of making support. But the most useful one consists of buckets and poles. This way you also get to enjoy portability benefits. Rather than working on permanent support, go for the portable ones that will be easier to move if there's a need.
You need heavy-duty buckets though. Simply put the support poles inside these buckets. And then fill the bucket with heavy materials to keep it stable.
When choosing poles for this task, go for wooden made ones. However, if you can't access them, then PVC pipe and hollow metal poles work as well. If you're wishing to make it a more permanent type use concrete to fill the buckets.
The poles need to be cut into your preferred height. Then place them inside the bucket to later fill it with heavy material you chose. After that, simply hang the light on it with your creativity. This patio lighting idea is not just more stable than others but also very beautiful to look at.
Finally, The Trees
And the last one is more obvious helper, a tree. You can definitely hang any outdoor lights on trees and plants. However here you must measure the string light's length. And then get a measurement of trees' height.
The light needs to be longer than distance between two trees you're planning to use for hanging those. If that's case, continue the process. You can then throw patio lights on the branches of chosen trees. And that will be enough to hang them properly. Use some sticking tape to hold both ends of light so that wind can't suddenly cause a drop. And finally, you can plug the lights to enjoy a dreamy view.
Some plants can also hold the lights on top of their shrubs and bushes. You can spread the light on it to make the layout look better. Just make sure the light does not look too clumpy.
Conclusion
And that was how to hang patio lights without nails. Not using those holes and marks making tiny objects is never going to make your wish of hanging the lights any less good. Just a bit of thinking outside the box is what you need. And the end results should be in your favor. There are a few factors that play a good role in how the whole hanging light will look on your patio. You need to work on those as well.
The mood that ambiance of light creates is beyond beautiful, with no denial of this fact. The proper type of patio light and a good plan to hang them can really make your patio stand out to visitors.