A quite popular and laid-back region of southern California is Orange country. Because of having one of the finest and hugest rides, shop, and restaurant complexes, it's pretty loved by locals and visitors. And the complex is called Anaheim's Disneyland Resort, you might have heard about it.
Due to the pandemic, outdoor business and services were kept closed and that's what govt. basically instructed the region to do. However now it seems like things are going back to normal but then again, everything is still questionable with the virus is behaving weirdly. So, is outdoor dining right now allowed in orange county? If you are having similar queries (which you definitely are) then this piece of short writing is going to help you hopefully.
Finding if Outdoor Dining is Allowed in Orange Country or Not.
According to the official's, the stay in home orders is coming to an end and so, local restaurants can go ahead with their outdoor service once again. That means outdoor dining should be okay to try at the moment.
Just keep in mind that that Orange country is very likely to bear the purple tier restriction seriously even with such orders. It's for sure under the red tier, which is a less restrictive regulatory system.
So, from museums to theaters and of course dining in restaurants is likely to continue with their services. And this includes an outdoor dining facility. Once again starting to feel like everything is normal surely will bring a big relief from the locals.
The government made such changes to let people breathe a bit freely believing that the normal form of life is making a comeback. Undoubtedly, one should still follow all the safety protocols and take maximum measurements for protection against the virus.
Now even under the red tier, services are probably going to still face some restrictive measurements. For example, retail stores may allow 50% capacity instead of the before 25%. While with restaurants, it should not be more than 25% capacity.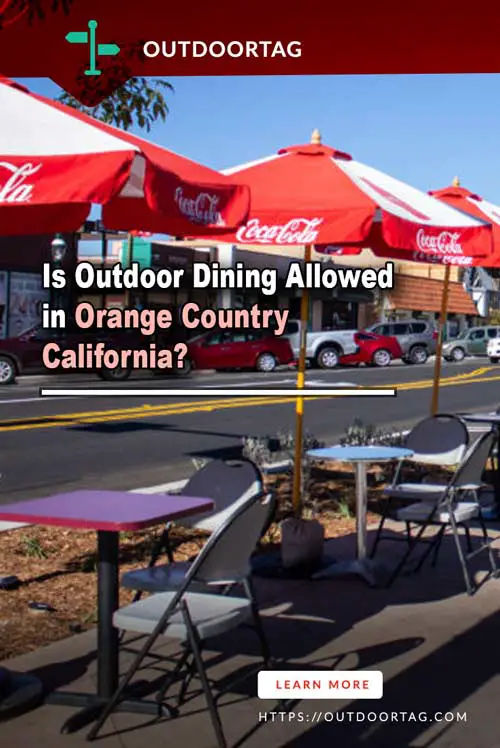 A Few Outdoor Dining Options in Orange Country
Perhaps after finding out that outdoor dining is a possible scenario in the beautiful orange country, you'll also want to know about a few outstanding spots to try the thing out. Here are a few options to go for.
Rancho Capistrano Winery
One of the hugest wineries in Orange country is this place. it's also a winner of awards for providing the best patio dining services on lunch. People love the wine available here. You can enjoy your moments in the large tasting bar. Also, the lounge is pretty comfortable as well as huge. There's a heater, fireplace, and trellis to make the visit calming. Friday and Saturday evenings are when the place holds live entertainment on the patio.
Benchmark
You can make an early reservation before visiting at Benchmark. This place is wonderful for having brunch; however, the menu could be limited due to covid. Also, the prices are really practical.
A whole bottle of champagne will cost you like eighteen dollars, which is wonderful. Their dishes are praiseworthy and also the servers are very friendly. A bit issue with finding street parking could be a case though. But overall, you are more likely to love the experience.
TAPS Brewery & Barrel Room
If you've been recently loving spots that host fun events, games and at the same time are pretty relaxing then don't forget to check out TAPS. This place is loved by many spots that have wonderful rotating beers to enjoy on tap.
Watch the game on TV and also, outdoor seating service is awesome. Right next to the bar there's a food truck with delicious items to try. It's a fabulous place to visit with friends instead of bar hopping or binge drinking.
Nick's Laguna Beach
If you are close to Laguna Beach, then do make a visit to Nick's Laguna Beach venue which is basically American food serving place. They have fabulous bar snacks as well as cocktails of a unique range too.
Their wine list is also pretty extensive. The outdoor patio is mesmerizing and comes with many artistic touches and décor highlights to give your mood an oomph. It's many people's favorite spot for grabbing a drink, simply dining in, or escaping for a moment from regular hectic life.
Outdoor Speak: You might be thinking about purchasing a piece of outdoor furniture after reading this post! Read our post to find out — What Outdoor Furniture Lasts The Longest.
Wrap Up
And that's all for today. You now know about the outdoor dining situation in orange country. The whole matter is quite normal right now, but we never know what covid has to form into in the coming time.
So, in all situations, please be careful both inside and outside of your home. Also, if you are likely to visit a place in the orange country for some outdoor eat and treat, don't forget to check at least one spot from the ones that I talked about today. See you soon for some other fun topic.