Movies that show family road trips in their campers and RVs usually make people nostalgic with the whole experience portrayed in such a beautiful way. Well, that does not have to be a movie scene when you are someone who love taking your camper or rented RVs to enjoy family together time somewhere far from home.
And it does not even have to be super far if there are national parks that allow such vehicles for camping. Some people love the fact that there are national parks that allow free camping. By the way, if you're wondering can you camp in the national park for free, then go ahead and find more about it.
While today we are actually focusing on something else, and that's the whole camper length limit matter. If you are wondering is there a camper length limit in national parks and it's making you think twice before finalizing a trip, then get your confusions sorted by sticking till the very end today.
Is There a Camper Length Limit in National Parks? – The Answer.
Yes, in most cases, there's a length limit that you must follow for camping inside national parks with the camper. Let's find out in detail about the entire thing.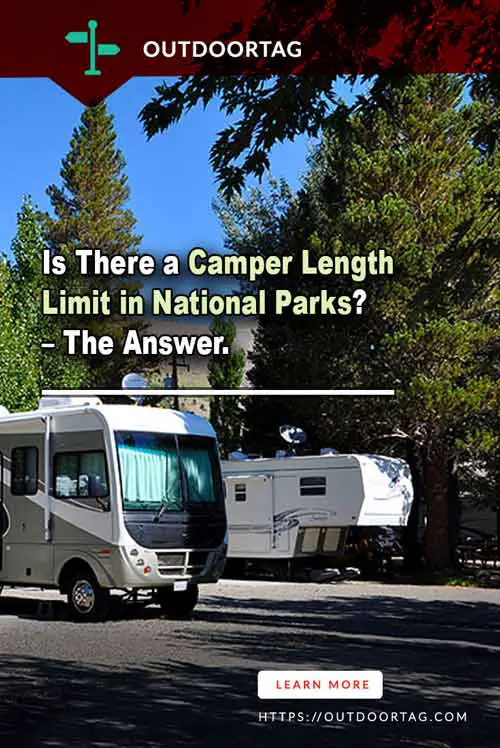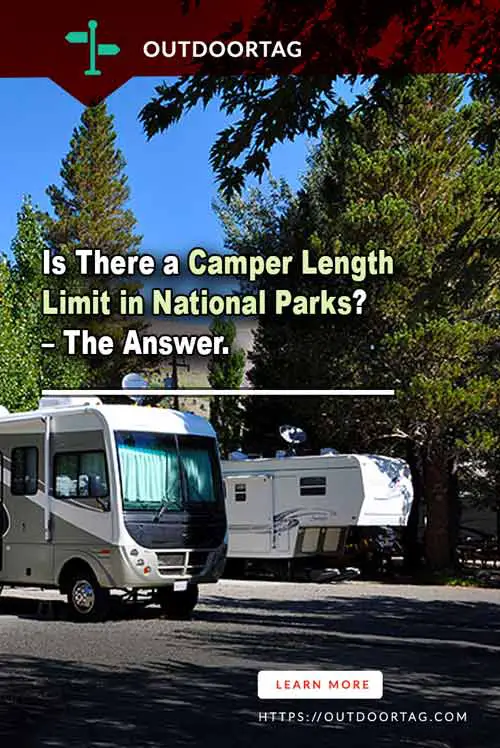 The Maximum Lengths for Campers or Trailers in National Park
Depending on which park you are talking about, the maximum trailer length ruling can actually vary a little bit. However, if we consider the very general or average figure, then it's somewhere close to 27 feet basically.
But then again, there are also parks that are capable of accommodating the 40 feet long ones too. In such a case, you can go ahead with your huge camper without any problem.
There are also certain parks that come with dump stations. You can even find electrical hookups sometimes. The best way to find out about these thing's existence is by directly checking with your preferrable park. Also, you'll be able to grab some information on the specified maximum length matter along with available facilities details.
About RV Length Restrictions.
Because of a benefit that allows you to go literally anywhere and at any time, RV can be the best thing to own when it comes to ensuring no compromise with comfort as well as space. But if you are planning to take it to the national or even the state parks, length limit can make things a bit difficult.
The RV length restrictions by state can vary and you need to specifically find out about it going through the rules and regulations. Then again, there are parks that don't even mind the RV size limits and simply grant you access. Just like I said earlier, things can be different from park to park.
The average length allowed for RV is 30 ft maximum. There are a few national parks that allow 40-ft RVs as well. Very rare of them will go up to 50-60 feet. However, to make things safe, consider the maximum length to be not more than 30 feet with an RV.
So, you can already guess that the point of "bigger is better" does not apply to folks who do consider taking their RV to national parks every now and then.
A Much-Needed List Of National Park RV Length Restrictions – Get Some Help.
How about we actually take the examples of a few really popular national park choices that folks love to take their RV to and enjoy free time with. This should also help you have that general idea I'm trying to provide.
Let's go through some of the national parks to know about their size limit on campers or RVs.
One of the hottest destinations that massive RV owners love is Glacier national park. There are fabulous campsites to enjoy here and you'd love to bring your RV in one of them. You just have to make sure your RV is not crossing 35 feet length limit. Yes, that's the maximum length restriction that Glacier National Park allows. Also, keep in mind, there are around 7 out of 13 campsites that allow RV.
Then we have the Yosemite National Park, probably the most popular one out there. You have the flexibility to choose from 10 RV accepting campsites here. So, it's a pretty amazing spot to choose. The maximum RV and trailer length with this park is also pretty wide-ranging.
Yes, here you'll find differences in sizes for RV and trailer. The Yosemite Valley will let you in with your RV if it's not more than 40 feet long. And if you are bringing a trailer, then it should not cross 35 feet size limit. There are other campsites as well where the max trailer length for campgrounds can be less than 24 feet while for RV it is 35 feet.
The next one is Yellowstone, the US's very first national park that has 12 campsites for you to choose from to bring RV on site. There's one of them that even allows the huge RV. This National Park trailer length is 40 feet maximum, and this refers to combined length.
The RV length limit for another popular spot, Zion National Park is 19 feet. This is an example where the limit is pretty low and something that can help us with having a general idea.
Check Out The Camper Length Limit in National Parks.
| | |
| --- | --- |
| Name | Camper Length Limit |
| Acadia National Park | 30-35 Feet |
| Badlands National Park | 40 Feet |
| Canyonlands National Park | 28 Feet |
| Everglade National Park | 45 Feet |
| Grand Canyon National Park | 50 Feet |
| Mesa Verde National Park | 46 Feet |
| Sequoia National Park | 42 Feet |
| Yosemite National Park | 40 Feet |
| Yellowstone National Park | 40 Feet |
| Zion National Park | 40 Feet |
Wrap Up 
Still asking is there a camper length limit in national parks? Hopefully not. This was my attempt to give you a general outline basically. However, if you want more specific information, let's say park or even state-wise, just reach out to the relevant authorities. Because you know, the California RV length restrictions could vary from certain another place. And so, best way to confirm things before you actually head out for the park with your camper is directly contacting them.
Hopefully, You'll Have a Wonderful Time Camping in Your Preferred National Park Without Any Problem.