One reason why some people just skip the thought of going out for camping is cost. However, there's no hard and fast rule for your camping experience to be expensive only. You can figure out some tricks and make things much more affordable, in fact almost free. One very popular way is taking advantage of free camping in national parks.
Now I understand, there's a lot of confusion on this matter and some people hardly believe it's possible. And to make everything clear we need to talk through a few matters first. Basically, what we would be doing in this piece of writing. So can you camp in national parks for free? And how much of the whole thing is actually cost less, let's find out.
So Can You Camp in National Parks for Free Actually – The Answer.
It depends, but mostly yes, you can. Because in a typical case, camping inside the national park, forest, and grassland need no cost at all. If not, that area is marked. Now, depending on which national park or forest you're referring to, the rules can vary slightly.
But before I get any further, here's how to find free camping in the US…
So, it's best to directly check the thing before your chosen camping date. However, for the most part, there's no problem with camping in areas with no campgrounds or recreation space.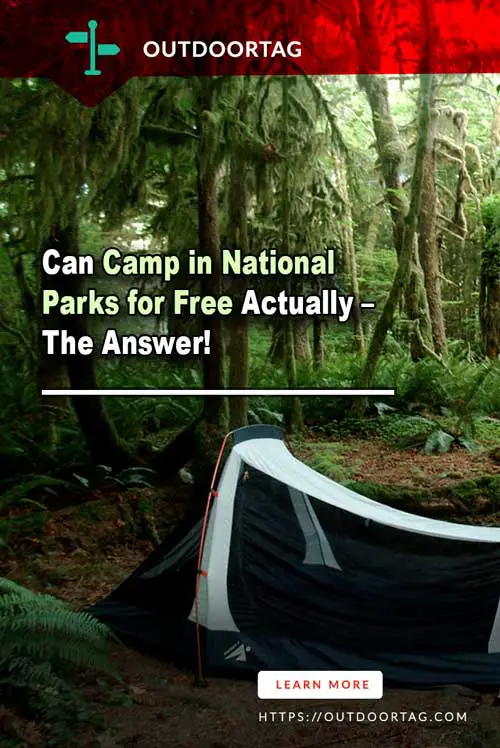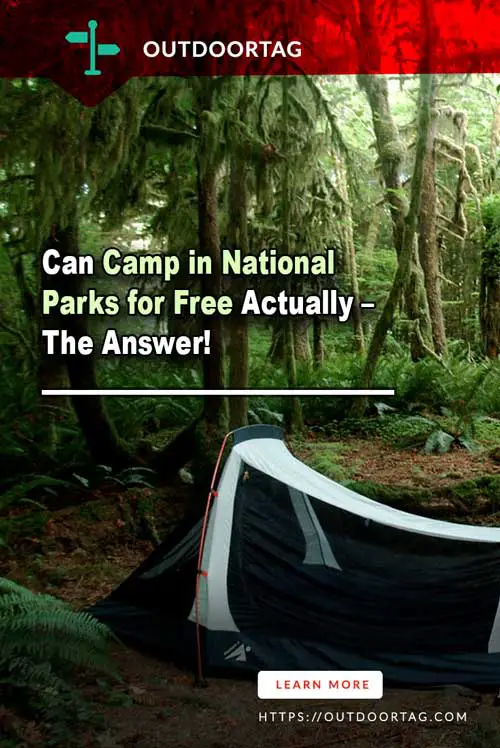 Free Camping Usually Means Backcountry Camping.
There are campgrounds in the national parks. And when you decide to go for primitive camping, which is outside of these areas, it costs you nothing. Basically, backcountry camping is meant for the National parks.
Free camping isn't an illegal thing, don't be doubtful. Even if you are paying no fees, it's completely legal. There are other terms as well that refer to free camping. For Example:
The NFS (National Forest Service) and the BLM (Bureau of Land Management) have an official term, dispersed camping, which in general words means free camping. These are establishment free areas that won't need a daily fee for someone to camp there for some time.
The RVs, long-term travelers, and road trippers use the word boondocking that means camping for free. Spending the night at Walmart is one type of boondocking. And then again, camping in the national forest is boondocking AKA free camping.
Knowing a Bit More Deeply About National Forest – Camping Free with Your Motor Vehicles.
If you have never heard about national forest dispersed campingor maybe the term boondocking, then this whole concept of camping being free will always sound suspicious to you.
But it's actually a very popular way of enjoying camp experiences for campers who are on a budget Since in national forest, you don't have such strict restrictions on a motor vehicle. Now keep in mind, that this isn't a national park but a forest. And it can be helpful for those who cannot enjoy the free camping opportunity because they need to bring their RV or motor vehicle, which is not permissible there. Well, most of the time.
There are national parks that do allow vehicles but under certain rules that you need to find out more about. Don't forget to check if there is a camper length limit in national parks that you are planning to go for.
You can figure out you're close by national forest by simply looking in the Google maps. Also, the National Forest Map Locator can help you out. In the maps, you should find the information on roads where your vehicle use is allowed. Also, you need to grab the information of open or close dates of roads.
When bringing the motor vehicle, make sure you are not someone who barely knows much about its overall usage maybe because this is your first time. You don't want to be one of those who proudly bring an RV to camp free and end up getting stuck with a sudden fridge not working situation while you don't even know how a basic RV Refrigerator reset works.
The rules to camp on these free spots are also not very hard. For example, you may have a certain time period for which you can stay in that spot. Also, there are regulations on building fires. Sometimes you can do that while there are cases where it is forbidden to do so. There are also rules on how far from the main roadway you're camp needs to be set.
These spots may come with fire rings, picnic tables, composting toilets, and so on, but most of the time there are no such amenities. Also, most of these spots are meant for dry camping. So, you'll need to manage your own water necessity.
The outskirts of national parks are often where one can find the NFS. People usually tend to discover these free camping areas while being on road trips.
To give you some idea, the Bryce Canyon has an NFS area just close to entrance. The same goes for Grand Canyon. Also, some share that outside of park camping is quite convenient as well.
For Backcountry Camping, You'll Need a Pass.
Here comes something that could sound to you as bad news. Well, yes you can avoid the fee for camping, specifically backcountry camping in a national park. But you still need to get a backcountry camping permit. And that needs a fee to be paid. Basically, this permit allows you to stay in the spot for entire duration. The visitor center is where you can go and grab it.
Also, about the specific backcountry campsites that you cannot go to without spending anything. These are marked on the maps of national parks. There should be a post set. And it basically stays into the ground marking at location. A metal fire ring will be present.
About the map, you can check it in main website. If the national park does offer backcountry camping, a map should be given. You can also find them in the visitor center. And usually, you don't have to spend anything to grab this map.
Note – You Can't Bring Motor Vehicle.
This backcountry camping for free is not applicable for those who are planning to bring their motor vehicles or the ones that exceed a certain length limit. And this includes cars, RVs as well as off-road vehicles. You must be on your foot to enjoy these.
Outdoor Speak: One of the things most campers do is dump black water on the ground. Not only is this untidy but also irresponsible practice! Know the disadvantages by stopping by this post — Dumping Black Water On Ground.
Can You Use Generators in National Parks?
Another tricky question that has an unsure answer. So basically, if you really need it for let's say medical equipment or something similar where it's unavoidable, then the authority should allow you.
However, make sure you don't use it in areas where absolutely forbidden. And keep proof in case there's a need to check. You can request the usage by visiting the park's visitor center. Also, try to carry a portable generator that doesn't feel like a chore to move around. Make sure you know quite a few things about its usage, for example turning it on or the process of power cleaning.
Watch This!
Make The Most Out of The Free Camping Chance.
So, can you camp in national parks for free? Probably you have already move on from that question and took the decision to give it a try. Just make sure you also know how to minimize the cost of camping in a national park that basically includes gears and things that you'll bring. Plan everything ahead of time and enjoy your free camp day in the best way possible. Happy Camping Y'all!