Personals items that we cannot do without are for sure important to carry even inside a plane. And being confused about the allowance of a particular item can be a situation after that plan.
People wondering, can you bring toothpaste on a plane is also a really common question. And there are actually many people relating to that. Now the new norm is carrying a hand sanitizer with you at all times. And everybody should agree to this fact. When you are traveling on a plane, does everything seem fine with carrying a sanitizer along which is obviously liquid.
Because TSA has some good sets of rules to bother about when carrying liquid inside the plane. Let's talk about bringing hand sanitizer on a plane and if there's an important point you need to be aware of for the purpose.
Rules About Bringing Hand Sanitizer on a Plane.
According to the recent regulations that were updated because of covid there were a little change to notice. Now certain countries allow their passenger to bring a hand sanitizer without worrying about the 3.4oz liquid rule.
And that is also permitted by the TSA. Passengers can be extra safe. And carry an oversized gel hand sanitizer bottle inside their carry-on luggage. But it should not exceed 350ml in quantity.
If anyone wills to bring even bigger bottles, they need to pack them inside the checked-in baggage according to regulation. Also, TSA highly recommended doing screen tests on a huge volume of sanitizers.
And this means if you are bringing huge quantities of sanitizers, be ready to experience a long time of screen testing. And that obviously will add time to your journey.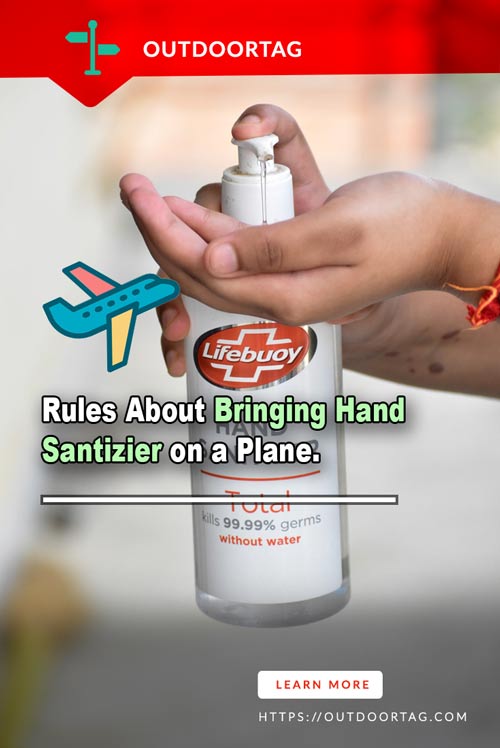 Outside the United States.
The regulations for carrying hand sanitizer outside unites states however have not seen much change. And this of course applies to carry-on baggage. Now you may think, in a situation like this, how can they not take measurements and consider carrying more hand sanitizers?
Well, the scene actually isn't that entirely bad. The airlines are taking covid very seriously and arranging plenty of hand sanitizers around. And this includes most plane trips. They will let you have sanitizing stations for use. Also, they pay extra attention to keep the bathrooms extra clean.
These airlines will most likely give you free onboard hand gel. And so, there's actually no personal shortage of sanitization that you'll experience most likely. As the airlines are so much well-prepared.
That's why they confidently believe in their sanitization arrangements. And recommend passengers to keep on following the previous liquid carry rules. Usually, the airlines will provide you 100ml of sufficient products for proper sanitization needs.
Allowing 350ml Hand Sanitizer On-Board.
The hygienic approach of airlines has less or more changed after the covid-19 outbreak. But the most appraisable approach has to be of Bangkok Airlines. They have been praised for taking safety measurements very seriously. And so, they have brought it to another level.
Not just for onboard but also at the airport. You'll see their strict safety precautions showing everywhere. And this includes waiting areas, check-in counters as well a private lounges.
The released statement of Airports of Thailand has details on allowed liquid volumes. And this is considering the hand sanitizer thing. And according to that, a passenger can bring up to 350 milliliters of hand sanitizer bottle along with them. This is clearly more than required for one-person use.
Also, a person can combinedly bring liquid gel and sprays up to 1000ml according to the regulation. This movement was clearly a great encouragement for other airlines too. And it's definitely appraisable considering the covid situation.
Fire Hazard Due to Excessive Hand Sanitizer Storage.
It won't be a surprise if you discover a tiny hand sanitizer bottle inside the amenity kit given on board. As many airlines are taking the step for bringing peace to their passenger's mind. Now the point here is, an approval from DoT is necessary for distributing hand sanitizer on board.
Also, it is going to be a quite lengthy process. Having hand gel that comes with 60-70% of alcohol means it is quite a fire-catchable substance. And so, there can be a risk of fire due to excess sanitizer volumes being stored.
This is one of the many reasons why airlines can have a sanitation station or distribute a small number of hand gels. Because maintaining the limited amount of distribution is necessary to avoid any fire hazard on board.
Also, if an airline doesn't offer sanitizer to passengers, they usually go through a very thorough process instead. Thet will heavily disinfect their cabins. So that any risk of virus and bacteria are eliminated.
Wrap up
And that was a small but necessary discussion on bringing hand sanitizer on a plane. Now you need to figure out what the regulation of airlines you're traveling in have. And then take necessary measurements of carrying sanitizer.
It's best to choose an airline that is transparent with taking proper safety precautions for sanitation and disinfecting. Also, try to carry a small quantity bottle for sanitizer if not absolutely necessary to bring huge bottles. Stay Safe.