Maybe you have now figured out how long does it take to lose weight from cycling. And so, to make your journey less daunting, you decided to replace pedals with a more convenient model. But now the whole removal thing is where you're stuck. Because you've never done such a thing before.
Apart from this, there's a lot of other reasons that can make you want to remove those flat bike pedals. And one of the most useful tools to easily get that job done in no time has to be an Allen wrench. But some of us may not know how to remove bike pedals, let alone the process that includes Allen wrench.
So hopefully today's guide will sort lots of beginner rider's confusion. Yes, we will be talking about a very simple process on how to remove bike pedals with an Allen wrench.
Let's Talk About How to Remove Bike Pedals with an Allen Wrench.
The process is meant to help straight beginners, so it's going to be a bit in-depth. Also, don't overlook the need for certain tools apart from Allen wrench. I'll tell you about those as well. Without the right gears and supplies, your whole pedal removal chore will soon turn into a nightmare, do remember that.
Supplies to Get:
Suitable Allen Wrench.
Some lubrication or grease.
Proper gloves.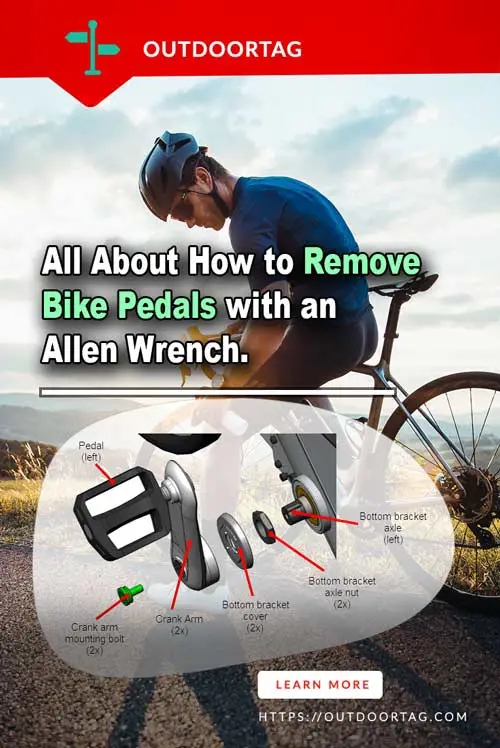 In Case of Non-Drive Side
The first situation is where you need to detach pedals from a side that is non-drive. You want to shift the chain into a large chainring before starting at all. So that the teeth from large chainring cannot hurt your hand by cutting it. There are chances of a slip or getting into miseries due to poor hand positioning.
From crank arm's inside, get access to hex fitting for beginning the process. You need to place here the Allen key's short arm. So that the large arm can help in creating leverage through this.
The crank arm needs to be directing towards ground when you fix Allen key. Also, the Allen key needs to maintain a 90-degree angle with crank arm. Which means it will direct toward the bike's rear part. Now make sure the bike is stable and hold pedal still. You need to push in a clockwise direction on Allen key. Do so until the pedal starts to get loose and come out.
As soon as the pedal seems loose enough, make an effort to pull it out. If you are not sure about the direction of pedal coming off then here's a trick. Remember the Allen key's moving direction is opposite to regular peddling way.
In Case of Drive Side
Now let's talk about a situation where you need to detach the pedal from drive side. Here you can use the Allen key to position it similar to previous one. However, the direction needs to be anti-clockwise this time. Let the Allen key sit along with the position where crank arm is at 6 O'clock direction. While the key is angling at 3 O'clock with a crank arm. And then you can hold the pedal firmly to turn it anti-clockwise. The pedal will gradually start to come off by getting loosened.
Things to Keep in Mind
Sometimes it's hard to deal with pedals that are a bit too tight. However, that does not mean when you are reinstalling the pedals, leave it loose. You must make sure that the pedal is at least arm tight and this does not have to put your whole body into doing so.
Another thing is about the pedal spindle getting tightened into crank arm. You should consider inserting a washer right between the pedal and crank arm. This works really well for those who have carbon crank arms.
You must give the pedals a check once every six to twelve months. This way you will have a clue whether the pedals need some servicing for working smoothly and optimally. Also, it'll be a good chance for you to regrease them and earn some extra durability points.
Also Read: How to Shift Gears on a Bike for Dummies & Beginners?
Wrap Up
And that was pretty much everything on how to remove bike pedals with an Allen wrench. Taking your pedal off can be easy or hard. The only thing that determines which one is the fact that how long they've been installed for. If the time period is pretty long, then get ready to face some struggle as things have become pretty tight until now most probably. However, if you are very careful with maintenance needs and have checked, cleaned, and reinstalled those pedals timely, then this isn't going to be a very big problem.