You might have the best bike air compressor at home, but want to also keep a backup so that the gear just doesn't end up falling off due to excessive use and overheating. And a cheap way to do that would be grabbing a good-quality hand pump. Basically, what you did!
Now you only need to find out How To Pump A Bike Tire With A Hand Pump and you're all set! Well, I've got the easiest guide for you, today…
So How to Pump a Bike Tire with Hand Pump?
You just depress the handle with a good amount of force, maintain a good grip while doing so and of course, make sure the nozzle-valve connection was done correctly. Simple!
But two lines for an entire process, just don't seem right. Don't worry a whole step-by-step segment would be provided. But before that, I want you to think about the hand pump, do you have a good one?
Not the cheap ones that work with weird pressure and poor air filling mechanism. Something that makes the process as fast as possible and, easy too.
My Recommendation?
The Mini Bike Pump & Glueless Puncture Repair Kit is a good one for Presta and Schrader bikes. You don't need to change the valve and the whole patching repair kit is coming along, which helps in puncture situations.
Then there's the Vibrelli Bike Floor Pump with Gauge too, my other favorite. It's made solid, so would last a long time as a backup or even as the main pumping tool. The best part is it handles high-pressure road tires really well. The ones that go up to 140PSI are included.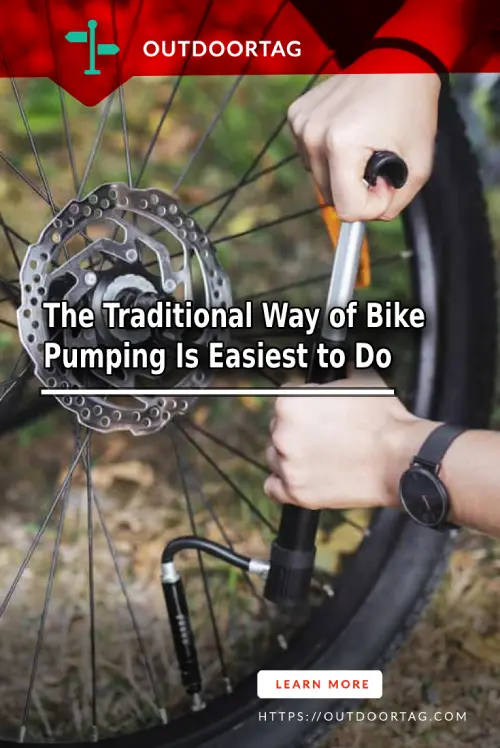 The Traditional Way of Bike Pumping Is Easiest to Do – Follow These Steps.
Learning how to use a bike pump is barely going to need you any special skills to master. Just a few things into your attention and going with the flow would be enough. Here's the step-by-step guide that you should be able to remember after reading just once.
Stabilizing Your Bike.
It's important that your bike does not move when you are trying to pump air into its tire. And for that, you want to bring the bike to open space. Also chose an even ground to stand it. You can place it vertically. Make sure the tire is facing away from you.
Follow Proper Gripping.
Your foot position will matter in terms of how much balanced you feel while pumping. And the ideal one would be having one foot in front of the other. So that you can work without losing your balance.
Hold the handlebars also. You can even wrap fingers around it, works just as same. This way you have your hands out of the pumping way.
Maintain Enough Space for The Tire to Inflate.
One of the most common mistakes that people do here, is holding onto tightly. And this basically makes it really hard to inflate. Not to mention the slipping off base that happens.
Make sure the handlebars are pointing away from you, upwards. And this makes enough room for the tire to inflate easily.
Attaching The Nozzle.
Finally, how to attach a bike pump to your bike. Your tire should have a valve stem. Usually, this is either Presta or Schrader valve. This is where you fix the nozzle of the pump directly.
For Your Information – A Bike Tire pump adapter can help you to covet one valve to another. This helps when you want to inflate the pump with a certain hand pump, but can't due to the valve not being compatible with that specific type.
 In case you are looking for one, try the Presta Schrader Valve Adapter, very versatile!
While attaching the nozzle to the valve, make sure it's enough secure. The more, the better efficiency. Twisting or turning the nozzle should not be the case. It just causes damage.
Pump Air into Tire Finally.
Hold both handles with four fingers and adjust for a comfortable holding basically. Then you are all ready to start pumping. It's just pressing the handle in a downward motion.
Going strong with the motion is the key. This just makes sure your pumped air is directly moving inside the tire. And once it looks good enough, you can stop.
Outdoor Speak: A good pair of bicycle tires deserve a bicycle that holds up to its brand name! Learn about one that might pedal your fantasy — How To Identify Schwinn Model.
Frequently Asked Answer.
Can you use a hand pump for tubeless tires?
No, you cannot. Most tubeless tires need a strong air burst along with the flexibility of fast filling. Both are not the case with hand pumps.
What can I use instead of a bike pump?
There's no doubt pump or an air compressor is necessary for getting the bike tire properly inflated. However, if you don't have these right now but need to pump the tire immediately, use a compact compressed air inflate instead. Perhaps learn how to pump a bike tire with a needle pump and try that, it's a popular hack nowadays.
How often should I pump my bike tires?
It depends on the two most important factors — tire size and proper tire pressure. If you own a high-pressure road bike tire, then once every 7 days shall work. For the mountain bike tires, once every 2-3 weeks shall be enough. And for hybrid tires, once every 2 weeks sounds great.
What happens to your body when you ride a bike every day?
There are so many mental and physical benefits of taking a ride with your bike, that you might or not already know. But if you consider how many calories does riding a bike burn, then you'll definitely keep weight loss benefits at the top of the list. There are also increasing metabolism, muscle building, and fat level reduction benefits, that's not bad at all.
Conclusion
And that was a mini-guide on how to pump a bike tire with hand pump along with answers to you all the most asked queries. Hope it helped! Will catch you soon on another similar topic, till then keep riding your bike and making memories from it, Bye!