Some airlines have an option to sit comfortably using 2 seats for overweighted folks. If you happen to need a seat belt extender and more space to fit into the seat, then it's time to think of getting 2 seats on one flight.
But it's hard to determine what size do you need two airline seats as each flight has its own rules. Due to the strict ruling, you need to fit into the policy at first to be able to enjoy the extra benefit.
Don't worry! I'll explain the rulings in a section where you can learn how exactly you can book 2 seats. Let's Explore Together!
How To Know What Size Do You Need Two Airline Seats?
Understanding the size and weight matter to determine whether you fit into the situation to buy 2 airline seats in the same airplane is a complex thing.
Most American airlines seat size is pretty diverse based on class and type of flight. Check how big are airplane seats to relate better with this theme. And nearly all big passengers don't fit well and require a seat belt extender or plan for buying 2 seats.
To put it simply, the two-seat purchase would be an ideal option for overweighted (more than 200 lbs.) or physically larger in size (40-inch width or more) travelers who doubt comfort while sitting next to others due to seat and belt size.  
How big do you have to be to need 2 seats on a plane? It actually hard to state a specific size that delineates this matter. Look into the following detail to know how to determine easily.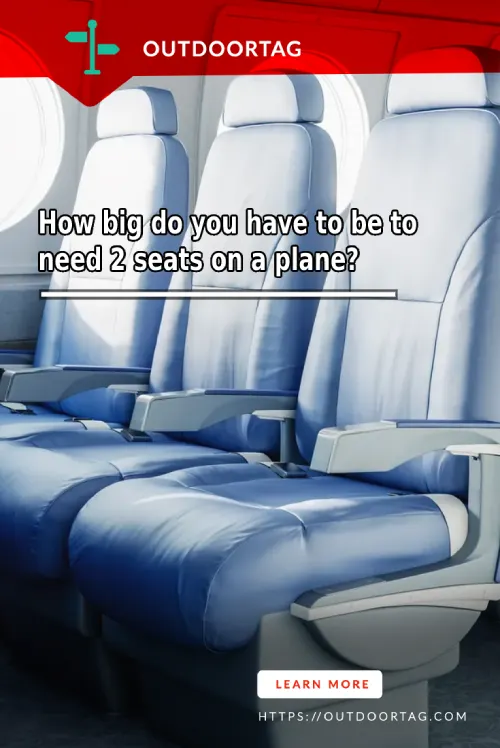 Determine The Airline Policy
Each flight has separate rules and regulations to get the extra benefit of 2 seats. Even if you think of 'size 24 will I fit in an airplane seat', it is unrelated since there's a policy. Here's what I mean:
America Airlines
As a rule of thumb of AA (American Airlines), seat belt extension or body extending more than 1 inch than the outermost corner of the armrest indicates you need another seat. 
United Airlines
According to the customer condition for the second seat, the United flights have a few criteria as a condition:
When the seatbelt sign lightens up or the crew member instructs, the passenger should be able to use the buckle or seat belt (extend around 25 inches) properly even with an extension (if needed).
Until the end of the journey, the passenger should be able to stay seated using the seat armrest.
The passenger shouldn't get into the adjacent or other people seating space.
After fulfilling the above conditions, you can get an allowance to buy additional seats.
Alaska Airlines
On this flight, the ruling of getting the 2 seats is a bit different. It let you have second seat using smart tactics.
To break it down, two large or overweight travelers add one seat in between them to extend space for 2 people comfortably. The width of the seat would be 25.5" per person.  
Hawaiian Airlines
Any passenger who isn't able lower the armrests or extend inside another traveler's seat space would need to purchase a second seat. However, you need to check the availability of additional seats to fly. If nothing works out, book another seat in advance.
Southwest Airlines
Holding the long-lasting rule on Customers of Size, Southwest flights suggest having an extra seat but via early payment.
How To Book Two Airline Seats?
Can you buy two seats on a plane for one person American airlines or other flights? Yes, it's possible but not for all. You will need to have the allowance to do that. Let's see how to do it exactly:
Book Online
Search the website on your reliable search engine. Then, click on the website.
Proceed with the airline booking process.
Fill in the gaps by placing all the booking data on the main page. Be sure everything is spelled correctly and your name too. And then, search flights.
Pick a flight and adjust the setup to update the flight status.
Now, check the passenger information.
Give all the handy data about the extra details.
Look in the flight seat section and locate the Double Seat option.
Next, select the details cautiously.
Then, it's time for payment. Pay the charge of your booked double seat on the same airline.
Get confirmation and done.
Book Offline
Contact the airline Customer Service Agent by calling through the phone. If possible, meet the person in real life to understand everything clearly.
Get suggestions and tell him/her your target of purchasing an extra seat for you and your family member.
Give the overall details and information related to the flight booking in advance of your 2-seat tickets.
Continue following the lead and pay for the charge to confirm the booking of the second seat.
Then, obtain confirmation to end the procedure.
Conclusion
As we all know, flying in a plane will require a seat to fit rightly. At this point, you must have a clear vision of what size do you need two airline seats as I have explained all using different airline rules. 
You just need to memorize the ruling and plan for one or two seats according to the policy. Hope this guide helped you to get info that is related to the topic. Have A Fun Flight!