Carrying your pillow on a plane can guarantee you will be more comfortable, especially when taking a long flight.
After all…
Flying can be very uncomfortable even for frequent flyers; therefore, I'm sure you have asked yourself, "can I bring a pillow on a plane?" several times before. 
You may also wonder if it will be considered check-in or carry-on luggage. And if you were to carry a small suitcase and pillow, would your pillow count as your personal items?
Facts On Bringing A Pillow On A Plane
Can I bring a pillow on a plane? Well, whether you are flying internationally or domestically, you will have no issue bringing your pillow on a plane as a checked bag or carry-on luggage. Plus, most aircraft have free pillows for passengers on long-distance flights; unfortunately, they are extremely thin and not comfortable.
In fact, according to the rules of flight security, pillows are not a security risk.
Therefore, you can bring your neck pillow on an aircraft as a carry-on bag or in your checked luggage. But this doesn't necessarily mean that all airlines can let you carry your pillow on board. Each airline has its regulations, and most low-cost ones can charge you extra for carrying a full-sized pillow, but the neck pillows are usually free.
After all, wearing a pillow around your neck can be seen as part of your attire instead of luggage, but this also depends on the airline. And in some cases, the gate agents won't have a problem with you wearing a travel pillow. 
Fortunately, most airlines, including Delta, American Airlines, Frontier, and Southwest, consider pillows a personal item; therefore, they can be included in your carry-on bags.
The Right Size Of The Pillow That You Can Bring On A Plane
If you carry a small travel pillow as your personal item, it won't be considered a carry-on or a personal item. If it's small enough and can fit under the seat, it can be considered a personal item you can carry as a carry-on. It can be considered carry-on luggage if it's huge or a full-size pillow and doesn't fit in your carry-on bag but does fit perfectly in the overhead cabin.
All airlines consider anything measuring 18″ by 14″ by 8″ a personal item. Therefore, if you cannot pack your pillow in your bag or it's bigger than this dimension, it will be considered part of your carry-on.
Remember, any personal item can be considered a carry-on item if it fits under the seat in front of you. Therefore, you can avoid luggage penalties by carrying a small-sized pillow.
The Key Features Of A Reliable Travel Pillow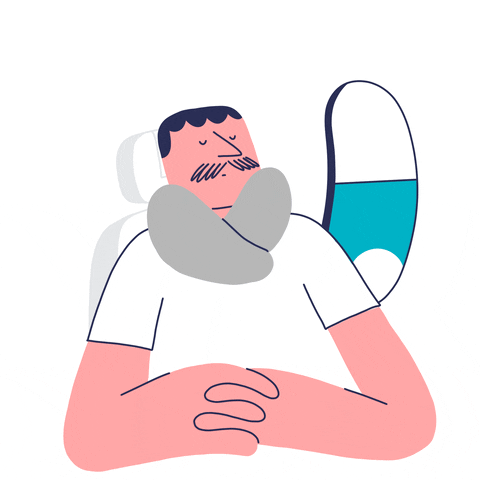 A full-size pillow is one of the best methods for reducing discomfort and even getting some sleep while on a plane. A travel pillow can help prevent neck pain while ensuring you're comfortable for your international or local flight.
Travel pillows are smaller than bed pillows; therefore, you can tuck them behind or around your neck, fill the space between your neck and the headrest, and prevent your neck from bending too far. Therefore travel pillows should be:
Packable 
Inflatable
Comfortable
Lightweight                                                                                                                                                       
The Different Types Of Travel Pillows You Can Bring On A Plane
Inflatable pillow: it is an inflatable pillow with a unique ergonomic design that offers great neck support. You can get additional comfort and support from its uniquely designed thin fiber layer.
Cube pillow: if you're a side sleeper, you should go for a cube pillow which is ideal as the head and shoulder make a square.
Infinity pillow: infinity pillows are comfortable traveling pillows made from soft bamboo fabric. They are quite supportive and can give you a silky feel while resting.
Neck pillow: These pillows are specifically designed to support your neck and head in a natural position. Fortunately, several neck pillows on the market are designed to help reduce neck pain while guaranteeing quality sleep.

Low-Cost Aircrafts Charge Passengers For Pillows
Most airlines will never charge you for a pillow, especially on international flights. They usually hand the pillows out for free, but that is not the case with short-haul flights or some low-cost airlines. Most of these airlines will charge you for pillows.
JetBlue charges $6 for a pillow. Unfortunately, these pillows are not that comfortable; therefore, I would advise you to carry your travel pillow.
Are Airplane Pillows Hygienic?
Unfortunately, most airline pillows are considered unclean; therefore, you should carry your own if possible. Even though they usually wash these pillows, they will be used and folded all day. Therefore, only passengers of the first flight get freshly washed pillows.
Bringing A Blanket as a personal item On Aircraft
You can bring a blanket as a checked bag and a carry-on. Like pillows, it will be considered a carry-on if your blanket doesn't fit your bag but can fit under the seat in front of you. Remember, passengers are usually given complimentary blankets on long–haul international flights for free, but you may have to pay on short flights.
Unfortunately, blankets are considered more unhygienic than pillows; after all, most airlines wash them once every 5 to 30 days.
Outdoor Speak: Kids are allowed to bring their stuffed toys inside the plane. What about your personal grooming or beauty kits? Read our article — Can You Take Tweezers On A Plane.
---
Watch This!
---
Frequently Asked Questions
Does A Pillow Count As Carry-On Items?
Anything measuring 18 by 14 by 8 inches can be considered a personal item. Therefore, if it can fit in the overhead cabin or beneath the seat in front of you, then you can get into the plane with it and even use it. 
Can You Bring Your Blanket And Pillow On A Plane?
Long-distance flights tend to be quite cumbersome, even for frequent fliers; therefore, airlines allow passengers to carry pillows and blankets. But they have to meet some requirements which vary with airlines. Fortunately, some airlines do provide pillows and blankets to their passengers.
Do Pillows Count As Carry-On?
Yes, it can be considered a carry-on if it can fit under the seat in front of you or measures about 18 by 14 by 8 inches. Therefore, you can carry and even use it on the plane and even use it. For extra comfort, these pillows vary in shape and size.
---
Conclusion
Long-distance international flights can be cumbersome; passengers can do everything possible to stay comfortable. This means carrying a travel pillow as a carry-on for the flight and using it to rest their heads instead of using the airline pillows. Fortunately, airlines allow passengers to carry pillows, but they have to be small enough to fit in the overhead cabin.