The questions related to what to bring inside a plane carry-on or simply checked bag are many. And these are super-specific with variations from items such as makeup to even lighters. Queries such as will aerosol cans explode in checked luggage or confusion on liquid rules are all over the place with first-time flight takers. And these all are legit concerns.
Now one question that I found really interesting was about cigarettes. It's no surprise that people also want to find if one can bring cigarettes on a plane carry-on. Or at least a checked bag. And that basically inspired me to write about it today. Let's find out the possibility of bringing a smoking agent such as cigarettes. As well as the electric ones.
Can You Bring Cigarettes Along for a Flight?
Yes, you can! The TSA has no hard restrictions that you have to worry about with carrying tobacco. And this goes for both your carry-on luggage as well as the checked-in ones. The tobacco items include cigarettes clearly. Along with similar smoking agents, such as pipe tobacco, chewing tobacco, cigars, as well as the ones that are smokeless.
The cigarettes can be opened as well as closed and there's no restriction to it. Just make sure you don't plan to light them on board. That's a cigarette no-brainer but I still wanted to state it.
Also, the best route is bringing a proper case or carton for storing them. Even if it's allowed without such packaging. Just to keep things extra safe! If you really need to smoke, then there are specific zones inside the airport to use. But don't think about it inside flight or restricted areas of the airport.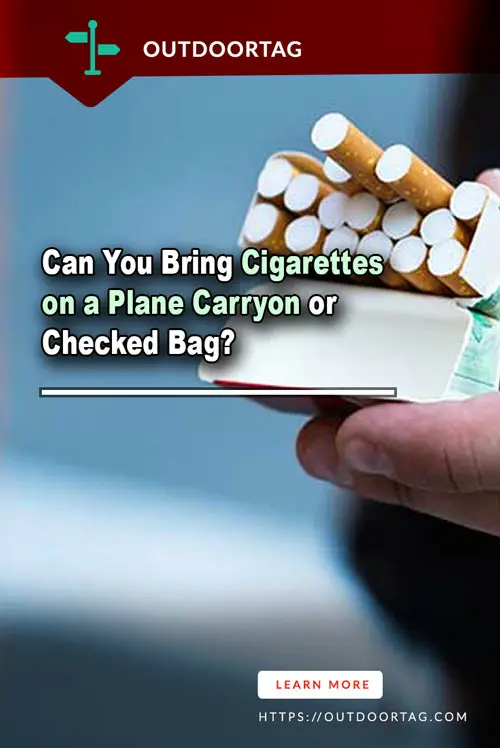 What Happens If You Are an Underage Passenger?
Now that we get a bit in deep about carrying cigarettes, there's one matter that definitely needs some discussion. And it's about the age factor. We all know there's a minimum age requirement for a person to legally purchase cigarettes. For most places, it's at least 18 years old. And this is a point where the matter of carrying cigarettes for a flight becomes somewhat tricky. As it's a really crucial variable to note about.
Any Person Under 18 Years Old Age Can't Carry Cigarettes.
That's the most common law regarding an underage passenger bringing cigarettes on board. You should not be able to purchase it. And suppose you managed to buy, carrying them inside the plane won't have a possibility legally. Any sort of tobacco product has the same rules. Also, selling or lending cigarettes to a minor is a crime itself. So even if you are permissible to bring tobacco items, make sure you don't hand it to a minor by mistake.
Usually, minors get in touch with cigarettes by others stealing or lying about the age. Some may risk it wishing they won't get caught. But on the whole, it's definitely something not recommended. And you should avoid having such thoughts.
There are also several online sources that claim it's fine to bring tobacco items even when one is a minor. However, that's a controversial idea. And it's best to avoid any chances of getting in trouble when taking a flight.
Also, the airlines regulation, as well as local laws, are always changing. So, you should consider checking the matter of cigarettes directly with your airlines at least once to confirm.
The Quantity Matter When Carrying Cigarettes.
Now that we already know that cigarettes are pretty much allowed, talking about the quantity comes next. As these are not a security threat, you can bring them inside the checked baggage.
But keep in mind, that it will still go through scanning and necessary steps on the checkpoint. And also in some cases, the TSA officer's decision can be varying with if a certain item is allowed or not.
TSA allows around 10 packs of cigarettes. Usually, this is when each packet contains 20 cigarettes. And that means you can take 200 cigarettes in total. Packing them inside one carton is also fine.
Also keep in mind, that the laws are different depending on destinations. This rule belongs to flights that are domestic. For international flights, go ahead and check regulations of departing country specifically for the right idea.
What About Electric Cigarettes or Vaping Devices?
Even if cigarettes are not a bad thing to TSA, when it comes to electric versions, things are different. And regulation is definitely not the same. According to the TSA, if you want to bring any sort of e-cigarettes or even vaping devices, those need to be packed inside carry-on only. You cannot proceed with these items inside your checked baggage.
The items that fall under these rules are the ones running on batteries. Also, vape pens, vaporizers, atomizers as well as electronic nicotine delivery systems are under this regulation. You can only have them carried with an aircraft cabin.
Also, if there's checking at the gate or planeside of carry-on is necessary, then you cannot bring vaping devices as well as electronic cigarettes.
The main reason for such restriction is involvement of batteries. Those items have a risk of catching fire. And so, anything that involves running on batteries can't be a part of your check-in luggage journey.
Another short note that you must know about is regarding vaping after inside the terminal. It's strictly not allowed. And you must resist such actions until reaching the destination. Look for the designated smoking or vaping space and only then continue with it.
Exploring a Few Airline Policies to Confirm.
Depending on which airline we are talking about, there will always be a specific rule or regulation that might not be the case with some other airline. However, in general, the use of cigarettes is prohibited by all airlines. And also, these are just permissible to carry on board. Also, if there are lithium batteries, then it must go inside hand luggage not the hold one.
Qantas Airlines don't allow charging or using any sort of electric cigarettes inside the plane. The same goes for personal vaporizers. And one needs to confirm carrying these items in hand luggage.
With Emirates, all flights are strictly non-smoking. And this goes for both normal and electric cigarettes.
The Virgin Atlantic strictly prohibits the use of devices or stuffs that contains nicotine. So, anything that has such elements cannot be used onboard.
Easy Jet allows carrying electronic cigarettes inside hand luggage with only 2 spare batteries at maximum to be included alongside.
With British Airways, you can bring electronic cigarettes inside your hand luggage. And smoking inside the plane is again not permissible.
Wrap Up
The cig policies always differ based on airlines, destinations, and origin. So, it's always the best idea to directly check the rules specifically. However, generally, you cannot use cigarettes on board but carrying them inside your carry-on baggage. As well as checked-in luggage are alright to do.
And on that note, you now know about most things about bringing cigarettes on a plane or with the hold items. Have a Safe Journey!