Packing is not the only thing to worry about when traveling to a certain place, you also need to think about rules and regulations with checked and carry-on baggage. Instances of not knowing what is not a problem to bring along and what is, could be a very common thing to take place. For example, now you are having confusion about carrying wine in your checked bag. What are the rulings to bring wine on a plane in a checked bag, let's have a solo conversation on that matter today?
So, Can You Bring Wine on a Flight in a Checked Bag?
Carrying alcohol including wine is fine inside a checked bag generally. The TSA would want you to follow a few guidelines regarding carrying any sort of wine inside checked bag. And as long as you do well at following them, there should be no problem with bringing wine inside of it. Now surely you need some idea of what guidelines I am talking about.
Well, the alcohol content cannot be more than 70 percent by volume. Also, any range between 24 to 70 percent is alright to bring along only when it's not crossing 5 liters quantity. You want to make sure the retail packaging is untouched with its label on it.
If you are carrying a volume that is less than 24 percent alcohol then, there's no quantity limitation generally. And this includes mostly wine as well as beer. Because typically a bottle of wine means no more than 10 to 15 percent alcohol content. So, this means you can carry any quantity of wine, without unpacking it and sealing properly for a flight in a checked bag.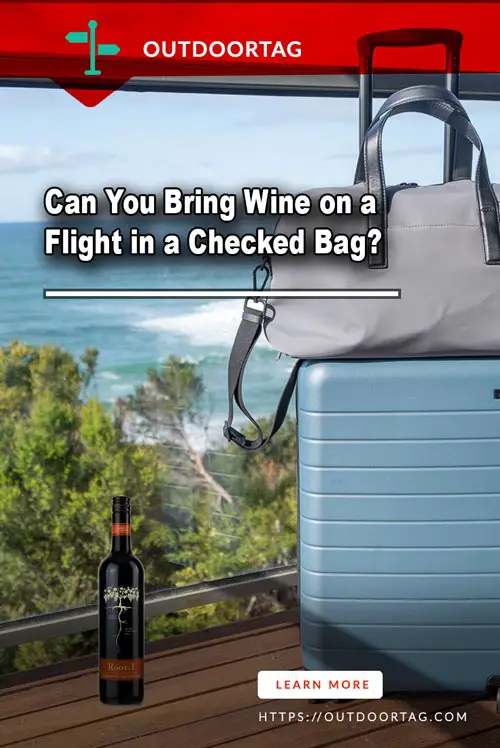 Country Based Regulations on Carrying Wine.
As I have already told you, there's basically no problem with quantity limits on wine carrying with TSA regulations. But airlines can have their own set of rules on bringing alcohol including wine.
Also depending on which country, you are traveling to, the duty-free alcohol allowance is a thing to be aware of. This permissible alcohol will not to face any taxes, duties, or tariffs. But with additional quantity, there can be tax and duty to consider. Let's have a look at what some country's allowance rules look like.
Japan has each person duty-free allowance for wine bottles that are up to 3750 milliliters. If the limit is passed, then for each bottle of 750 ml extra, one needs to carry duties of 94 yen.
For Mexico, the allowance for wine is up to 6 liters. After crossing the limit, one needs to pay 90% of pre-VAT value.
In Norway, the limit for wine is a maximum of 3 liters. After crossing the limit, a customs declaration program which is pretty simple will come into play, and this way one can bring up to 27 liters of wine.
For South Africa, the wine limitation for duty-free allowance is 2 liters. And after exceeding the limit, one needs to accept duty payment as well as VAT.
In the case of Switzerland, you can go for a maximum of 5 liters of wine. The quantity crossing this limit will face a bottle 1.50 CHF charge for wine that is below 18% strength.
The duties and taxes for carrying wine from one EU country to another will be only applicable if someone carries more than 90 liters of wine. Also, the wine cannot be for resale purposes. It should be applicable for personal use only.
Packing Wine in Checked Luggage – Very Important!
Packing the wine bottle inside your checked baggage is a very important task you must pay extra attention to. Because as soon as the wine bottles shatter, not only will it destroy every other content inside bag but also there's a chance of that suitcase getting a no call by airport authorities.
You can use a few socks, t-shirts, and scarves to give the neck of each wine bottle good wrapping. This way there will be cushioning effect available in the bottle's vulnerable area and help to prevent shattering.
Also, you should take it a step further by wrapping each wine bottle with bulky clothing pieces of yours. Sweater and sweatshirts are perfect nominees for this job. To grab some extra security, you can put them inside watertight plastic bags too. Bubble wraps are also really useful for wrapping wine bottles if clothing is not something you want to use
Then make sure you are placing the bottles with proper wrapping nicely right in the middle of your suitcase. This way the bottles will remain the farthest from each wall of your suitcase or hand baggage. Also, it helps to avoid movement and vibration during transport.
Instead of this, you can also ask for a local wine shop to make the bottle ready for shipping. Also, while buying wine, you should try to opt for the ones that use other stuff instead of glass bottles for packaging.
There are many renowned winemakers who recently use cans and boxes for packing wine. These are definitely way better at being break-resistance if you compare to the glass-packed ones.
Also, if you think budget is not a big issue, then invest in proper protective wine carriers that come with proper cushion for carrying vulnerable bottles inside.
Wrap up
And that was my thoughts on bringing wine on a plane in a checked bag. Clearly, you can do that, but just make sure you're attentive to the regulation of destination country, airline and pay extra care with packing those bottles. As long as you ensure to keep these notes checked, there should be least trouble chances with carrying wine bottles. Have a nice flight.