When travelling, there are a few things you would like to carry that are essential for your personal use. And most of us will agree that deodorant is one of those personal use items we need even when traveling.
So, worrying if you can bring deodorant on a plane is a very obvious concern to have, and getting confusion about it is so also quite likely. Because TSA follows a specific list of permissible items that can seem confusing to those who are flying for the first time.
Let's talk about the whole deodorant allowance thing inside a plane today and more relevant matters that will hopefully help you.
So, Are You Allowed to Bring Deodorant on a Plane or Inside the Checked Bag?
The straight answer is yes, but there are restrictions to this. There are guidelines regarding this issue that must match for the TSA agent to not dispose of any item from your baggage. And this can be a bit embarrassing too.
The agent tossing your favorite deodorant and you standing there unable to do anything about it while other passengers watch, not a very pleasing scene for sure. So, to make sure such a situation never gets to meet you, here are a few things to know about.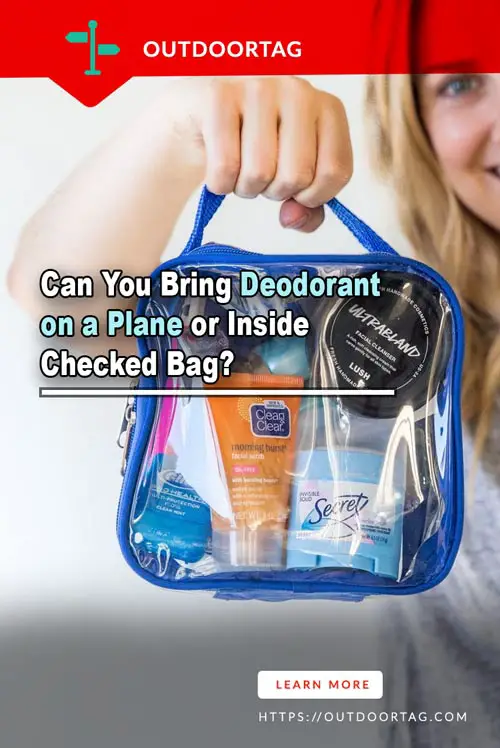 A Few Types of Deodorants Are Allowed, While Some Not.
There are actually quite a few forms of deodorants that are available for personal use. And this type will matter when willing to carry one for the flight. A few are easy to travel with while others are not.
If you are taking a classic stick one then there should be no issue with limitations on pack size. But when the deodorant comes in liquid or semi-liquid form, there are restrictions to it.
The Roll-On Type.
Is deodorant considered a liquid? Well yes if it's in a roll-on form. There are also gel varieties but mostly it's liquid. And that's when the restrictions come to bother you.
Now, this is true that the roll-on deodorants don't visibly seem like liquid stuff. But technically, it has liquid inside.
So according to TSA rules, you cannot carry more than 100 ml of product in one bottle. And so, there's a chance of the agent figuring out it's a liquid form roll-on deodorant and toss it away. So, it's best to either not carry the roll-on form at all or buy 100 ml packaging for trip.
Also, make sure you are placing them inside a bag that is quart-size as well as clear. This will let the TSA staff know you are hiding nothing.
The Solid Stick Type.
Solid deodorants actually come in many forms such as stick, powder, and crystal. The good news is there's no restriction to any solid stuff. And so, it won't be a liquid that needs you to follow restrictions. You can carry the solid form without any worry. Also, these are more convenient to use with easy controlling of application and wasting less.
The Aerosol and Spray Form.
There are size restrictions and some serious ones when it comes to huge aerosols and sprays. But deodorants are not really huge in size. So, you can carry them, just make sure the bottle is not more than 100 ml. Also, these often come inside the pressurized containers. So, it's best to secure the mouth of the spray properly.
If You Are Carrying Inside Checked Baggage.
The regulations of carrying deodorants inside baggage that goes through checking is different than handbags that are meant to be carry-on. You can go ahead and bring a big bottle of deodorant inside your checked baggage. However, the aerosol-style ones should not be more than 70oz. And each of the bottles should be less than 18oz.
Final word
Now you know about bringing deodorant on a plane or checked-in baggage. Usually, it's about following the 3-1-1 rule with a carry-on that each passenger needs to follow. And then there are short specific ruling regarding each item.
Being aware of what you can bring or not is a great thing to do before your flight day. It's best to know about things and pack accordingly to face no issues or embarrassment on the day of your flight.