Exactly how much does it cost if your luggage is overweight? It's not something that's universal. In fact, different airlines have distinct charges that apply for the weight crossed of luggage.
Usually, the main factor here is which airline you are talking about, plus their schemes regarding permissible weight for both hold and cabin luggage.
I've tried to come up with a guide that can give you somewhat idea of the cost for overweighted luggage in the case of a few pretty popular airlines. I hope it helps!
Exactly How Much Does It Cost If Your Luggage is Overweight – Table for Different Airlines.
To decide how much does it cost if your luggage is overweight refer to the table that I've made right beneath this para. And if your airlines are in the list, perhaps you'll just find the exact detail.
However, if it's not, you can at least have an idea of cost range for the matter. Also, keep in mind this section isn't meant to clarify anything else rather than the overweight price for luggage. If you have specific queries such as Does American airlines charge for checked bags or anything like that, it's best to call airlines support and find about it.
Another point I want to mention is that there are a few charges variation depending on the destination as well as other seasonal limitations. So, if in doubt, always talk to the reservations and let them know about your overweight bag details to get a more specific answer.
Here's the table. 
| | |
| --- | --- |
| Airlines | Overweight Luggage Charge |
| Alaska Airlines | 75 Dollars |
| Air Canada | 75 Dollars |
| American Airlines | 200 Dollars |
| British Airways  | 100 Dollars |
| Delta Air Lines Baggage Fees | 100-200 Dollars |
| Frontier Airlines  | 75 Dollars |
| Hawaiian Airlines  | 35-70 Dollars |
| JetBlue Airways  | 100-200 Dollars |
| Spirit Airlines  | 25-100 Dollars |
| Southwest Airlines | 75 Dollars |
| United Airlines  | 100-200 Dollars |
Keep in mind that airlines would charge these to add to the initial fee that you must pay for checking bag. And the fee structure is formulated on basis of weight here, not size. If you can't find the airline that you're traveling within this table, then here's a general idea.
Bags that are more than 23 kgs or 50 pounds would be considered as overweighted bags, with most airlines. And Usually the charges would start from 50 dollars. If there are specific items inside the bag such as golf bags or skis, then further charges will be applicable.
International flights charge higher than domestic ones. You should go through the airline-provided policies and restrictions on baggage. For example, check the thomas cook luggage allowance to get an idea of what and how much is allowed to bring with this airline.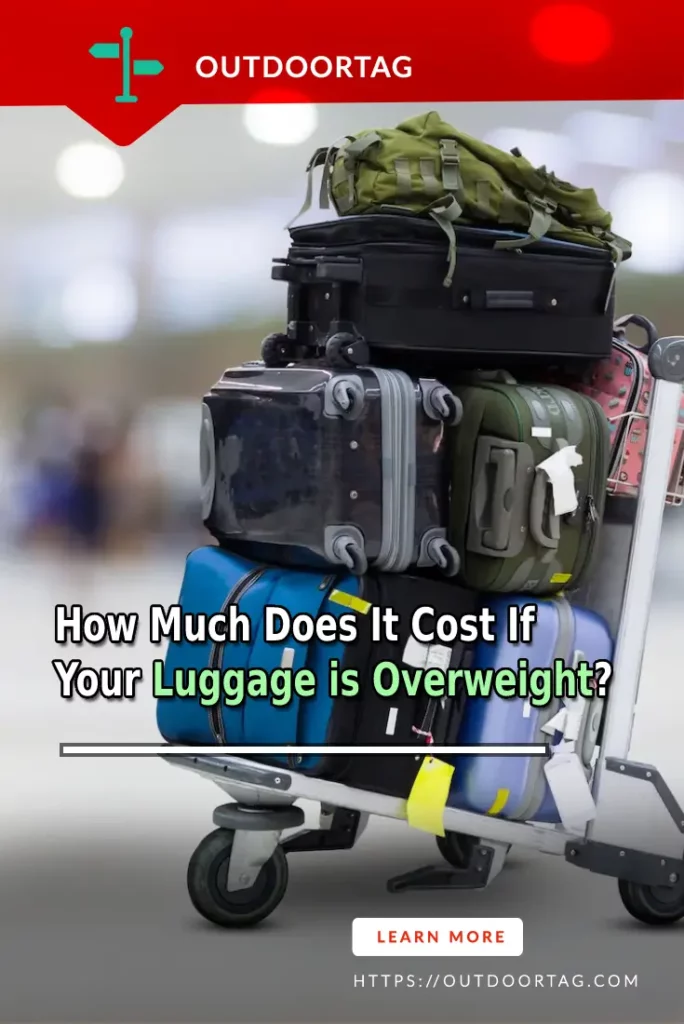 What Happens if Your Luggage is Overweight?
It's true that there are rules regarding the weight of baggage that passengers must follow for flying with an airline. However, if you cross the weight, then there's no other type of penalty that you have to face.
Just the charges for additional bags would be enough. So, there's not much to worry about, only the idea on how much do airlines charge for overweight baggage should be enough.
What If My Checked Bag is Over 50 lbs?
If you know that your checked bag will weigh more than 50 lbs. then it's best to find out exactly how much extra you are bringing. Because it's true that you'll pay a fee for the bag crossing 50 pounds weight restriction (with most airlines) but if it raises to more than 70 pounds, the charges will be quadrupled.
Also, a few airlines might have more severe rulings regarding that much extra weighted bag.
How Do I Avoid Paying Overweight Baggage Fees?
Always keep track of the restrictions and rules regarding weight allowed. Try your best to follow that.
The case you'll carry things in must be as lightweight as possible. So that a few kgs can be excused with each. However, don't buy a flimsy carrier for this purpose.
Airlines offer a loyalty program that allows a lot of offers and baggage weight flexibilities. Sign up for those or get the status if possible.
Lifting the carry-on and making it obvious that the bag is heavy through your stressed facial expression, try to resolve that. If you can pass with a heavy bag lifting it with a chill resting face, the authorities hardly would call you for checking.
"No frills" airlines are a pain with their too ruthless behavior towards checking weight as that gets them additional revenue. Try to book a better airline, and do some research prior to your flight.
Suppose you have tried your best to pack less but it's still crossing the limit. In that case, look for purchasing excess baggage at a discount price by checking online.
Frequently Asked Questions 
Do they weigh carry-on bags?
That's pretty rare actually. However, there are certain airlines that behave quite strictly regarding weight. And if that's the case, you might go through the checking. But usually, airlines only weigh the checked luggage, and carry-on gets excused from you.
How can I cheat my luggage weight?
That's not something you should consider. But I'm guessing you are very desperate. I think you can include all heavy and dense stuff inside your carry-on luggage. And also take benefit of duty-free bags. Also, while checking, you can ask your friend (if not flying alone) to hold the heavy stuff. Once they have it weighted, simply put the things back.
Wrap Up 
I hope you now know how much it costs if your luggage is overweight and a few handy tips to handle the crisis. Having the expenses trailed will save you from embarrassment and disappointment. So yes, make sure you take notes on it. And there are also other rules that are necessary for one to know and follow. Take your time to go through those as well.