If you are taking your next flight with Thomas Cook Airlines, then understanding their baggage allowance is a necessary without a doubt. There is a whole list of things to go through and some technical terms that can feel a bit too much for the short time you have. Well, do not stress as I'm about to simplify the whole thing today in plain words, as much as possible.
So, hang on there while I write about all the critical things about Thomas cook baggage allowance and more.
The Standard Thomas Cook Baggage Allowance.
To cut it into straight one line, you can take 15 kgs as standard baggage allowance. In the case of long-haul flights, you can go for 20 kgs. And of a flight to the USA, it's 23 kgs. Also, with flexible plans of Thomas Cook Airlines, this allowance can vary from 0 to 35 kgs for each person. And you should be able to find the information on your documents.
When traveling with your squad, the weight needs to be combinedly not more than 30 kgs. Here your bag's sizes are a factor that decides the overall allowance.
However, Puerto Rico, USA, and Canada travelers can have a bag over 32 kgs but there's no system of combined luggage.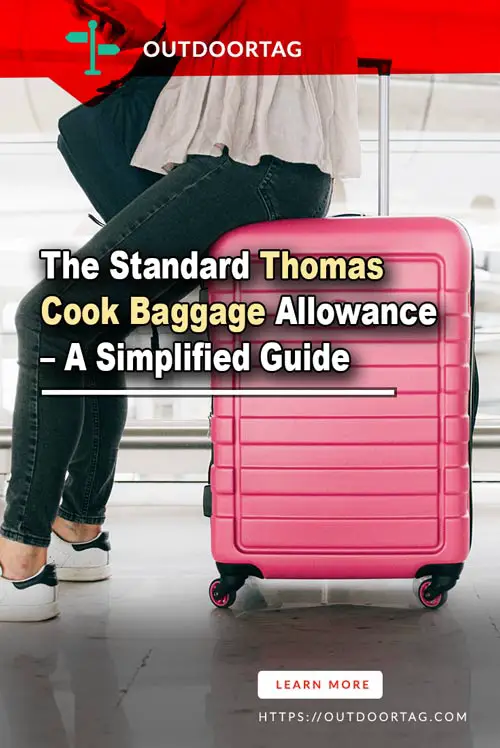 Once It Become Extra Baggage.
Now maybe because of some certain need, you want to carry more than the standard baggage. In such a case, you will need to get a check-in suitcase online beforehand. If the situation takes place inside airport, clearly things will be costly. Here are the charges for extra baggage.
The first zone includes Portugal Mainland, Croatia, France, Balearics, Balkans, Spain, Italy, and Bulgaria. Here you need to pay 15 pounds for 5 kg extra baggage and 25 pounds for 10 kg. The charge is for each flight.
The second zone includes Cape Verde, Greece, Egypt, Canary Islands, Cyprus, Gambia, and Turkey. In this case, for 5 kg extra baggage you will pay 18 pounds for each flight. And the charge will be 30 pounds for 10 kg.
The third zone has the Caribbean, Asia, UAE, Sound & Central America, and East Africa. While the fourth zone includes Indian Ocean and Southern Africa. Here you need to pay 25 pounds for an extra 5 kg and 45 pounds for 10 kg baggage coming additional.
For flights to the USA, you can take extra 23 kg baggage that will charge around 50 pounds.
Hand Luggage Allowance & Additional Hand Baggage Terms with Thomas Cook.
Typically, all airline customers can have hand luggage measuring up to 55x40x20 cm. for standard travelers it's a complimentary 8 kg. While a premium class customer can have 10 kg complimentary.
Standard travelers, kids, and adults can bring only one piece of hand luggage. The age range for kids is between two to twelve years.
If you are traveling with a kid, bringing a trunk is fine. Just make sure it does not exceed the 8 kg weight limit. If it does, then checking is mandatory. And it will be part of hold weight. Excess baggage charges will apply here.
On the other hand, with premium class traveling, you can bring baggage up to 10 kg without any extra cost. The dimension should not go beyond 55x40x20 cm, however. You can bring a hand suitcase that is approved by the airlines. It needs to fit right beneath the seat.
Other Baggage Allowance.
There are stuffs that you can bring inside baggage while a few things are not permitted. You can carry infant milk as a parent for your child. The same goes for baby food. That's going to be the part of hand luggage 8 kg allowance.
However, you must carry it separately from the security check from your hand luggage. It should be inside an infant bottle. And they can ask you for tasting. In the case of medical supplies, you need certification related to that.
If a newly married couple is traveling with Thomas Cook, they really want to make sure both bride and groom can have a nice time on board. But this does not mean they won't be careful about baggage sizes and packing conditions. So do try to respect the size and packing requirement accordingly to enjoy a smooth and easy flight.
If you are bringing any wedding packages, those will be considered as hand luggage. Couples can enjoy weight up to 13 kg, and this is applicable for only new marrieds. You need to bring two pieces of luggage for dividing the 13 kg weight. One carrying 8 kg. while the other should be 5kg. The dimension 55x40x20 cm is going to be the same and there's no complimentary treatment here.
Now if you are going to carry some sports equipment, then consider a carriage. You can very well take benefit of low charges and assurance spaces in flight through this. Arranging the carriage before your flight will be very helpful this way. However, there's still an addable charge applicable for sports equipment.
How You Can Avoid Any Extra Thomas Cook Baggage Fees?
Take maximum advantage of the gate bag rule. You can add essentials such as one laptop, a blanket or overcoat, shoulder strap included tiny bag, maybe an umbrella if the climate you're traveling to demands, reading supplies, a tiny camera, duty-free items, and disability assisting devices.
Be very sure of maintaining your cabin bag's overall dimension. Buying a specifically designed bag that follows airline measurement will never let you pack more. And you won't make a mistake that causes an additional charge on flight day.
When packing, try to keep it as minimum as possible. Take clothes that you can wear more than just a couple of times, maybe one or two books, not the whole library, and travel-friendly skincare or makeup items. There are always travel-sized supplies available that you can specifically buy for trips.
Be very cautious of banned items. Sometimes even with the right amount of baggage, you get fined due to carrying an object that is not allowed to bring.
Wrap Up
And that was all about Thomas cook baggage allowance. You should have a clear concept about the standard baggage weight and dimension plus charges if there's any applicable. Going on an air trip can be already panicking because you need to go through the whole drama of packing.
And bringing items that will cause an unnecessary fee at your flight moment can really make you upset instead of the exciting feel of a journey. So, well preparation and proper precautions are necessary. Hope You Will Not Less Prioritize Any of Both!