Being not sure about how much does a 6 volt golf cart battery cost is a common scenario when you have never gone through such replacement as a novice in this field. And the cost idea basically includes a lot of factors on the battery.
Golf is a game that requires quite a bit of wide-ranging knowledge. But then there's this whole segment that consists of a really specific type of question. For example, having confusion on whether your 13 year old drive a golf cart in Florida. And then there's the one that directly relates to making things work better, such as making electric golf cart faster.
But this one, about the cost, will need you to also find out about different factors that contribute to the actual price. And that's what I'll try to help you with today!
Average 6 Volt Golf Cart Battery Cost.
You can get yourself 6 volt golf cart batteries for a price between 170 to 1000 dollars that are manufactured by the trojan. But if you want to play it safe, go between the sound option. So, keep aside around 350 to 450 dollars for the batteries.
Then again depending on different models and amp hours, the pricing of a 6-volt battery can vary slightly. Refer to the pointer below for a rough idea:
SSIG 06 255 (T105) 229 Amp Hour Flooded Battery priced around 190 dollars.
T-125 240 Amp Hour Deep-Cycle Flooded Battery costs around 200 dollars.
J250G 235 Amp Hour Flooded Battery will come for slightly more than 200 dollars.
SPRE 06 255 (T105-RE) 229 Amp Hour Flooded Battery will also come for slightly more than 200 dollars.
J250P 250 Amp Hour Deep-Cycle Flooded Battery costs around 250 dollars
L16G-AC 390 AH Deep Cycle Battery price will be close to 350 dollars.
T105-AGM 217 Amp Hour Deep-Cycle Reliant AGM Battery will price almost 350 dollars.
SAGM 06 220 Amp Hour Solar AGM Battery prices are almost 350 dollars.
SPRE 06 415 6 Volt 377 Amp Hour Flooded Battery will need you to spend a little less than 400 dollars.
SSIG 06 490 (L16H-AC) 443 Amp Hour Flooded Battery will cost you a little more than 400 dollars.
6V-GEL 189 Amp Hour Battery shall cost around 400 dollars.
SAGM 06 315 Amp Hour Solar AGM Battery is available for 500 dollars.
SAGM 06 375 Amp Hour Solar AGM Battery costs almost 600 dollars.
SIND 06 920 (IND13-6V) 708 Amp Hour Flooded Battery shall cost you slightly more than 1000 dollars.
After having a look at the pricing above, you will feel that:
The better quality a battery packs, the more the lead in it would be. And so, the weight of that battery will also be more. All of that would make its cost more as well. Not only will the higher-priced one give you better results performance-wise but also, they would have better chances to last you longer compared to cheap counterparts.
Also, suppose you are willing to buy a golf ball from Titleist but have zero clue of its production quality. So quite obviously, you would research and find information such as where are Titleist golf balls made and what manufacturing process goes behind to basically come up with your own sense of whether the price of that ball seems to justify.
Similarly, with the batteries, the reason they may cost slightly higher than another model will be because of the better qualities it has, compared to other ones.
So How Much Does It Cost to Replace the Batteries in a Golf Cart?
After having a look at all the cost factors on batteries, we can now come up with a replacement expense. And generally, it should be at least 800 dollars to a maximum of 1500 dollars.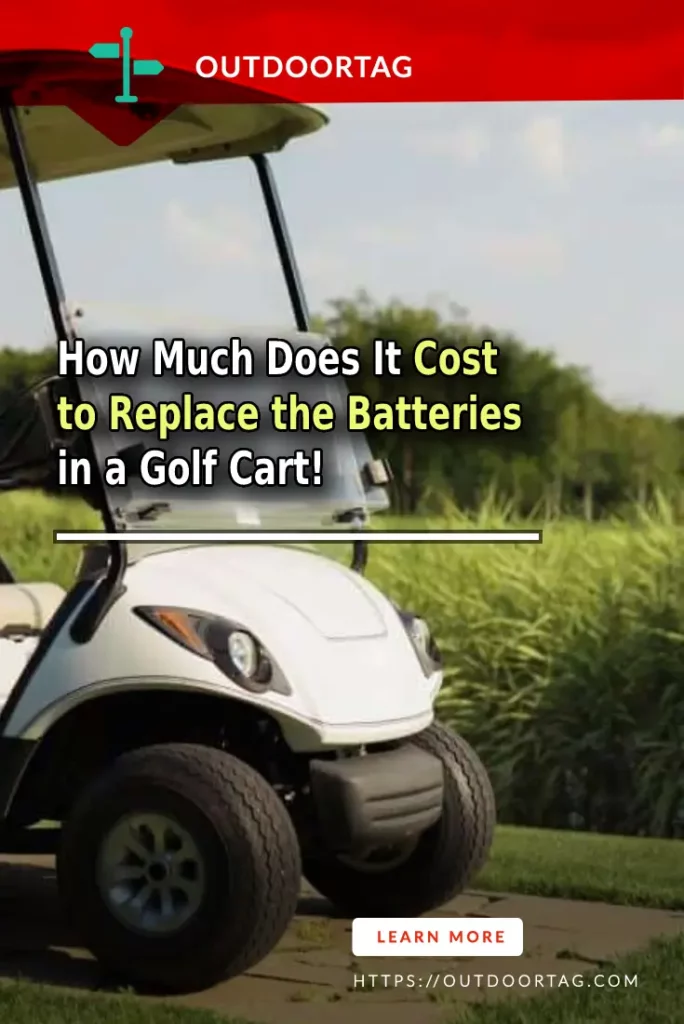 Frequently Asked Questions
How many 6 volt batteries are in a golf cart?
Typically, most golf carts would require you around four to six 6 volt golf cart batteries. However, there are a few that needs around 8 batteries to work.
How long does a 6V battery golf cart last?
This is actually relevant to the quality of battery that you're getting. However typically, it should last somewhere between 4 to 6 years. Then again there are batteries that go for more than 6 years. In some cases, almost 10 years of service non-stop. So yes, it all depends on the overall quality of the battery you're getting.
Why do golf carts use 6-volt batteries?
Run time is the main reason why 6-volt batteries are great for golf carts. Running for almost 154 minutes at 56 amps is a great deal. This is also the reason why the batteries can give a longer range compared to 8- and 12-volts ones.
Wrap Up
Still not sure how much does a 6 volt golf cart battery cost even after this guide? I doubt that. However, please keep in mind giving a specific price point will be hard because there's more than just one factor that comes into consideration. And so, it will keep varying based on that.
On That Note, Will See You In Some Other Similar Topic Soon!