Usually with family trips, we are more prone to enjoy car trips than taking any other vehicle. However, the thought of buying or renting car seats for your infant at the destination seems very unnecessary when you have your one at home.
The problem starts to show up when you realize it needs to go through an airport where there's a chance of issues such as restrictions. However, thankfully there are airlines that do allow taking car seats with you without cost. And you can either opt for a gate check or simply pack one in checked baggage
Now maybe you want to try the latter option but don't know how to pack a car seat for checked baggage. Well, today's piece of writing is meant to sort out the point for you.
Here are Tips on How to Pack a Car Seat for Checked Baggage.
Below we will go through a few tips on packing a car seat for checked baggage. These are meant to give you an efficient outcome that is less costly. Keep on Reading…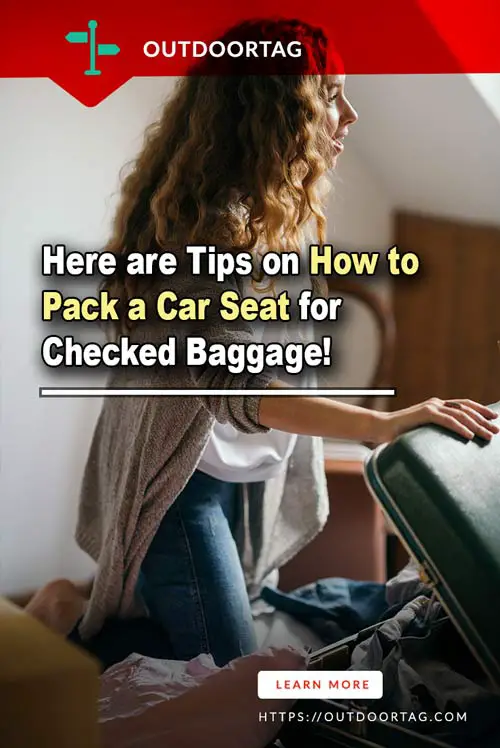 One Thing to Know Before Packing the Seat.
Depending on the country's rules and regulations, you may or not be allowed to carry a car seat abroad. And so, you should first, check for the rulings. One good example is the UK and EU car seats. These are meant just for UK and Europe only. So, you cannot legally take it for USA, Australia, or Canada usage.
Packing the Affordable Car Seat Right Way.
To make sure the car seat you're bringing is not at risk of damage, take some precautions. For example, you need to wrap the seat with something withstanding. Such as a strong plastic or cardboard. Then use tape for sealing it entirely.
Maybe the whole process will seem a bit less convenient to you. But for the sake of security, you should take this much pain. In case the security asks for a checkup, opening the wrap can seem bothersome.
Now if you don't mind spending a few bucks, then this problem can be sidestepped. You can get a car seat bag that is built for safety purposes. The thing would provide most protection, and at the same time, it'll be very easy to carry.
If you get the one with enough space, then few of your baby's stuffs can also find a place to reside in. another fantastic trick is surrounding the car seat with baby diapers. You can opt for other soft items too for example socks and towels. This will provide additional protection.
Also, some may wonder if there's any facility for airlines wrapping the car seats. Well, unfortunately, no. this isn't their responsibility you see. So, you must pay attention to keep it free from damage. As in the case, it does experience some harm, the airlines won't take any responsibility.
And this also reminds me of another thing. You should not bring along a car seat that is very expensive. Go for the ones that are affordable. Because in case the car seat gets damaged, you will regret a bit less.
Use Some Bubble Wrap.
One cheap and inexpensive way to carry a car seat can be with bubble wrap and tape. You will need to put quite a few layers of bubble wrap around the car seat. Make sure you cover all the areas. Then get a heavy-duty tape for securely wrapping it. This can be a bit hassling if there's a security checkup in the situation. Since then, you may need to open whole thing to show the security in charge.
However, in most cases, this works and there shows no problem. You can also bring all straps after shortening them and then clip them together. Sometimes due to catching of protrusions and straps on the belts of baggage, damages take place. The clipping will avoid such consequences.
Asking for a Car Seat Bag at Checking.
There's also a way of asking for a car seat bag. You can do that at checking. It should be an extra heavy plastic bag, big enough for the seat. There's also an adhesive strip to seal. By taking it to the special baggage area you can then include it as carry on.
Don't forget to ask for an extra one. For the return journey collecting a spare one will help. But then again, deepening on who you're flying with, this may or not be an option available.
On-Board Using the Car Seat.
There have been many incidents of parents getting the wrong idea of onboard application of car seats for their skids. And that sometimes consequences in severe conflicts with the flight attendants.
It can be true for the car seats with FAA approval, too. The scene is common in airplanes that have smaller than average seats. One thing you can do to prevent such problems or conflicts is simply not carrying a bulky seat. Statistically, the use of seats is safe. You will be able to buy and carry the lightweight car seat and that should not seem like a trouble to flight attendants.
Watch This!
Wrap Up
And we are all sorted with knowing how to pack a car seat for checked baggage. The whole thing can be a bit daunting, but so much worth it.
One thing you should know in case of mishandling or damages. Never leave the airport before making claim. If seat does not come to you on your arrival or make it to the last destination, there's something wrong.
You should find the information from the airport about your car seat. Some airlines may compensate fifty dollars, while a few announces from the very beginning of not taking any responsibility for extra car seat carrying. In both cases, you may meet a very unfortunate thing that happens rarely but it still can.