One out of three person in America is obese according to the American Heart Association. But airlines are showing close to zero sign in considering this significant fact to make their seats more comfortable and sizable for plus-size passengers. Instead, seats are getting smaller. That's The Irony!
I do want to spend a few more minutes ranting about this but, guess not today. Because I've sat down with the intention of helping a few people facing this confusion of too narrow seats. And whether the next flight they'd like to take would be comfortable or not.
Specifically, let's try getting an idea of the typical waist size to fit in airline seat for most of the part. Some of you might want the information to decide at what size do you need two airline seats and if that's something to even consider. Yap, keep reading…
What Waist Size to Fit in Airline Seats Generally? – Needs Basic Idea of Seats.
Well, these are those sorts of questions that do not have a specific figure answer. However, generally, the seats of airplanes are 17-18 inches wide. Though there are also different seat designs that can contribute to the wideness or narrowness factor.
For instance, if you consider the American Airlines Boeing 737, it comes with a curvy fuselage. This causes the seat to be slightly narrower than usual ones. Then another example could be US Airways Airbus A330. The seat follows a certain tray table design that causes it to feel narrow.
So, you can tell that the variations are pretty unpredictable. And that's why you need to consider the seat width of your specific airlines and then figure out if it's enough wide to keep you comfortable throughout the journey.
Also, some airlines have the term passenger of the size that follows up with a rule for purchasing a second seat. Especially, when the larger passenger cannot occupy one seat.
So, you finding the fact that you must buy a second seat on the day of the flight, is not a very pleasant thing to experience. Make sure you take notes on such rules if any by your airlines beforehand and be prepared for it.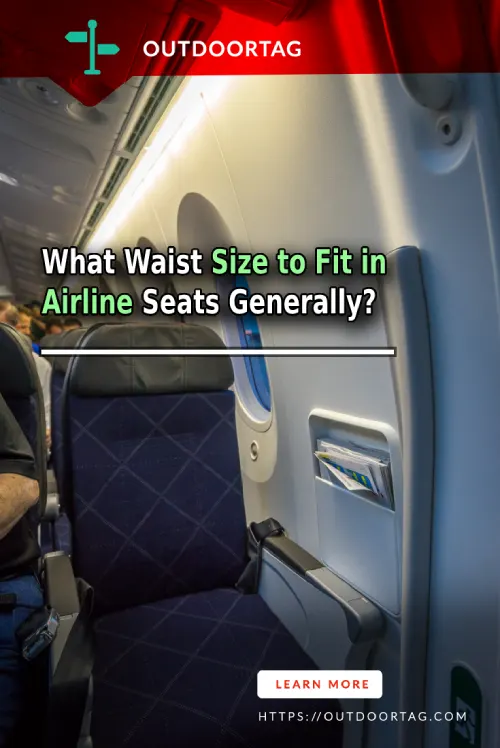 I'm Size 24 Will I Fit in an Airplane Seat Comfortably?
I am a size 24 will I fit in an airplane seat and have a comfortable flight afterward? This is just an example of a question that many passengers of plus size tend to have before the flight. Now it typically does not have to be 24.
However, let's take an example of size 24. Someone who would have a 46 inches waist and 54-55 inches of low hip measurement. Clearly, a seat typically having 17 to 18 inches width, might not be the most comfortable thing for a 24 sized person.
And so, you should take some preparation plus follow a few tips. To make that problem less problematic during the flight.
On that note, here are a few pointers that might help you.
Explore SeatGuru to find out about seat width and choose a comfortable seat that's 24-size friendly.
Book flights on days that are typically not overcrowded. So that in case of a narrow seat, you can easily find empty seats and change to it. Monday is usually quite a busy day for maximum airlines.
Ask for a seatbelt extender on the flight. However, usually, the provided ones are quite low quality and hardly long enough to help.
Window or Aisle seats are great for having a tad bit of extra room to move. Try to avoid bulkhead seats.
Exit room seats often has additional legroom in economy class, try booking one of those.
Every two to three hours, make sure to stretch your body, practice some ankle rotation and toes need flexing as well. Having health conditions is not an unusual thing for a plus-size person. Make sure you give your body attention during these long hours of seated journeys. Also, wear loose and comfy clothing.
Can You Buy a Seat Belt Extender at The Airport?
Every airline would have rules if certain items are allowed and not allowed on airplane. If you are planning to get a seat belt extender of your own, then verifying whether it's okay to bring one in the plane is important. This is for those who doubt that the seat belt of aircraft would be too short for their size.
Well, the FAA has shown less interest in recommending passengers to bring seat belt extenders. Because any belt or extender provided by airlines goes through inspection and maintenance. However, the one you would bring is a different case. Even the ones that come with FAA approval can get rejected inside a plane for use.
Now I know, there is more controversial stuff that people end up bringing on flights and getting a pass. In fact, someone posted can I take edibles on an airplane in a forum and people were suggesting ways on getting a pass with those.
Just an example. In comparison, extenders are not anything too serious. But the fact that it still isn't allowed should be in your concern and you just have to know it for the sake of acknowledging rules.
Solution? Well, bring a seat belt extender that looks and feels almost similar to the one that aircraft provides. And have it inside your carry-on. If the airlines don't have an extender enough for your need, then that extra one in your carry-on will come in use. Also, usually, seat belt extenders are pretty universal.
Keep In Mind – inflatable seat belts are a common thing for some airlines. And in such a case, you may not be able to use the carried seat belt extender for the particular seats.
Where Can I Buy Airplane Seat Belt Extenders?
You can buy these both online and offline. However if you are looking for one right now that comes with 3000lbs break strength, adds 7-24 inches to the existing belt, is compact to carry easily as well as supports you on the right place then a 7-24″ Airplane Seatbelt Extender
can be the one for you. Another favorite of mine would be Seat Belt Extender for Most Airplane that comes with one extender and a portable bag to carry it.
Watch This!
Wrapping Up
So, we talked a bit about waist size to fit in airline seat, the dimensions of seat, and also belt extenders. I hope it helps you in some way. The last piece of advice would be checking with the airlines about overweight passenger policy.
Doing your research, on the whole, is quite important. And you need to be aware of the second seat requirement too beforehand. So, talking to a representative of the airlines would be a much-needed step you should not be sidestepping.
Once you finish reading this, get the contact information and check with them in detail. Bye!