One wonderful way to go out and enjoy the gifts of nature is by getting into kayaking. It's not just a refreshment activity but also pretty good for those who want to get some work out benefits.
No matter if you are someone who likes to go kayaking quite frequently or simply prefer it once a year, knowing the right way to transport is applicable for all. You must know the right tying down method to keep your favorite kayak going good for a long time.
So, today we are here to talk about how to tie down a kayak in a truck bed, since this sounds the more common transport method that most people like to use.
How to Tie Down a Kayak in a Truck Bed the Right Way
Before we start, here's a quick thing you should know. If your truck bed is slippery, use a rubber mat for the floor. It's also not good to use bungee cords for tying since these are very stretchable and can lead to undo the hook.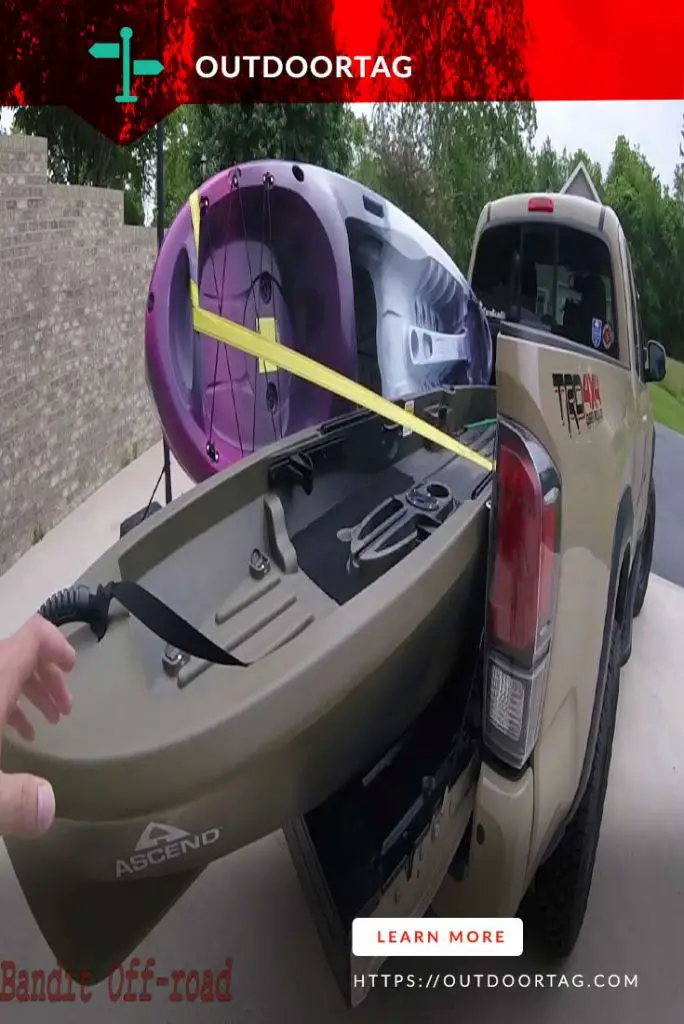 1. Make Sure the Kayak Is Fit-able In Your Truck.
Apart from what fastening device you'll be using for the tying, it's also important to consider a bit about size of both your kayak and truck. You should ensure that the truck bed is capable of holding your kayak well enough. You don't want it to fall off while on the road by any means. Using bed extenders for trucks can be a good idea for the right amount of stability plus security of space.
In case you are going to put a bed extender long kayak in your truck, make sure to use a red flag in the end. So that the other drivers behind you can be alert of the fact that you're holding a kayak that is extending past rear. Preparing for a mounting system can also be another way. This way you'll be able to tie the kayak on a roof rack or even above of cab.
2. Proper Preparation of Truck Bed
Start by opening the truck's tailgate first. Then you need to get rid of all the debris. So that there's no chance of causing damage to your kayak. Also, if you're strapping down any loose stuff with kayak, make sure to use only cam buckles to do so. In the back of your truck, there should be nothing rolling loose. Lay down the rubber mat after cleaning step. Make sure to evenly pace it on areas that have the chances of slippage.
3. Loading the Kayak
Now carefully pick up the kayak. You want to gradually slide it towards the back of your truck. You may have one of those kayaks that include handles for easy carrying. In that case, lifting and carrying into the truck bed won't be very hard or problematic.
If there's no problem with having a longer kayak than a truck bed, you should close the tailgate. So that if there's an overhanging end, then that will be raised above. And so, the car driving behind you will not have any problem. Another great solution for long and unstable kayak placement on the raised tailgate is simply tying a red flag on end. That way you can keep tailgate lowered and the next vehicles will not have trouble.
Once you are done placing kayak on a truck back, look for all the anchor points available. Then simply slide the kayak in a diagonal manner across truck back. This way the across bow will stay on the front right corner which is nearest to cab.
The stern needs to be in an angle with truck's back left corner. That way you will be able to align the kayak along with anchor point. And as a result, the length and width of your truck bed will be maximized for use.
4. If You Are Loading More Than Just One Kayak.
In case you're loading more than just one kayak, then there's no way you can keep tailgate up. Because in that way, there will be too much danger even with strapping it securely. So, make sure you keep the tailgate down. And also, you want to let the kayaks lay flat over truck bed.
You will also need a truck bed extender to make the space wider for enough storage. You can also invest in a four-kayak roof rack to make the loading mess-free. On each side, let the kayak rest and then simply use camp straps to tie it down.
5. The Art of Proper Tying.
You should be sure that the kayak is balancing well on rack or truck bed. Even if it's hanging out of the bed, most parts should be inside of it. Then you need to use cam straps and then tie down both the ends of kayak. You don't need to make knots with the tying, however.
You just need to let the straps through buckles. Then gradually pull the straps down to kayak's side. When you are carrying it towards bed, best way is to tie it to the hooks. Once you are done tying, shake up both sides a bit. This is to check if the kayak is actually sturdy enough to not fall on road when you start driving. In case it feels shaky and won't last for trip, you need to make the tie stronger.
6. Rushing the Tying Process is Not Okay.
When you are tying the kayak onto your truck bed, give yourself enough time to complete it. the right gear and proper strapping equipment are necessary, but only when you give this process its needed time and focus.
So that kayak actually stays in its place for the entire trip. You should arrange for proper lighting if you're driving in dark. This is very much important if you have overhang kayak on the truck bed. Or else the driver behind you will never know because of no proper lighting exposing overhang. So, keep that in mind.
7. Frequent Checks & Re-Tying During the Trip.
The whole kayak hauling things is pretty risky. And that's because it's not very heavy and pretty hollow to easily fall off from your truck if not tied properly. During the journey, straps can get loosened. And that can make things fly off the bed eventually. This is why you should take occasional breaks from driving and check if everything is still securely tied up. This extra carefulness is very necessary if you are on a long trip.
Watch This!
Final Words
If you've quite an experience with hauling items behind your truck, then these things are going to be pretty bare basics to you. But for someone new to such hauling needs, the proper manner on how to tie down a kayak in a truck bed is very necessary to deeply know about. The kayak is a very aerodynamic and lightweight item. So, the chances of it rolling on road without you even having a clue are pretty high. Make sure you utilize good straps, pliers, and other fasteners tools to keep your kayak transportation free from losing it. Good Luck with That!