There are many incidents where people come across some vulnerable situation because of not ensuring complete safety when transporting their kayak from one spot to another. And so, you being searching further on how to carry a kayak safely is definitely something appreciable and praiseworthy.
Some may want to find out how to transport 2 kayaks or more than that which definitely is even concerning and makes the whole discussion beyond significant. So, I'll try to put together all the necessary tips and precautions that you should be making for your wellbeing as well as avoiding any mishaps to your kayak.
Here's How to Carry a Kayak the Proper Way.
Some believe that kayaks are way lighter than a boat. And so, it's not really that important to be overly concerned with the safety instructions of lifting it. However, this is definitely not true since today there are plenty of models that come with a pretty heavyweight. Brining to one's shoulder height and then moving ahead, is challenging and you must never think it the other way. Let's go through matters that will hopefully help you to simplify the whole carrying task.
It's Best to Stick with Pre-Planning.
When you make a plan of trip where you'll be taking the kayak along, it's best to preplan about it carrying tasks as well. You want to consider how you'd like to move it. Also, make sure you take into account how many times you'll need to carry the kayak. Not to forget the surface that you'll be carrying it across.
Also, if possible, try to map out the spots where you'd be moving the carried kayak across. This way you will have all possible understanding about the terrain. And so, you can easily prevent obstacles that are likely to come your way.
Look for Dragging Spots & Chances.
There are plenty of kayak models that come with a built-in skid plate. In such a case, you can without any problem drag it instead of carrying. But usually, it's limited to some surface only.
So, pay attention to where you're dragging them. This way you can lessen physical strain a lot as well. If it's a plastic kayak hull, then this dragging method will work best. But avoid doing so with any composite hulls. As this will lead to serious damages by rocks in the way.
Carry Handles Are Your Best Friends
To make the whole lifting and moving chore easier, some kayak models include carrying handles. These are usually fitted into the kayak and also are rubberized. Those who are into touring kayak, longer or heavier variants, don't miss out on the handle part. The models that come with such handles are what going to make your overall usage easier.
Make Use of Some Helpful Tools.
If using the kayak is going to be quite a regular affair for you, then investing in some useful tools isn't really a bad idea. One such example of equipment is a trolley. The inclusion of a quality trolley will drastically reduce the effort that you'll need to move a kayak. Also, give a thought to buying a proper car rack. These are not very expensive and works extremely well for easing the whole process of loading, transporting as well as unloading again.
If You Are Lifting It Alone.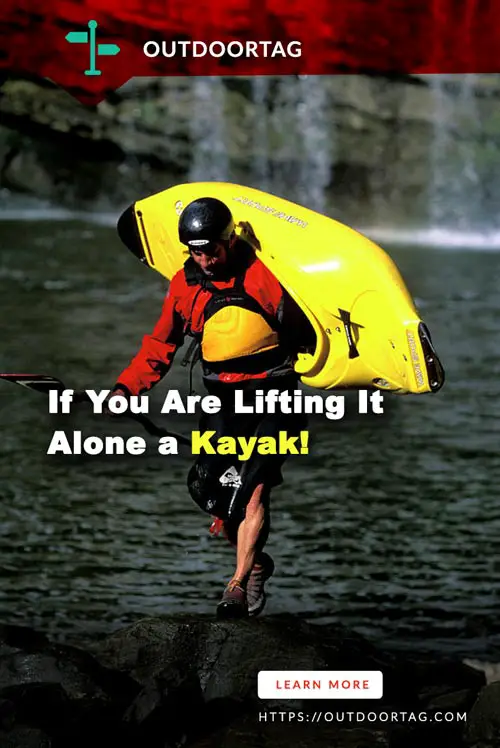 First of all, you want to make sure that you're on a level surface. Also, kayak needs to have its bow facing towards the direction that you would be moving along. You want to stand along with the side of kayak. Make sure you are facing the cockpit.
Once you assure this correct positioning, go ahead and bend down your knees. Use both of your hands to tightly grasp the cockpit's inner edge. Use your knees instead of back to carefully lift it up. Make sure to lean gradually back while pulling the kayak in direction of your thighs. The cockpit should be facing away, however.
Now the kayak should be resting within your thighs. Grasp cockpit's other side with one hand and try to make pull the kayak against tights. Once you are bracing the kayak against thighs, use your other hand to reach across carefully. Now turn onto the direction in which you'll be carrying kayak to.
Then gradually roll the kayak up and bring it into your shoulder. Your arm that is inside the cockpit needs to be in charge of making it steady. The last part where you roll up kayak on shoulder is pretty complex and tricky. If this is your first time, then make sure to be very cautious during this step and don't hurt yourself.
If There's A Friend to Help.
In such a case, you want your friend to stand at the stern while you'll be on bow. This could be on either side of the kayak. Make sure you both engage in some sort of prearranged signal to understand when to grasp the handle or toggle and lift it.
The lifting needs to be done at same time, so be careful here. Also, use your knees to lift the kayak while maintaining communication to avoid any drastic injury. Don't let kayak go above the waist.
In the case of transporting for a short distance, you and your friend can start moving already. However, if the kayak needs to go a pretty long distance, then try to bring it on shoulders. Here also you and your friend both need to lift it to shoulder at the same time.
Wrapping Up
And that was all about how to carry a kayak alone or along with a friend. The guide should help you out in such circumstances to avoid injury. Also, you should be desperate enough to maintain the safe transportation of your kayak. Don't consider all of these a bare minimum thing that can be ignored and taken less seriously. Because when you actually experience an accident that leads to an injury or hurts your favorite kayak, these little things are going to be a reason for regret. Don't Let That Phase Ever Happen.