Planning cross country trips are no easy thing. Especially if you are a pet owner. Things become a bit less hassling if the pet is a friendly dog. However, you still need some preparation and knowledge on how to travel with a dog cross country. So that your little buddy does not feel uncomfortable with an unfamiliar setting showing up suddenly.
As a pet parent, you would feel nerve-racking even when the whole cross country driving thing is an extremely fun experience as a human. And so, I plan to sit down and write a few things about how you can make this experience worthwhile for your dear pet as well.
Take These Notes on How to Travel with a Dog Cross Country.
There are more than just a few tips popping into my mind for you to know about. But let me keep things simple and share the most essential ones. Of course, those were greatly helpful for me when I visited my parents. So hopefully, it'll serve you some amazing trip experience with your dog too. Keep on Reading…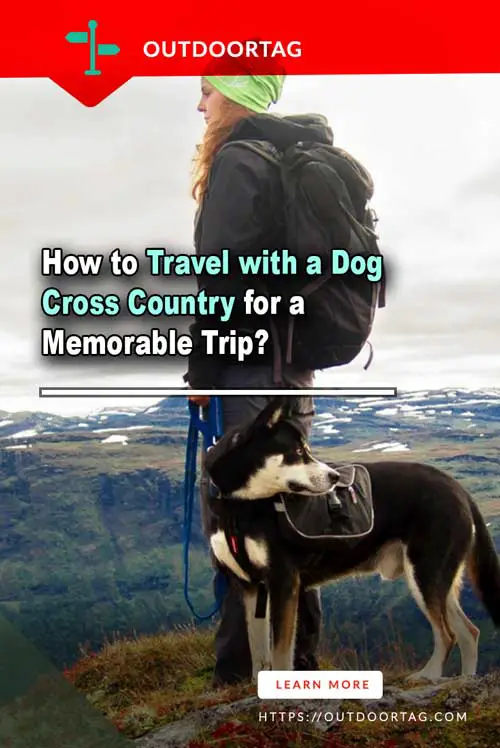 Get Ready for The Road Life.
When you plan for such cross-country drives, it's usually five to seven days on the road we're talking about. And of course, apart from being fun, it is going to be tough at the same time. Because you'll not only have to deal with pit stopping for gas but also worry about unloading your pet child's belongings at the hotel.
And those won't be very comfortable and less time consuming to do unless you are one of those wise people who plan things earlier.
Start with a positive attitude that you'll be able to handle things well. Then come up with all the things, ideas, notes, and situations that may come across while you live your life inside the car with your dog. And prepare for solutions to those. This may not completely make you safeguarded from a certain mishap, but for the most part, you'll be well covered hopefully.
Take Your Pet to a Vet Beforehand.
Visiting your vet is one of the first things you need to do as a part of preparation. Because if your dog is not in good health, there's a chance it'll get even worse during the journey. And so, you must confirm your pet child is in a good condition to go through a road trip.
You also need to ensure current vaccinations for him or her. If there's a need for a certain medication, you'll be noted by the vet as well. Traveling diseases such as heartworms, ticks, and other health concerns are pretty common. You also need to discuss further these with the vet.
Along with that, make sure you take notes on car sickness, allergic reactions, and diarrhea remedies. Another very useful tip is getting a microchip for your pet. Losing a pet on the way is not an impossible situation. Microchip and current ID tag will make it easier for you to find your furry buddy. Make sure you scan all-important medical documents into your USB drive and take it along on the trip.
Route & Accommodation Planning.
There can be many routes to your destination. Your heart may tell you to take the longest one for an exciting ride. But keep your pet's wellbeing in mind and choose a route that sounds most suitable for a trip with such a companion.
There are even pet-friendly trip planner providers who can help you lay out better routes. Anything that adds pet-friendly places such as campgrounds, beaches, pet sitters, supply stores, and so on should be a great route for you to pick.
Making some reservations previously in a few hotels within the route is also a great idea. There are hotels that allow pets with certain cost and size rules. You can check online about such accommodation and plan accordingly for a convenient trip experience with your dog.
Before the Actual Long Trip, Go for a Short One.
If your dog has not been on a long drive recently, then take him or her on a short one first. That way you can figure out how he or she reacts to the trip. Sometimes they show their fear through shaking or sitting low on the ground with ears back. However, if you see a more neutral position, then there's nothing to worry about probably.
Be Mindful About the Dog's Car Safety.
Focusing on car safety for your dog is also a very important thing to consider. First of all, make sure you get some pet seat belts. A few more things that help throughout cross-country drives for pets are booster seat, travel crate, harness, and so on. If the climate is on colder side, don't forget to get a proper seat cover as well as a blanket. This also helps to keep your car clean and arranged.
A name tag included collar is also important to have. Sometimes due to fear, dogs tend to run off. And that's when a collar with a name tag will make things easier for you. Try to include your current contact number with the collar as well.
The Most Important Part

– Packing for Your Dog!

For the trip, your dog will also need some stuff and you should pack them without missing out on anything. Some of the favorite toys so that they can be comforted if anxious, should be on \ list. Do not forget food and snacks for your pet, especially some treats.

Sometimes the whole packing thing becomes challenging as there is very limited space. You can buy a bag separately to hold all the essential items for your pet. This also makes sure everything is organized and easier to access in need.

With foods, you want to pack a little bit extra, make sure to grab your pet's favorite brand before it stocks out and include a can opener for canned items. Then along with the medication, don't forget vitamins and supplements if you're pet take any.

For the food serving, you'll need bowls. The same goes for liquids and water. The portable ones help best, especially spill-proof bowls. As then your car is less likely to get messy. You should also bring a few paper towels rolls. Also, carry a few carpet cleaners. As the paws can get muddy from playing and other messes. There is also the possibility of meeting rain or simply swim at a pool, an old towel will be very helpful on those occasions.

Spending the night in unfamiliar locations can be a bit hard for dogs. But with his or her pet bed and other playing stuff, it'll still feel less unknown, so carry those as well. And finally, an extra leash can help in case your dog wants to run in areas that are not fenced.
Watch This!
Wrapping Up
When you are worried about how to travel with a dog cross country, it shows your affection for your dear pet. And that's surely something to appreciate. With these tips and advice, I hope you can overcome any negative feeling that you're having before the trip. Everything will go fine once you decide to plan well for the drive. Just don't forget to enjoy the road journey. You can surely keep things worry-free after doing enough research.