Those who are into boondocking or dry camping, you've definitely given the idea of having a generator some serious consideration. And maybe that ended up making you come across one very famous option, the Predator 3500-watt generator.
Most of the reviews out there are about its good and positive notes. And that's fair, to be honest. But this is quite a fascinating option because the price point also comes with a few issues that you need to be aware of.
Today, we'll discuss some of the predator 3500 generator problems and overall opinion on it in broader detail. Keep reading!
Noticeable Predator 3500 Generator Problems You Need to Know About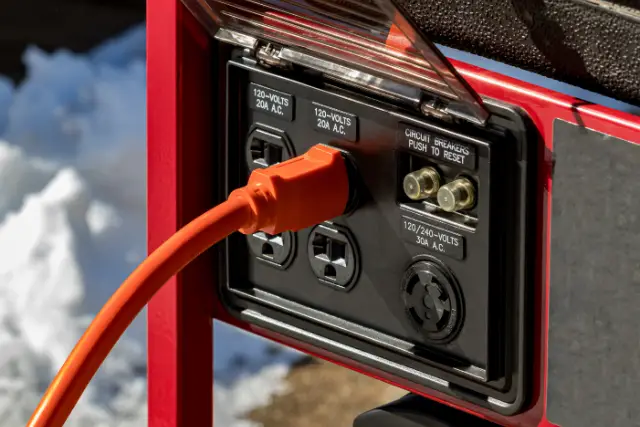 We won't be pointing out anything that is easily manageable, even if it's an issue. Instead, let's go for the matters that might be a reason for troubleshooting with your overall usage and purpose. Also, even with these issues, please keep in mind it's still a great choice considering the point. So, no hard feelings, just a bit of deep digging to be more aware of the purchase. That's the main intention.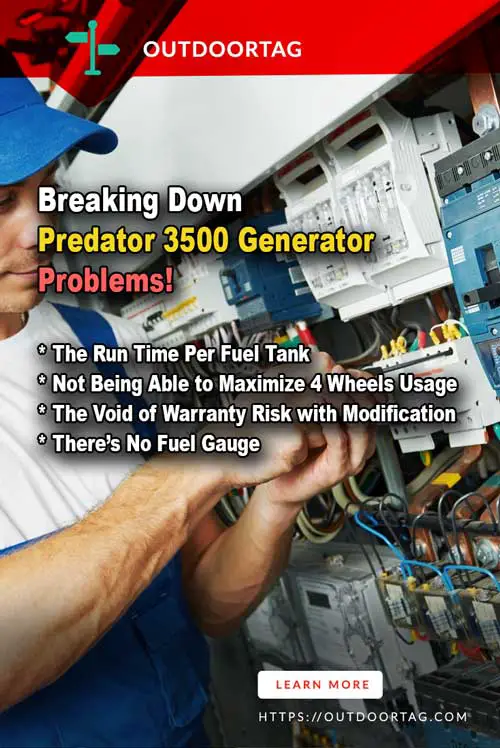 The Run Time Per Fuel Tank
The first thing we would want you to know about is the run time amount for each tank with enough fuel. If you have an auxiliary gas tank hooked up, then this should not be a problem. But otherwise, it's going to be just a weekend-only kind of option.
With 25% of usage, you'll be able to get 11 hours of lasting with a 2.6-gallon tank. This makes tracking a bit hard as you need to do it manually. However, the numbers are quite spot on, so some scores here. If it was a dual fuel option, things would have been better, which is our next figured-out issue with the 3500-watt generator that is going to get discussed eventually.
Also, keep in mind that the average usage would be 4-5 hours for 1 day. However, with a high use rate, the tank will be able to go for a two-day period. This should be somewhat enough for a regular weekend. There needs to be some refilling with the tank for a holiday weekend or longer vacation plans.
Thanks to its oil door is ready for refilling. And this can become a bit annoying if a nearby fuel station is not open. Or perhaps there is no station close to your vacation spot.
Not Being Able to Maximize 4 Wheels Usage
With most stuff, no matter what use, this one thing is always common. And it's about room for improvement. A flawless thing is still not available in our sweet world. And that's true with the predator 3500 as well. The handle is very useful, no doubt. But because it is not a fold-down type, you cannot completely maximize the use of 4 wheels. That's where the makers need to make some changes or say modifications.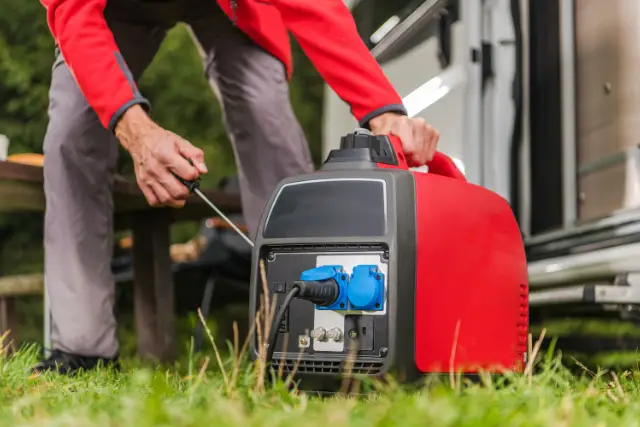 If this simple design improvement is considered, a lot of portability-related issues would be sorted out with quick troubleshooting skills. Yes, 100 pounds is quite lightweight to carry. But because we love to have stuff with more user-friendliness, this pretty easy inclusion to make it pulled along is quite a hard starting point.
Quick Fact: Replacement parts for Predator 3500 like battery cover, fuel strainer and more are available for purchase at Harbor Freight Tools.
The Void of Warranty Risk with Modification
Some people have a different style of maintenance. And so, they may want to convert it into a propane runnable option. Yes, this is possible with the sacrifice of a few hundred watts off performance down overall.
And this may be nothing for some but bad news to a few. Those who are regular users with no problem with enough power running it on gas would not mind such a thing. But if the interest of giving it a try to propane comes to your mind, know it's possible with some limitations.
And one is the fear of voiding the warranty. This is something you need to check on your own. Some modifications can be a reason to void the warranty, so you need an informed decision.
Quick Fact: Up 10% ethanol is acceptable, but ethanol free fuel is highly recommended.
There's No Fuel Gauge
There's no fuel gauge even on its digital display board, and this may be a problem for first-time buyers of a generator. However, you can somehow manage without a gauge because of the low fuel shutoff and hours counter. And once being used to this, you won't be complaining much or missing out on the fuel gauge feature.
Related Post: how to make portable generator power clean
Wrapping Up
So, when you think about predator 3500 generator problems, there is not much to complain about, honestly. But whatever few issues it has, the best thing is to be aware of those. Balancing pros and cons will make you more competent in making a value-providing decision by the end.
On that note, for residential settings and places with tough level ground, the predator 3500 is still a strong option to contemplate on. Maybe off-road routes won't be in favor of it, but such surroundings are nowhere a mismatch.
Those who own RVs or are simply homeowners would love the high-level performance that is also quite low in noise. Overall, it's still an option you won't mind bringing home at a reasonable price tag.