I understand in golf, there are some things or matters that you have a choice to go for or skip. For example, knowing when should you wear a golf glove and keeping aside the other times. Or perhaps not even buying one. But some gears are a must and you need to have them. For example, clubs.
Considering the fact, golf is definitely not the cheapest to play type of game, people do expect the gears to be slightly in higher cost range. And if it's professional golf clubs we are talking about, there's no argument that the price would fall in the expensive side.
But is it possible to come up with a range idea for maybe deciding the budget for a future single or collection of clubs purchase? Yes! And that's what I am about give today, idea on how much do professional golf clubs cost and maybe a bit more.
Typical Professional Golf Clubs Cost Idea
It can go up to 1400 dollars, that's expensive but pro players very often reach for these and make a purchase for a number of reasons. The pricing factor can vary for a number of factors as well. It's fair enough to say that the price cannot be specified. For example:
Depending on the club's type you are referring to, the average cost may range between 200 to 400 dollars.
The brand-new driver one can cost more than 600 dollars.
Again, a used putter might bring the cost down to barely 2 dollars. So, you see, it depends.
In the case of the average cost of women's golf clubs that are designed for professional use, it should be around 270-300 dollars.
Now to understand how expensive are pro golfers clubs and if that pricing makes any justified sense, you must consider the whole picture. And this includes the matter of quality that one pays for.
Not to mention the cost of marketing for that popular-priced piece. Also, the fact that a heavy amount goes behind development and research of production for such precious golf clubs that serve also with precision.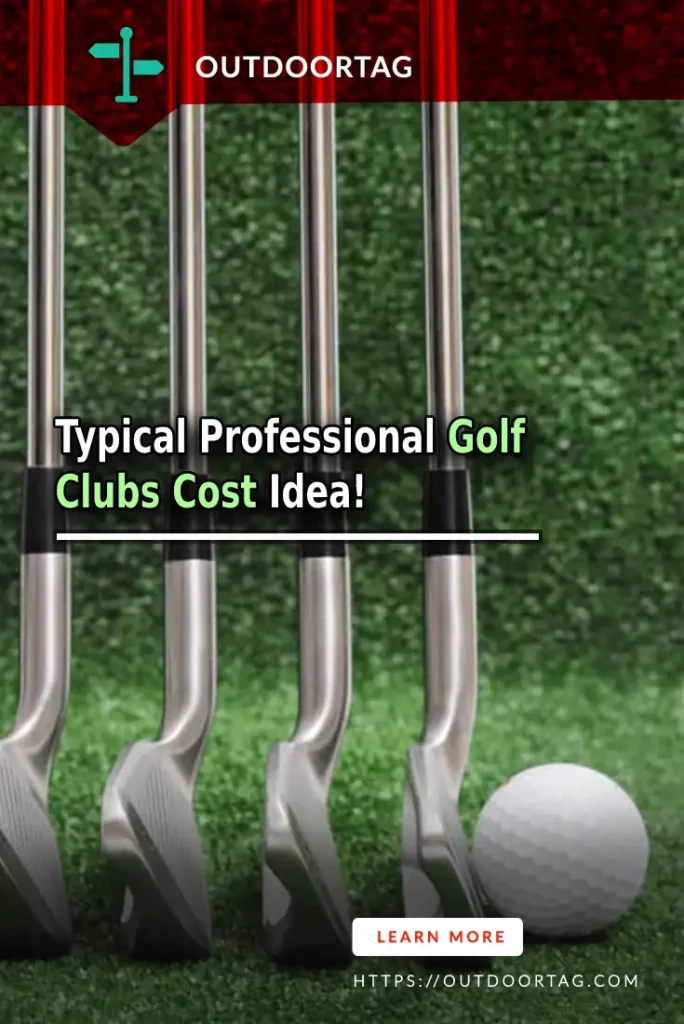 What About the Cost of a Set of Golf Clubs?
Now keeping the thought of a single golf club purchasing, if you are wondering how much does a set of golf clubs cost, then get ready to keep aside a thousand dollars at least for it. Because most of the complete sets that are available on market will cost you averagely that much.
More Golf Club Cost Idea Based on Factors.
There are hybrid golf clubs these days making quite some noise among golfers. Basically, this type combined both woods and irons for hybrid performance, so the name.
Such combined capability clubs, will save your bag space and help in getting ranges as well as host placements more precisely. If you are someone often worried about how many clubs in a golf bag should be held and badly need to avoid cluttering, then this type can really help. The pricing for specialized hybrid clubs is between 200 to 500 dollars.
You already got the idea that with the used putter, pricing ranges between 2 to 5 dollars. However, in the case of a new putter, pricing can range from 35 dollars at least. Don't expect a lot of bells and whistles. These are pretty plain and basic.
Pros who are not typical weekend golfers, more serious at it, go for putter clubs costing 400 dollars too.
A complete bag of clubs can cost a pro golfer around 2000 dollars. These are typically the ones that would last a lifetime. So that price becomes a permanent investment, which seems like a great deal for a regular golfer.
Outdoor Speak: Now that you know how much a golf club costs, you might be curious how many golf clubs to carry with you during a game. Swing by this post and pocket some info — How Many Clubs In A Golf Bag.
Frequently Asked Questions
What are the most expensive golf club?
The cost of the most expensive golf club available on the market right now is around $91,000. Yes, the long nose scraped golf club costs that much, and then there are also the ones with a price tag ranging from $50,000 to 100,000 dollars.
How long should golf clubs last?
With proper repair and maintenance, golf clubs available these days are supposed to last a lifetime. However, the frequency of play with clubs will be a big factor in deciding that. Also, how well you are with upkeeping the clubs. Having proper cleaning, storing and upkeeping habits are that's why so important not just for golf clubs but for anything that you buy for a good amount of price.
What is the rarest golf club?
The world's rarest, Square Toe Lined Iron Golf Club is also one of the oldest. It had an auction value of $151,000 in 2007.  
When do golf club prices drop?
There are a few big occasions when manufacturers and shop owners drop the price for quite every expensive item and golf clubs are a part of it usually. You would be able to enjoy a pretty bargaining sale price two times a year.
And these are during the new year and Christmas holidays. Some believe that top brands also reduced-price during the fall. Because that's when new product ins are usually announced.
Also Read: How to Make Electric Golf Cart Faster & Better?
Wrap Up
And now you know how much do professional golf clubs cost with answers from different points of view. It's amazing that according to research, an average golfer carries around 12-14 clubs. And all of them serve different uses as well as purposes.
So, it makes sense why the costs based on beginner, intermediate, and pro-level golfing is a frequently wondered matter. Hopefully, this guide was able to give you some insight into the whole thing.