The very famous American chain of restaurants known as Golden Corral has always been a focal point for food lovers both for local ones and travelers. And so, being curious about how much does golden corral cost for meals is quite a common query that anyone can have. They serve dinner, lunch, and breakfast with their trademark buffet style. The all you can eat style meal plans are very interesting to a group of foodies or simply a squad eating out. Let's know about the meal plans and costs to be more aware of the whole experience.
How Much Does Golden Corral Cost & More.
The cost idea, as well as some useful tips you must try, are what I'm planning to include for this piece of writing.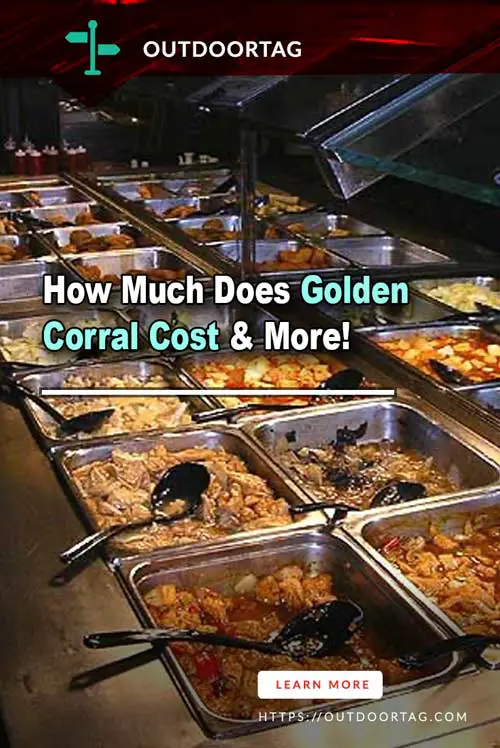 Golden Corral Buffet Costs.
The buffet-style meals have some really mouthwatering options for breakfast, lunch, and dinner at Golden Corral. You can enjoy pancakes, bacon, sausages, omelets, French toast that are the made-to-order types for breakfast buffet.
The lunch buffet features endless availability of classics that are homestyle such as mac and scheme, salads, meatloaf, chicken, mashed potatoes and so many other dishes based on the time of year you're visiting. While for dinner buffets, it's all about delicious dishes such as chicken, seafood, veggies, pork, shrimp, and steaks. There are also ice cream, pastries, cookies, cakes, brownies, rolls, and similar freshly baked items available.
Each person needs to pay seven to fourteen dollars for having lunch and dinner at Golden Corral, that's the typical scenario. Depending on what time of day you're having the meal, geographical location, and also the availability of any promotions, this price can vary.
Location vise the breakfast cost varies usually. However, it will be less than 10 dollars in most cases. Kids aging 3 years or less than that won't be charged for breakfast. However, kids who are more than 3 years old will have breakfast for 7 dollars.
Also, senior citizens can pay one dollar less to adult pricing. This pricing can slightly vary depending on location. During the major holiday season, the prices slightly increase as well. This includes Christmas, Easter, Thanksgiving, and similar events. To take out food to go you need to pay seven dollars for each pound.
Note About the Extra Costs.
The buffet cost does not include charges for drinks. So, you need to consider the additional 2 to 3 dollars for any beverage item. Also, giving a tip is not included with the buffer pricing. Some people provide quite less tip to waitresses as they believe there's not much work to do at a buffet serving. However, they still serve you and provide drink refills. Not to forget cleaning your dirty table and dishes after you're done eating. So, consider their hard work while paying a tip.
Cost Saving Tips to Know.
There are some websites that can give you discounted gift cards. So before paying a visit you may want to browse a bit.
Sometimes, a simple search can lead you to many printable coupons as well as discounts online. After a deal, you can simply complete their website card and enroll. This will send a coupon to your email that you can enjoy saving money.
There are programs such as senior early-bird specials and loyal customer offers. Make sure you know enough about these offers. With early bird prices, you can enjoy buffet-style meals at less than 8 dollars and this includes drinks too. However, this policy is only available for people who are 60 years or elder.
There are coupon circulars and local newspapers that have coupons to get. Some even buy eBay coupons online. However, be sure to know about restrictions as well as fine print.
Trying lunch can cost half off than dinner. So, it's best to go before 4 pm since that's when they start serving dinner meals.
Golden Corral also offers special treats to birthday persons. If you are holding a birthday meal for your friends and family, taking them for a Golden Corral buffet can save good money. As you have a chance to get free meals plus a special treat. All you need to do is let Golden Corral know about your birthday and they won't even be picky about a specific date until you visit within a week.
You can join the Gold Club by signing up online and enjoy several exclusive offers, birthday fun, and more. You need to give some information, pick a demographic suitable, and choose your favorite Golden Corral location. And that's simply how you can join their good books to avail many offers.
Outdoor Speak: Despite your willingness to enjoy camping and outdoor living, you're still having second thoughts about continuing your membership with one of the popular trailing services. If you are going to cancel your agreement with them, then proceed to this article for further information — Cancel Thousand Trails Membership.
Also Read: Where to Go When You Have No Money and No Place to Live?
Watch This!
Wrap Up
And that was all about how much does golden corral cost. You now have quite a well idea about the whole pricing thing. Now all there's left to do is playing with some of these tips and one fine day, pay a visit to the very place. The food experience is usually great and that's why it's such a popular name when it comes to having wonderful meals every now and then.