After diving around topics such as dometic rv refrigerator reset and camping tips that work for beginners, even deep talks on camper length limit in national parks, I was wondering what next. And then one of my friends called to ask me about canceling a membership from the thousand trails. Thank you, Buddy! For The Idea…
So, one of the most popular campgrounds collections in North America is Thousand trails. As a camping lover, it's quite understandable why you thought of buying a membership and have access to campgrounds at no cost.
However, it's also pretty common to see people losing interest in the membership after getting it. And then deciding to cancel the thing. Basically, what we are going to talk about today. Not only will I share how to cancel thousand trails membership but also, I'm planning to include some reasons against and in favor of the whole cancelation. So, if you are someone still not sure what to do, things would get better by the end of this piece of writing hopefully.
Exactly How to Cancel Thousand Trails Membership – The Process.
After some terrible news and stories including the thousand trails class action lawsuit, the urge to canceling membership became more evident in many consumers. The method of cancelation would require your smartphone to make a call, membership number provided by thousand trails, and an email account.
You need to make a call to the member services of Thousand Trails first. There would be some prompts that you next need to follow. Basically, you want to talk with a customer service representative.
Once you get one of them, let them know you want to cancel the membership. They would ask for your membership number. Sometimes you also need to provide other information. Such as your social security number, address you've provided, and your name basically.
However, that often happens to members who can't access their membership numbers at the moment. Once you provide information, the representative would have access to your account. And they would be able to accept your request for cancellation.
You will receive an email confirming the cancellation. If you don't get one, make sure to call them again and let them know about it. And that's basically it!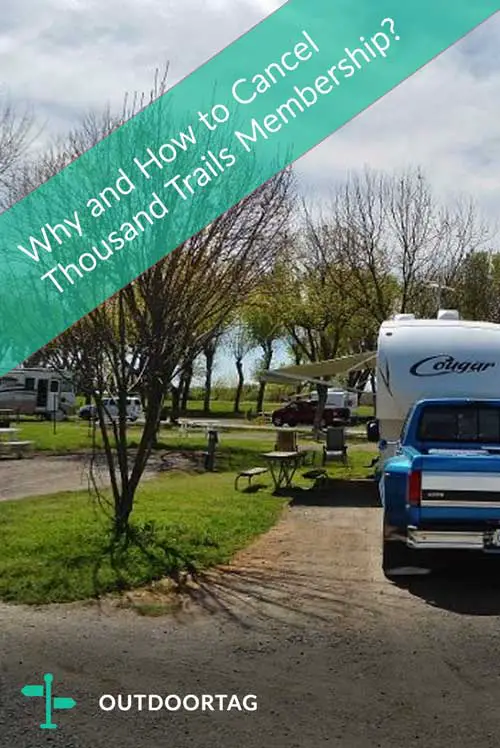 Before Canceling, Make Sure You Know These.
With the membership, you would be able to save quite a bit of money on campsite fees. And that really helps those who are basically starting with full-time RV adventure. As that clearly would require you to spend a pretty good amount for camping, almost thousands of dollars. The membership could help here, and if this is you, then think again before cancelation.
If you are into camping for a few days now, then you should know how tricky it gets sometimes to find a spot that's family-friendly. And this is where the thousand trails membership can come in handy.
The collection offers a pretty good number of spots that would suit your family camp trips. And also, there are options for engaging in family activities that are super fun as well. For example, boating, mini-golf plays, and game rooms. Since you should be able to find other families in such spots, your kids won't have any problem getting a playmate.
If you are someone who needs these two facilities for sure, then maybe think again before canceling the membership. Perhaps try to find another alternative route for whatever reason you have for canceling.
But then again, there are a few scenes where canceling would be the best thing to do, basically what we will talk about next.
You Must Cancel the Membership If: 
It takes a lot of time and gives frustration whenever you try to make an online booking. There are plenty of stories from members sharing how unpredictable and poor the online booking system of thousand trails is.
Because the online system works weird, you might have opted for assistance through phone calls. And discovered the customer service is not helpful at all. In the worst case, you may have to wait for up to an hour for having a representative available.
When they escort you to the campgrounds, there could be a feeling of forced up-gradation conversations by the representative. This could be annoying.
Some campgrounds have really poor facilities, bathrooms desperately needing upgrade and even weird electric connections. Not to mention some campsites that are flooded and have really fewer play areas. Bathhouses being non-heated also is another reason.
The way they upkeep their parks and campgrounds are less consistent. Some are really nice with huge upgrades noticeable. While there are also those that lack basic facilities.
Some of the parks are located in odd locations making it hard to get interested in camping there. It should be nearby the main points of interest but that's a whole opposite thing happening with so many thousand trails parks.
Age-restricted parks are another weird thing that sometimes takes away the purpose of even getting a membership. You may hope to visit an encore resort and discover that your family is not allowed because of their age restriction rules. The ones that are located in Texas coastlines, Arizona and Florida are the typical examples.
The staff of the campground is less likely to welcome or work for retaining the customers visiting. This is odd but it could be because they are under a huge organization. Impressing the campers to make them come again, isn't really an interest of the campground staff and it's quite noticeable.
It's expensive to renew the membership unless you buy yourself the two-year option.
Outdoor Speak: Cancelling a membership from Thousand Trails could be frustrating but if this is your decision, then do it! In the event you are no longer a member but still would like to experience living in the outdoors, we suggest that you take a look at our post — Build A Lean To Shelter.
Watch This!
Wrap Up
Now you not only know how to cancel thousand trails membership but also have quite a bit of idea why you should or not stay as a member. Yes, it does save you a good amount of money. But then again, the list of drawbacks is also significantly long making it a questionable choice after all. It all comes down to you, if those drawbacks hardly have anything to do with your usually camping situations, maybe don't cancel the thing. However, if the overall benefits are quite less impactful when you compare them to the cons, then go ahead and just cancel that membership.