It's a tough time for many at the present moment. People are becoming financially weak and facing things all of a sudden. Losing your place of residence and also having no source of income could be mentally frustrating.
But you need to hang on there, make plans to survive the moments and do something about it. My very first note for you would be to calm down your mind. Easier said than done, I know. But that's the only way you can start planning wisely on what to do next. And the most initial thing to decide during such phase is the place where you'll be living. You need some strong resources of the cheapest way to stay somewhere in such a case.
Let me give you some ideas on where you can try to go when you have no money and no place to live as well as some thoughts that may come in helpful. I Really Hope It Does!
Try To Move in These Places When You Have No Money and No Place to Live.
If you're left with no other option but to move into another state in this situation, then targeting certain cities or states should be your first and foremost thing to do. You don't have enough money! And so, you want to maybe try looking for places that grant financial incentives. There are such places offering help simply because of attracting new residents.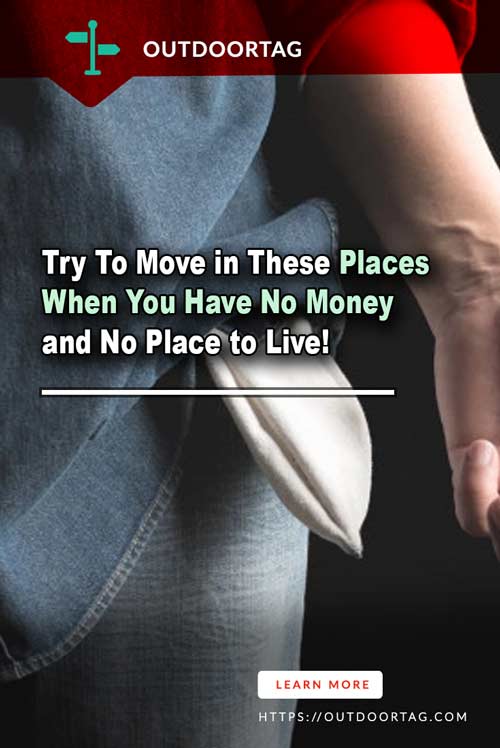 If You Want to Live in States.
There is a remote worker grant plan in Vermont for those who work as freelancers. You can get almost 10 thousand dollars as an expense to relocate to this state.
Alaska is also a great place to go in financial crisis situations like such. The state has a Permanent Fund that will be providing a payout every year. And this means each year you can easily attain around a thousand dollars, or perhaps a bit more.
If you are a fresh college or university graduate trying to move to Maine, then student loan tax credits could be available for you. This is usually on the basis of one's degree and year of graduation.
If You Want to Go for Cities.
You can get around 10 thousand dollars of cash incentive with a bonus 3000-dollar worth of welcome package as a new homebuyer in Newton, IA.
College graduates moving into Hamilton can enjoy around 10 thousand dollars of resident incentives.
You can buy a new resident in New Haven and get 10 thousand dollars of load without interest. It gets completely forgiven once you spend 5 years in the house or more.
10 thousand dollars of remote worker incentives plus a housing stipend worth of 1000 dollars are what you get in Tulsa city.
The Climate & Safety of Places – One Crucial Part You Want to Think About Before Moving Anywhere.
Imagine being left with no place to go in a city that you just arrived in, a place where snowfall is quite regular. Not Very Practical! Living without a basement in areas that are prone to tornados is another good example of why the climate is a very important factor.
A few more severely dangerous climate examples are spots that have more chances of raging bushfires, cyclones, or flooding rains. You may need to pack and move somewhere quickly, but such areas with bad climates are very threatening and you should take that into consideration.
So, your assessment of the place where you'll move must take the climate factor into attention. It should be a safe environment as well. You might already have some friends and family around the place you're living now.
But that perhaps won't be the case after you shift to somewhere else. Also, your close ones won't have peace of mind with you choosing to reestablish life in a city that's not very safe.
It's Better to Avoid Very Busy Cities.
You have lived happily in the heart of a very busy city till now. So, when you need to consider a new place with a separate kitchen, dining room, living room, and even shower won't be possible, it'll be hard. True!
Maybe that is why you still want to move to a busy city planning to pitch a tent or live in your parked trailer if things get horrible. Until you get yourself the comfort of life back to its place. But think again! Will that be easy to do in a really busy town? Most Probably No.
Even if it's a bit hard, take the wise route and look for a town that isn't very huge. Just big enough to have all your daily essential stuff around. But then again, affordable enough to young students and people who have it hard on their finance.
Also, much smaller communities are often very warm-hearted towards new people settling in. The locals will help a newcomer with lots of information on where to grab a work opportunity. Most of them will love to give you advice and be friendly no matter what financial background you have.
In busy cities, people hardly have time for themselves let alone suggest and help others. Also, you may find some local sites for camping as well as caravans that charge pretty low compared to big towns.
Also, with the right choice of town, you may also get many opportunities to work. For example, there can be some local farmers who would allow you to pitch a tent on their land if you carry out a task for them.
Just some simple light works are usually enough in such a case. Maybe, they'll share some freshly grown fruit or veggies with you too. Such small-town people love sharing and caring for newcomers, and especially when you're trying to help them with their chores.
You Don't Also Want to Consider Absolutely Remote Areas.
Just because it's best to avoid cities that are too loud and busy, does not mean you should opt for absolutely in the middle of nowhere. Remote areas are something you should avoid including in your list.
One, there can be local wildlife possessing danger. Two, it will be very hard to find everyday necessities as a low number of businesses usually locate in such spots. Even if they do, there's a good chance the location will be quite far from where you are residing.
Also, people tend to not choose to reside in such remote areas. So, you'll have it hard finding a local who can guide or advise you with basic stuff.
Temporarily Staying with Family or Friends.
Often people struggle with where to live between selling and buying a house, and opt for staying with their friends or family. And in such a case, you are quite wholeheartedly welcomed. As they know you are temporarily staying at the place.
But when it comes to a financial crisis moment, you cannot expect even your close ones to give you free lodging on a long-term basis. Not because they don't want to, but simply due to their own financial burdens.
For example, a rented house often allows only a limited number of residents. So, if you decide to stay with a close one who is renting, you'll cause them a risk of eviction. Some may already be struggling in a very small home, and you will add stress to them. If you are bringing children with you, the new home rules are something they'll have to adapt to even if it's hard.
Overall, it's going to impact the dynamic of your relationships. And to be honest, you cannot blame anyone as everyone is dealing with their own struggles.
Outdoor Speak: You don't have a place to spend the night. What a bummer! You might just want to hop on a plane and fly to this extraordinary location on Earth instead. Set your sights here — Flattest Place On Earth.
Watch This!
Wrapping Up
It's hard to decide on a place to go when you have no money and no place to live. But also, you cannot simply sit without doing anything about it. Things will be hard, and you must mentally prepare for those struggles.
Hoping for the best is definitely something to keep in mind. But planning for the worst case is a necessity. You can research more on solving the situation and keep notes of tips that may help at some point during this hard phase. You'll Find a Way, Stay Strong!