Part of us gets extremely happy with the fact that winter is coming. And so is our much-awaited fashion wishes of wearing all the stuffed-inside-the-closet long coats, jackets, sweaters, as well as boots. However, making your shoes a bit winter-ready is a concern that comes before the arrival of winter. Nobody wants to take a risk of wearing slippery boots while commuting through the snow. Not to mention, those horrible injuries that arrive afterward.
And so, how to make shoes non slip is the next thing that comes to your mind. Because not everybody loves the idea of buying a costly non-slip boot option.
Let's Know How to Make Shoes Non Slip Using 10 Cost-Effective Solutions!
The pair of trusted shoes that you've broken just right amount, you can make those nonslip by working with some DIY intelligence. Something that will make those handle snow and icy surface smartly. Even the favorite pairs that lack traction, you can make them come to use during winter through these DIYs. Some of the most proved-to-be-effective tips are coming next, enjoy…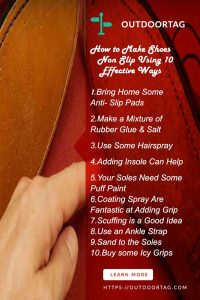 1. Bring Home Some Anti- Slip Pads.
Your favorite pair have gone through a lot of walking. It's so obvious that there won't be the same original grip it had before. Before you think about tossing them into the trash, simply make them winter ready by buying some grip pads for shoes.
Mostly made from a rubber material, these pads are super effective at preventing slide on slippery, snowy, wet, or even sticky surfaces. The self-adhesive pads are also easy to use with zero instructions needed.
You can also use the heel caps for covering base of all your fancy heels. This way, you won't meet an embarrassing situation by skidding or sinking on surfaces that have gravel and grass.
2. Make a Mixture of Rubber Glue & Salt.
You can also use the science of adding grainy texture to avoid slipping or sliding. Here using some rubber glue and salt sounds super effective. Simply coat this mixture into your shoes. And that will play as a non-slip component to avoid sliding chances.
In case of shoes with a rubber sole, you can use the glue base of plastic fusion epoxy adhesives. Just sprinkle salts on the top of this glue base. And the grippy treads are ready to serve.
3. Use Some Hairspray.
Now this one is not a very permanent type of solution. Perhaps something you would want to try in case of an emergency. You also need to go for a few reapplications with hair spray to make it work. Before you go out with the sprayed shoes, make sure it's wholly dry. A hairspray that comes with quick-drying formula and ultra-fine mists will work best for such a situation.
4. Adding Insole Can Help.
Another smart way to add some traction along with a boost of stability is using insole. It does not only help in avoiding slippery surface but also provides you with some balance. Since people have different footprint and shapes, footwear works differently. And adding a foot catering insole can really help with right arch support and preventing sliding.
5. Your Soles Need Some Puff Paint.
Do you know the puff paint that kids use for crafting? This thing can also be a weird but fantastic solution to your slipping shoe mess situation. The paint is actually a great way to add grip to your shoes. You need a thin layer to apply evenly on both sides of the shoes. Let it stay that way for at least an hour. Once it is dry completely, your free to wear. This one is also not a permanent solution. However, it works better than hair spray.
6. Coating Spray Are Fantastic at Adding Grip.
If you want a product that is meant to work as a gripping agent then definitely check out anti-slip spray for shoes. It works as a grip providing adhesive as soon as you spray them onto soles. The spray really works as a perfect winter accessory for keeping chance of slide and slips away. It also works for events when you need footwear that works on sweaty gym floors or marble floor.
7. Scuffing is a Good Idea.
Some may find it a counterproductive idea. However, scuffing your shoes can really help in adding the traction you need. Usually, new shoes come with a pretty slippery sole. Unless you bought something with specialised grip support.
If you give the new shoe a good session of scuffing, it will feel a lot less slippery. There's no need to buy anything extra for this idea. You can simply wear shoes and walk on rough ground. The streets that are unpaved or graveled can be helpful. You can also use a sandpaper sheet to rub against the soles. Do this until the sole feels less smooth in texture.
8. Use an Ankle Strap.
Usually, hacks and methods will need you to spend some time to get a good result. However, if you don't have absolutely time, then an ankle strap can be your final bet. These are not directly involved with providing grip. However, you surely get some help with balancing and stability. These will provide you some comfort to walk while managing your balance.
9. Sand to the Soles.
You can also add some sand to the sole of your shoes. It may sound stupid but this idea definitely works. You will need some spray with adhesive quality in it. And then use it to spray on area where you'll stick the sand on. Usually, you need to apply a generous amount at the bottom of shoes. Then add the gritty sand material on top of it. Using coarse sand will provide an even better result at adding traction.
10. Buy some Icy Grips.
If you don't want to take a risk with your shoes' integrity, then icy grips can be a good idea. You just need to slip this right on your existing boots. You can get a variety of color options with icy grips online. These are also super easy and less time-consuming to take on or off.
Outdoor Speak: Since you already know how to make your shoes non-slip, you might want to do something more interesting — How To Whiten A Deer Skull.
Watch This!
You Can Also Try: –
Regular masking tape since this thing can easily replace the lacking traction in your shoes.
Cleaning the surface of your shoes that has dirt and grime causing slippery issue.
Stick on that are customizable to suit your footwear's shape better.
Conclusion.
And these were some ideas on how to make shoes non slip for avoiding any chance of sliding or gliding. However, be sure to keep in mind that most shortcuts or hacks will not be a permanent solution for you to depend on.
If you have some serious foot condition, disease, or something similar where avoiding slips is a must, then investing in a grippy shoe should be your only decision. However, if you actually need a temporary fix and not something very serious to deal with, these hacks can be life-changing plus money-saving. Give These a Try & You'll Love It!