When you drive with your kayak to somewhere far, getting into some sort of road danger is not a very unusual thing to happen. There's a lot of risks involving you, your vehicle, the kayak, and also driver driving behind if securing it properly isn't ensured.
This becomes even serious when you are not just carrying one but more kayaks. And so, you need to be aware of all the critical things related to how to transport 2 kayaks or more with proper safety and precautions. Today we will be discussing the matter in detail for you to avoid any chance of kayak related accidents. Keep on Reading…
Here's Everything About How to Transport 2 Kayaks.
Transporting 2 or more kayaks need you to be very conscious of the whole tying process. You should follow proper guidelines of kayak bow and stern tie downs usage. That's the majorly important part along with some other things you can't absolutely ignore. Here I'll be including most of them…
Things You'll Need.
For transporting kayaks, let's say you don't have a roof rack in the first place. In such a case, you'll need a few tools that are going to play as a support for transporting the kayak. First of all, you need pool noodles.
These are basically polyurethane tubes with padding. Usually, these are pretty soft and comes with holes right in middle. Even with the softness, these are pretty thick and heavy-duty to use. Go for the ones that have enough length to work along with entire car's roof width.
Next, you need some ratchet straps. Now, these are some nylon made heavy-duty buckles include straps. Usually, these come with durable and hard built-in. To ratchet some object securely and tightly, these straps do wonder. You'll easily find them in hardware or automotive stores.
And finally, you'll need some poles made of stainless steel. The square ones are what you should go for. Get at least 3 of these to fit through the pool noodles middle hole. So that it can help with enough support and stability. However, make sure that these poles are not protruding beyond the car's side mirrors.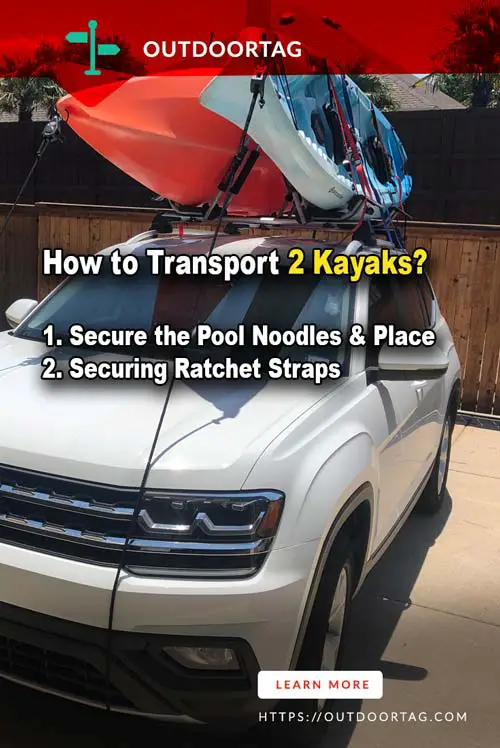 Secure the Pool Noodles & Place Your Kayak.
Through the right middle of pool noodles, you want to thread straps. Make sure you are following by the poles while doing so. The straps need to be even in this process. Also, the noodle should be covering the pole right onto area where it will be resting on your car.
With the pool noodles, your kayak will have a chance to rest on a durable and flexible base. And so, your vehicle will be safe along with the kayak. Maintain around 3 feet apartness when placing the pool noodles on roof. You need to put two in the back and front one each. Also, place one in the middle area. Let the door be open. Bring both sides of each ratchet straps together. Then tightly secure the ratchet with each pool noodle.
Now you are fully ready to place your kayak onto the prepared pool noodles. In the case of a wide vehicle. It's best to go for a flat and topside down placement. If the kayak seems to be protruding a lot, then turning them onto their side is fine to do. You also want to push them and while doing so ensure that the top of one is against bottom of another. The kayak's middle part should be right in the center of pool noodle.
Securing Ratchet Straps & Kayak's Bow & Stern.
So now you have your kayak in the proper position securely above vehicle. Keep the door opens and then let ratchet straps pass over both kayaks. This should be in the same place as your pool noodles.
Let the ratchets straps come all way down to inside of your vehicle and securely tighten them to keep in place. But you don't want to make things over tightened. This can be a reason for hull damage of your kayaks. You also want to give the straps a bit of twisting before connecting. This will help in reducing any high-pitched noise as you drive.
Now that the ratchet straps are on, kayaks should not be able to move side to side. However, they are still capable of moving back and forth while you drive. And this can lead to your kayak flying off once you brake suddenly.
That's why make sure to secure the bow and stern. Just go with the ratchet straps threading along with carrying handles. So that it can stay secure with the two spots of your car. Here also you should avoid overtightening. Just make sure there's no sort of movement in any direction.
Keep These Points in Mind as Well.
If you are likely to travel often with your kayak, then investing in cam straps will be a better decision. Compared to ratchet straps that are easy to become super tight, these are usually good at avoiding such overdone securing and still manage to hold kayaks safely.
Make sure to check the straps one more time right before driving away. Sometimes the straps seem to be tight enough but gradually become loose. And if you don't check it occasionally, then all your hard work can still go in vain.
Wrap Up
And that was an easy and simple guide on how to transport 2 kayaks or more safely. This extremely popular summertime pastime is actually very fun to do with family and friends. Just the little things here and there that you need to take care of. And you'll be good to go with a fantastic vacation.
The simple tools that you need for safe kayak transportation are often easily accessible as well. However, some people find this too bothering and their laziness often makes a horrible outcome show up in the middle of road. Don't let that happen to your much-awaited and supposed-to-be fun plans.