When you're in need of packing a carry-on bag, there's a lot of things you might forget to put inside only to remember on the flight. That's why having some notes on what flight essentials must be there inside your carefully chosen carry on bag is an important matter to sort before the big date. Those who are wise as travelers, they'll always keep the requirements of airport security in mind and still manage to pack all critical but easily accessible items while doing so.
And if you're not sure what to pack in carry on bag for flight that will make your experience more comfortable and less problematic, then today's piece of writing is just for you.
What to Pack in Carry on Bag for Flight to Make It Go Smooth.
According to my knowledge, people are more likely to get frustrated on a flight if they can't have access to things that they're in the habit of using frequently. This list will include items and stuffs that belong to such concern.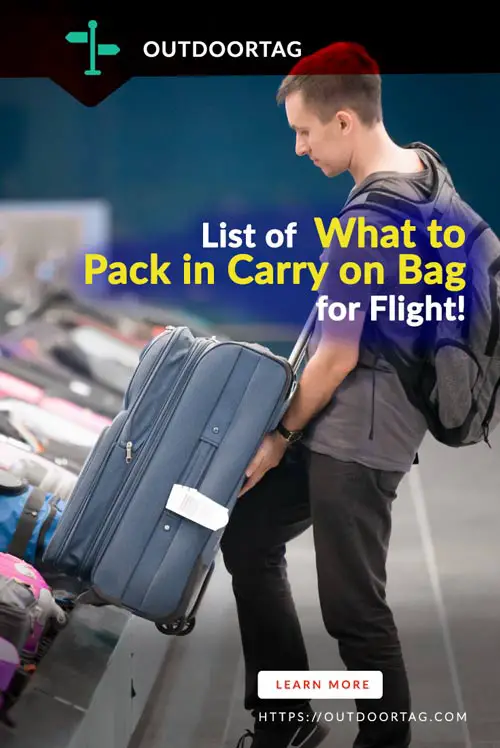 Packable Packs – To Keep Things Organized
First of all, if you have not already bought your carry-on bag, then here's something I want to suggest. There's a common need to carry some camera equipment as well as computer stuff when traveling. And if that's your case, then going for a backpack carry-on bag will work the best for you.
It's not only going to be solid protection for your pricey camera and laptop but also usually these are very budget-friendly. You can carry lenses, batteries, cords, wallets, and most relatable items in it easily.
Bring some clear pouches to carry all your liquids safe and well. The clear designed ones are TSA approved as well. So, you can also put in some small items inside. You can also find some shoe bags to hold your footwear that was previously used. Also, try to bring some small travel pouches to carry your skincare, makeup, medicines, and everything else inside in an organized way.
Stuffs to Keep for Your Sleep Needs Checked
These days some airlines don't offer pillows and blankets to their passengers anymore. Especially if you are traveling in economy class. So, if you would like to catch some sleep, then don't forget packing an inflatable neck pillow. You can inflate it with breathing and deflate using the air release button.
Also, don't forget to bring some good quality eye masks to sleep without being bothered by light at all. Go for the ones that are not too tight around your head. You also need some earplugs for saving your mood from the baby's crying and passengers chattering. Not to mention the possibility of sitting beside someone who snores loud.
Clothing Items You'll Need on The Go
Depending on your destinations, the choice of flight outfit might vary. However, it needs to be comfortable for sure. Go for shoes that are huge and less tight, something with enough cushioning going on. Also, don't forget sweaters. Go for long cardigans that can be used as a blanket if necessary.
Also bundling this can make a nice neck scarf to put on easily. You also need to pack a few beanie or baseball caps. These are perfect for wearing after a flight to put less effort and still look stylish enough. The leg health will have some issues when you are on a long flight. So, compression socks are a must as well. Make sure you get these and reduce the chances of leg swelling.
Packs Something for Hunger Cravings Too
Flight meals are mostly an open invitation to indigestion. So better bring some snacks for long-haul flights. A few slices of fruit will do the best. Also, go for raw almonds and organic bars to get rid of any cravings.
Also, don't forget to pack some reusable and collapsible water bottles. These are usually easy to roll and fit into pockets taking very less space. You can fill it up at airports, usually, there are water filling stations around. If not, then the flight attendants will surely get your bottle filled if you ask them to.
Travel-Friendly Skincare Essentials
If you are someone who can't go off with your skincare even on flights, then these are essentials too. Bring a portable size eye cream, lip balm of your choice, a tinted moisturizer with SPF at least 50, a small coconut oil container, and some wipes. Also, don't forget to pack a hand sanitizer with you.
As for makeup, you should bring less as there are limitations on liquids. Go for a sanitizer, tiny travel-sized mascara, an under eye concealer or tinted eye gel, and maybe a compact powder. That's all you need for skin and beauty related stuff.
A few other good-to-carry items would be some panty liners, mints instead of chewing gum, and a replicable deodorant. If you have trouble sight then eye drops are a must. Also, a toothbrush and a spare pair of undies, as well as a top, should be packed.
Gadgets to Pack
The long flight might be boring, and so for some entertainment packing, a few gadgets can help. You want to bring your tablet or Kindle E-reader to finally read your favorite book. Also, you can use a ton of apps, listen to some good music or play games with a compact tablet. You'd surely enjoy a simple game of Solitaire to keep your mind busy but relaxed.
If you have a smartphone, you'll probably already have those needs sorted. Don't forget a good pair of headphones, however. Your electric chargers and adapters are also must-pack items that you should keep in mind.
And Finally, The Most Important Stuffs!
The above-mentioned items are possible of repurchasing and replacing. But there are a few tiny things you can't afford misplacing or leaving behind. First of all, your passport and identification documents as well as the credit card and cash to use.
Also, you should think about travel insurance that includes your flight, baggage, medical emergencies, and of course trip cancellation too. It's also recommended to carry some physical copies of your important travel documents as well as your passport. And of course, medications if you're under any health condition.
Watch This!
Wrap Up
And that was pretty much everything about what to pack in carry on bag for flight essentially. Now if there's space left and you can put inside a few more items then go for anything that seems the next most important. It's going to take you a few trips to finally get used to the whole what to pack concept. Till then keep on practicing and don't forget to enjoy your trip!