So, you are planning to take your next flight with United and don't know much about the handbag luggage matter with their basic economy fare. No worries, that's what I'm aiming to talk about today. There are many rules and regulations that airlines have to maintain and make sure their passengers are following up well. And one very important matter is the whole carry-on baggage topic. However United has one of the worst regulations on carry-on with their basic economy fares and it's really disappointing.
And knowing wholly about this matter directly connects with your whole packing plan. Today let's focus on their regulations to find out if you can bring a carry on with united basic economy, and more. Keep on Reading…
Can You Bring a Carry on with United Basic Economy?
No! You can't bring a carry-on for free with the Basic Economy fare of United. And that's an awful thing no doubt. You'll be able to bring a personal item barely.
You can bring carry-on baggage along on a united basic economy flight only when traveling to Europe. However, there are a few variations to work with and combat this terrible restriction. And it's through paying extra money for bringing the carry-on.  Let's talk about the restrictions and possibilities one by one. I'll try to include the most parts, hopefully…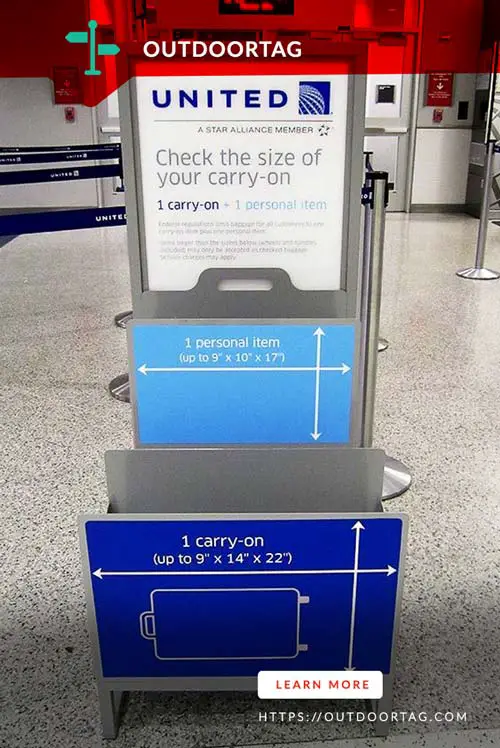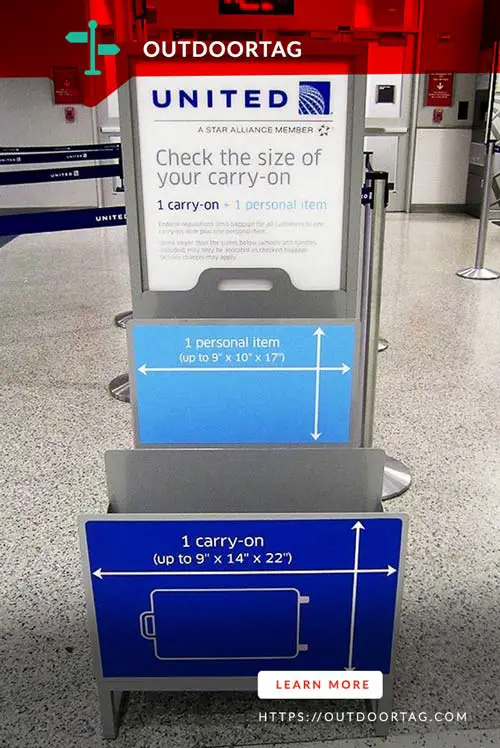 General Rules to Carry-on & Personal Item.
United have their own standards that a passenger flying with them needs to strictly follow for bringing both carry-on bags as well as personal items. First and foremost, you can bring one personal item per person inside the plane.
Anyone who decides to bring a carry-on bag that is full-sized to the gate will have to pay 25 dollars gate handling fee for getting it checked. Now there are some exceptions to these general rules.
Traveling across Atlantic Ocean is an exceptional case that doesn't follow the general rules. The carry-on allowance here is similar to standard economy tickets. And that means it cannot cross dimensions of 9x14x22 inches.
Those who are Star Alliance Gold members, as well as the Mileage Plus credit cardholders, are excluded from this general carry-on regulation. And a few more cases that you should check on their main website.
There are some extra items you may be able to bring along with your carry-on baggage. Tiny musical instruments such as violins and guitars. Just make sure these are packed inside a hard case. Also, there should be enough overhead compartment space. In some cases, the space under seat in front of you can also be used.
In terms of domestic flights, the personal item you bring cannot be bigger than 9x10x17 inches in dimension. These are usually a shoulder bag, laptop bag, or purse. Also, the item must fit beneath one's seat. Anything additional will need you to pay the handling fee. As well as the charge that applies to that item.
But If You Are a United Credit Card Holder, Things Can Be Different.
There are definitely some perks you get to enjoy when you're a holder of the united credit card. For example, the United Explorer Card. It lets you beat a few of these limitations including carry-on luggage matter.
With the card, you get the benefits of bringing one carry-on luggage. And this includes the other travelers who also have booking on your itinerary. There's the facility of having a checked bag for free with you. As well as the ones under your reservation booking similarly.
Usually, the United Basic Economy travelers have to wait till last for boarding. But with the card, you can enjoy priority boarding as well. And the only thing you have to make sure of is to purchase tickets using United Explorer Card. Such credit card benefits are usually not very common. So you can enjoy the benefits only with a few airlines.
What About Having Elite Status?
If you are a Premier member or Star Alliance elite, then there are more benefits to enjoy with the Basic Economy Fare. The first one is of course related to carry-on bag.
With this privilege, you can bring one carry-on luggage maximum. And it cannot exceed 9x14x22 inches dimension. Those who are traveling with you also get the flexibility of bringing their carry-on bags.
Of course, fellow travelers need to be on the same reservation as you. There are the normally checked baggage allowance plus boarding group benefits moreover.
However, an elite status holder won't be able to have it all. There are few restrictions they'll face with the basic economy fare. And these are not having complimentary upgrades, economy plus seating, mileage upgrades, paid upgrades as well as the ones using plus points.
In Case You Exceed Your Special Carry-on Allowance.
If you are bringing a personal item as well as the full-sized carry-on baggage but still need extra luggage to bring along, then there are additional charges you have to pay.
For the first extra checked bag, you need to pay 60 dollars. The 2nd extra needs 100 dollars, and 3rd bag would be 200 dollars. This is applicable for Basic Economy ticket holders who are traveling to or from Central America, Mexico, or the Us.
The same goes for trans-Atlantic flights. The flights to or from South America, El Salvador as well as Panama have same consequences as well. However, for the other flights, you would additionally have to pay a 25-dollar gate handling charge using a credit card.
Adding United Economy Benefits.
You can remove the restrictions of Basic Economy by adding benefits that need some extra payment. And one benefit is bringing a full-size carry-on item inside the plane. You will also get a complimentary seat before check-in. This option works for those who have no credit card benefit or elite status to enjoy that carry-on baggage flexibility.
This is applicable for domestic flights of the US. Also, the ones that are a short-haul trip to Mexico, Central America as well as the Caribbean. Discounted, awarded or bulk fares are definitely excluding from this list.
Wrap Up
And now you know the possibility of bringing a carry on with united basic economy. Technically you can't but with additional payment there are routes. Also, there are some exclusive cases of passengers with elite status or credit card benefits.
However, for the general rule, it is not allowed to bring a carry on with basic economy fare. Such restrictive fares are definitely a pain to passengers. Hopefully, you were able to get the information before your flight day. And now, can plan accordingly on what to do.