Some of the many reasons why road trips have become so painful more than interesting are, due to traffic, endless routes, and engine wearing out without notice. This makes the whole road trip feel like a baggage instead of relaxation. But with comfort of letting the Auto Train take you to places without charging a very heavy cost on your wallet, traveling is still a convenient option.
Let's find out how much does it cost for the auto train from Florida to Virginia along with some other important information.
How Much Does It Cost for The Auto Train from Florida to Virginia.
There are quite a few options to choose from when you are traveling by auto train to Virginia. I'll try to summarize the whole cost thing for you today in next few segments. Also, some tips will be coming your way, hope that helps.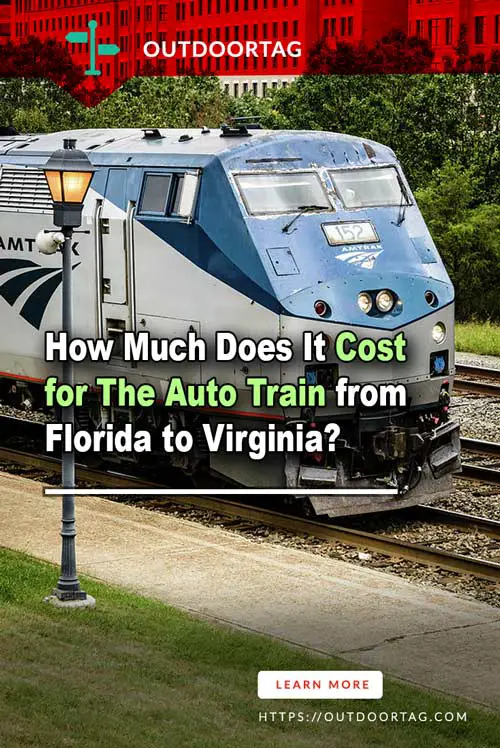 Cost for Travelling from Florida To Virginia Through Auto Train.
Having to only pack your bag with minimal stuff to enjoy a journey that does not feel like anything less, is what Amtrak auto train can get you. And that is why this is a popular option for many when considering to travel from Florida To Virginia. If the cost and what you get for price are your concerns, then no more because right next is coming complete detail regarding.
For Coach Option.
There are three ways to ride with coach seats from Florida to Virginia through Amtrak. These are called Saver, Value, and Flexible. With the Saver option, you can get a seat for 89 dollars under two rules that are, the amount is non—refundable and there are no changes allowed.
With the Value option, you can get a seat for 112 dollars with refundability access. However, there can be a cancellation or change fee required. While the third, Flexible option needs you to pay 280 dollars. This allows you to ask for a refund before departure and there are no charges for cancellation or change.
You can enjoy a wide range of meals, snacks, and drinks for dining onboard café service. Complimentary breakfast service will be given before your arrival. There are enough legroom and no middle seat hassle with these plans. You can enjoy your journey with at-seat lighting, outlet, and tray table. For every one dollar, there's a chance to earn two guest rewards points as well.
Room Options.
There are three plans for room options called Roomette, Family & Bedroom. For the Roomette plan, you need to pay 293 dollars. With this, you enjoy towels and linens included private room service, car showering convenience, private restroom, and station lounge access. There are complimentary meals onboard as well.
The Family plan charges 446 dollars with enough space for 2 kids and 2 adults.  You get a private car-wide room with this and also access to a private restroom. There's a shower in-car feature as well. Station lounge access is available with this plan as well and complimentary meals are served too.
Finally, the Bedroom plan charges 485 dollars that provides double times more space than Roomette. There are an in-room shower, sink, and restroom with this plan. You also get turndown service and towel, linen included private room. There are complimentary meals with this plan as well and access to the station lounge.
Money-Saving Tips to Care About.
Now that you know pretty much all about the charges, let's find out some tips that can save money in such cases.
Booking far in advance can save you from facing a "no sleeping cars available" situation. Especially if there's a holiday soon to come such as Thanksgiving. You can book the train a few weeks prior to such holiday dates. You also get to choose from a wide range of banquettes this way. All the suite-style accommodation may end up being booked if you are late and then, you'll need to pick the roomettes only.
Since auto train journeys are pretty long, it's better to pick the sleeping car options rather than coach seats. If budget is not the problem, then choosing sleeping cars will result in giving you a relaxed experience overall as sitting in a limited recline seat for the whole time can feel daunting.
There are priority unloading purchasable that is really great thing to get. For around 60 dollars, you can have your car as one of the first thirty unloaded from the train. If you don't enjoy the service, they'll provide a cashback. However, make sure you arrive there by 2 pm.
Also Read: Where to Go When You Have No Money and No Place to Live?
Outdoor Speak: If you want to visit Hawaii, then hop on here — How To Travel Between Islands In Hawaii.
Watch This!
Wrap-Up
So, how much does it cost for the auto train from Florida to Virginia varies depending on which package you want to get. However, the costs are not very expensive considering the comfort levels that Amtrak provides.
To keep your journey less boring don't forget to have downloaded apps such as Netflix, Amazon Prime, or whatever you like to watch. Depending on the wi-fi and cell signals might not be very convenient. The crew is also very helpful overall and it's not a bad experience for traveling.