Packing your belonging for the next trip is a hassle already. If you don't bother finding out about the airline's ruling, pack everything, and later discover a certain rule that needs you to unpack your hard work, things won't be very pleasing. Right?
Those who are taking a flight on Qatar Airways, you are here to find out about the baggage allowance and other related factors. Knowing how strict is Qatar airways on baggage plus maybe a few helpful hacks on avoiding or at least saving possible cost, are what we are planning to talk about today. So, Keep on Reading…
How Strict is Qatar Airways on Baggage:
You Need to First Know About the Existing Limitations!
For flyers, Qatar Airways is a very well-known and often used option to travel in an extensive route network. Usually, it's the trip to Asia, Africa, or maybe beyond those. Now depending on the routes, allowance can be varying. By the term allowance, I mean weight, size, and fees for baggage. It can be either hand or hold luggage. Let's find out about the packing limits for both below.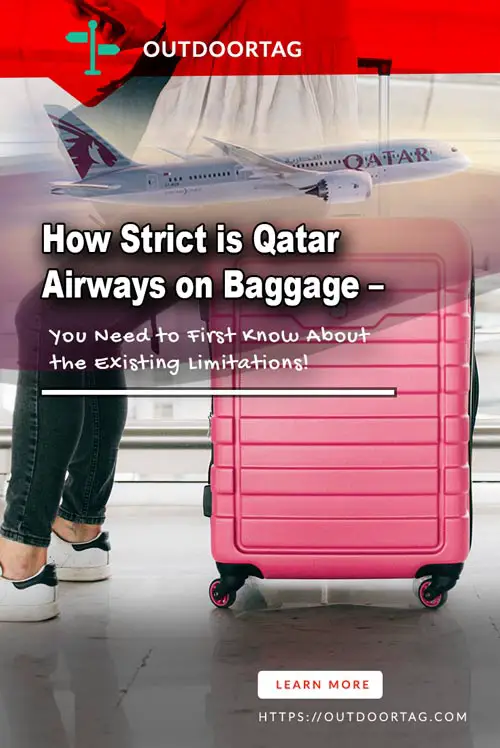 Hand Luggage Allowance
The maximum carry-on bag dimension is 50cmx37xmx25cm. In case of weight allowance, you can carry around 7 kg for an economy fare. You can take one carry and one personal item bag. While those who are traveling in Business and first-class, you are allowed to take not more than 15 kg.
Here the allowance is 2 baggage. Now if you are checking in with a size bag that is over the limit, they'll charge you around 70 dollars for each extra item. This can vary based on the route you're traveling in.
Hold Luggage Allowance
Now if you are traveling to or from Brazil, then the hold baggage size needs to be 158 cm in total. This total includes the sum of length, width, and height of baggage. The same goes for traveling from or to Argentina, Canada, and the US. For any other destinations, this can be a maximum of 300 cm.
The weight allowance of hold luggage for traveling to or from US, Canada, Brazil, and Argentina is 23 kg for each bag. For flights from Africa, Casablanca, and Doha, the maximum weight here is 45 kg. And for all other destinations, maximum weight can be 30 kg.
In terms of hold bags number allowance, you can carry up to 2 hold luggage each person without cost when traveling to or from Argentina, Canada, the US, and Brazil. For any other destination, there's no limit to this.
And finally, for the required allowance of hold luggage, you don't need to pay any fee. But for any additional bags, you need to pay 25 to 55 dollars on each kg extra if paying online. At the airport, they can charge you 30 to 70 dollars for same one kg extra.
If You Are Planning to Bring Musical or Sports Gear.
In the case of bringing sport or musical gear, there are few things you should know about. First of all, Qatar Airlines have no problem if you travel with fishing gears, tennis rackets, or even golf clubs. Just make sure the thing is fitting within size and weight restrictions.
For items that have some more weight, for example, maybe a bicycle, you need to bring a closed box or bag for packing them. This type of item will go in the hold. And so, you need to pay special fees for such stuff. Check out their website to find more data on this.
Now for musical instruments inside the cabin. You don't need to pay anything in such case. Unless it's a trombone, accordion, or guitar we are talking about. Then you need to get it a seat of its own.
Also, if the things are too fragile for residing inside overhead lockers, you need to get an extra seat. The same goes for instruments that are not fitting inside your hand luggage allowance.
Travelling Smart, Avoiding the Consequences of Extra Load!
Now is it possible to beat these extra charges for baggage? Well, you can follow a few things and try to avoid the situation.
First of all, try to find out more about smart packing accessories. With so many luggage accessories available, improving your efficiency is easier nowadays. For example, packing cubes that come with smart tiny compartments. Then you can bring some passport wallets, jewellery holding cases and so many other things that help to organize and fit things better than before.
With Qatar Airways, unfortunately, you cannot carry your laptop bags as well as laptop as personal items. Simply put them inside the cabin bag and avoid taking extra laptop bags. If the dimension is right, then there's no such trouble to deal with.
There can be tiny stuffs inside that are causing your luggage to weight more than the 23 kg limit. For example, some wooden bookends you're carrying for gifting. Simply put them inside a smaller bag. Or maybe you can ask your friend who's accompanying you to carry those. Share the weight and you can sidestep those extra cost hassle.
Around the opening of bag, you should pack a bit heavily with clothing items. So that in case there's any over-weighting you discover later, you'll easily pull it out and wear under your dress. You can add coats, umbrellas, shawls and such personal item and avoid any extra charge. If it is on your hand or simply around your waist, there's still no charge required for those items.
Wrap Up
And that was all about how strict is Qatar airways on baggage. Taking notes like this can help you sidestep that sudden shock of the additional cost. And this isn't applicable for only Qatar Airways. You need to find out how strict is American airlines with carry on size in case you're traveling with them. Or any other airlines you chose to travel with. The main point is, why would you pay extra when you can handle those additional items by packing a bit smartly beforehand. Have a Safe Journey!