Overweight passengers usually have quite sad stories to tell about planes and some even experience very humiliating stuff that is surely upsetting. Getting kicked out of the plane or forcefully having to get two seats are not very unusual scenarios with ones who are more on the weighty side.
And that's for sure not something anybody would like to experience. However, if you take some time and know about a few things before getting on the plane, there's still a very good chance you'll have a comfortable flight that has nothing to do with the fact of being obese.
Finding how much do you have to weigh to buy two plane tickets and then making the purchase earlier to avoid any mishap on a flight is the first thing to do. Keep on Reading…
Here's How Much Do You Have to Weigh to But Two Plane Tickets.
As an overweighted person, you do not have to feel deprived of the adventures and fun of traveling. We will be finding the information of when you need to get two seats as well as share some really helpful tips for having a nice flight.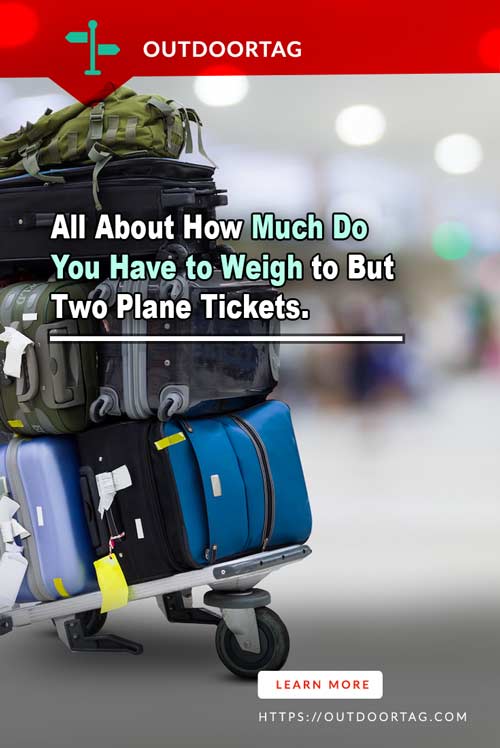 Check the Seat Policy of Your Airline.
There is a document names contract of carriage that should be published from the airline you're traveling in. You may have already checked it and not find anything regarding the second ticket purchase.
Well, that's because the airlines typically lie to handle overweighted passengers on a case-by-case scenario. And so, you need to send an email to the customer service department of your airlines.
And ask them about the point exactly to fetch information. There are even cases of airlines changing their policies without any notice to customers. And so, you should frequently check with them as well as get the latest contact of carriage copy from airport ticket counter beforehand. Reviewing it earlier will save you from the sudden shock.
General Size Policies.
Expending on which airlines we are talking about the size policy keeps changing. But here's how the things are with certain famous airlines:
If you are traveling with Alaska Airlines, then the general ruling wants you to comfortably fit in their one seat. You should be able to place your armrests in a down position. If you doubt the possibility, buy a second seat. On the flight, if you are able to fit in one seat, there will be a refunding option. But in the case of one seat booking, if you become eligible for flying only with two seats on flight day, you may have to take next one because of seat unavailability. This ruling is also similar to Allegiant.
If you are traveling with American Airlines, then any need for seatbelt extension means you need a second seat. Also, the body cannot extend beyond one inch from the armrest's outermost edge.
They usually recommend plus-size passengers to book a second ticket in advance. Or else they won't be able to take any responsibility for fare difference with 2nd seat purchase on flight day. Also, you may need to go with a later flight due to the unavailability of seats.
Delta Airlines have a pretty convenient seat policy however for obese passengers. They won't ask for additional seat booking. Instead, you can let them know if the Economy class seat with 31-32 inches legroom and 17.2 inches width isn't enough for you.
And they will allow you to take a seat next to empty available one. They also allow paying for a First/Business class up-gradation. You can also ask for a seatbelt extension but carrying one to the plane isn't allowed.
With Frontier, you need to book a second seat before the travel day if unable to put down your both armrests. In the case of Hawaiian Airlines, ruling is same as Frontier.
Know About The Alternative Route to Second Seat Purchase.
There's an option you can opt for instead of buying two adjacent coach seats. And that's up-gradation. You can choose to go for a business or first-class ticket instead. Do some calculations and see for yourself if the price seems to match.
Tips to Fly When You Are Overweight.
You should look up online for finding the seat dimension of airlines you're traveling with. Also, grab information on the two-seat configuration as that will work better on your favor.
Traveling with someone who is quite the same sized as you can be a great idea too. You both can share the second seat and save some cost. Plus, it will be less bothering when you have a friend to relate with.
Some airline allows seat belt extender. If your one's too, then buying an extender can be really helpful. You can also ask for the extender to flight attendant and they can help.
There are programs that let you earn airline miles. If you manage to get these enough, then upgrading to a business or first-class large seat will be easy.
Try to book the flight during a time when people chose not to ride a plane. Very early morning shifts are usually less crowded. And that means you'll have better chances of empty seats.
And Finally, DON'T FEEL BAD ABOUT YOUR SIZE! Just like anyone else you are also very much capable of taking a flight. And your weight does not determine your way of enjoying life. It's completely okay to be a large person in a room until you are confident enough to go on vacations, have the time of your life, and don't believe in limits.
Watch This!
Wrap Up
So how much do you have to weigh to buy two plane tickets actually depends on the airline's ruling. And there's no weight figure one can give you. As people with the same weight often measure differently. So more than the weight, you need to know about seat's dimension and find out if it's good enough for you to travel comfortably.
Also, the dimension will tell you if there's needed to get a second seat or not. That's all for today, see you soon in some other topic, have a nice day.