Bringing a bunch of tiny useful items on your next flight is definitely the way to go. Getting a nice travel-size pouch or purse and stashing it with proper essentials can really make your flight more comfortable.
On that note, let's explore the topic.
Exactly what can I carry in my purse on a plane and how much of those are allowed to bring? Well, that's exactly what I'll be talking about in this piece of writing.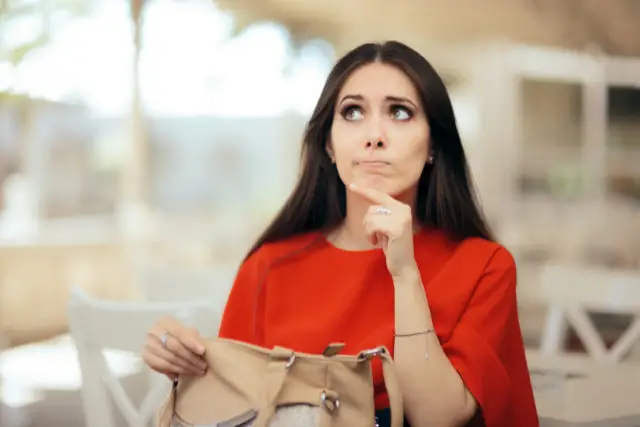 What Can I Carry in My Purse on a Plane – In-depth Answers
Depending on which airlines you choose to fly with, whether on international flights or local flights, your purse can be your carry-on baggage if you can't have both. For example, you can carry only one personal item on airlines with budget seats on Frontier, Wow, American & United. In that case, you cannot bring anything else after including a purse.
Of course, your worn clothes and handheld items such as an umbrella should not be a problem. Aside from those, here are some things you can bring inside your purse that can be useful during the flight: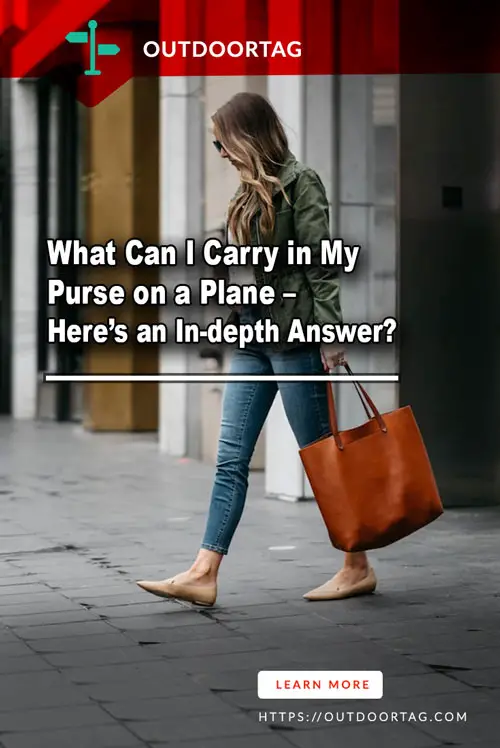 Essential Items I Can Keep in My Purse
Now the first set of things I want to prioritize has to be ones that are must-haves, like your identification form, passport, wallet, visa, and so on, in your purse or in your carry on luggage. These are things you need for travel and no way they can be misplaced.
You would want to keep documents inside your wallet so that there's less chance of losing them.
At the security checkpoint, your wallets, money, and keys can get beeped by the metal detector. Don't worry; it happens even when thesy are inside the purse. But still, you want to carry them.
Other essential things such as over-the-counter medications or prescription that you may need in an emergency should also be in your purse. You can also put them in your carry on suitcase if you want to, but not in your checked bag at any time.
Apart from these, carry random useful things such as tissues, wet wipes, and maybe a sewing kit to kill time. Just make sure if you bring sharp objects, then it should not have a blade longer than 4 cm. Utility knives and pocket knives of the same length will also be considered, and you can bring them along.
Can I Keep My Favorite Gadgets in My Purse?
Small electrical devices are okay to bring inside your purse. For example, your mobile phone is an important thing you want to have on the flight. It's completely fine to keep that in your purse and for sure, the security officers will let you carry on with your flight.
But you need to turn it off during the landing and taking off. You cannot also use any cellular internet applications or call someone when inside the flight. Until you don't break this rule, it's okay to bring your smartphone along with you.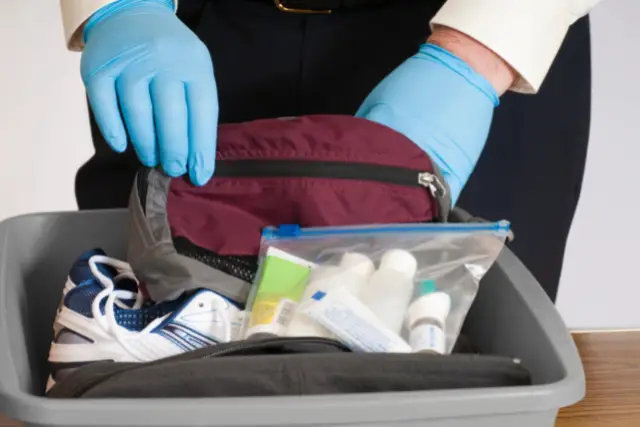 Can I Carry Lotion in My Purse?
You can carry a few toiletries inside the purse if you should use them during the flight. For example, a hair gel or mist. Just make sure those are not in a large container. Bring them inside clear transparent bags. You can carry your favorite lotions as well as face creams and keep them in some type of a liquids bag.
Skincare is acceptable inside the plane, but based on the TSA liquids rule, liquids and gels cannot be more than 3.4 ounces. Make Sure you place all the small zip bags inside a big transparent one to avoid any leakage. You can also get travel-size containers to store them.
There are instances of people having to repack the large containers and keep them in their carry on bags. It's best to take early precautions and pack them in proper containers to avoid the hassle. Most local stores and even chain pharmacies will have these containers or supplies for a very cheap price.
Food and Snacks I can Have in My Purse
Carrying a few food and snack inside your purse is a good through. And it's also acceptable most airlines. However, be careful when taking liquids and fluid ones. As there are some restrictions to these.
Most of the foods are fine to bring. But you should not include anything fluid as yogurt. Drinks are usually pretty large than what is permitted. And that's why it's best to skip foods that are in liquid form. You can always buy drinks at the airport. These are pre-screened and so, you are allowed to take them.
Outdoor Speak: Learn some tips on packing food items and other stuff like protein powder — How To Pack Protein Powder For Air Travel.
Unwrapped Gifts Ready for Security Checks
Gifts that have wrapping are not technically restricted items on board. But since there's gift wrapping, you may need to unwrap it at security checkpoints if they ask you to. And that's why TSA usually suggests passengers bring gifts without wrapping. You can simply carry it inside the bag or keep it in a plastic bag and wrap it when you arrive at your destination.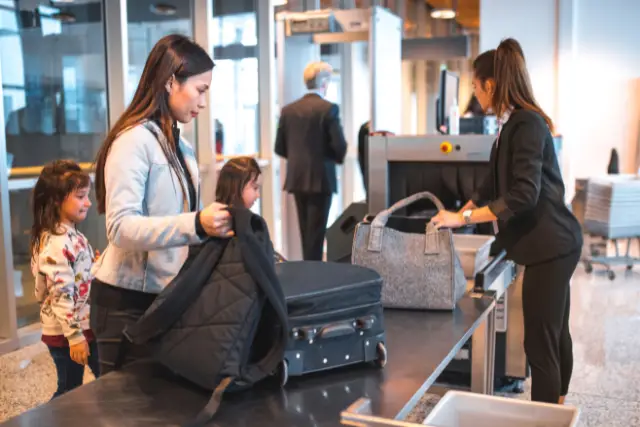 Can I Carry Makeup in My Purse?
Wondering about can you bring makeup on a plane is a common sort of question many women tend to have. However, there's usually no restriction in carrying these beauty items. You can very well bring your compacts and lip glosses, maybe a few blush powders too.
TSA rules state that the container of these products cannot be more than the permitted 3.4 fluid weight. If you own an expensive bottle of foundation, it's best not to bring the original packing.
There are travel kits available in small sizes that you can buy. Simply transfer your liquid foundation into those. And for the trip, this can be your makeup to use. Also, you can carry the original bottle inside the checked luggage.
Outdoor Speak: Would an airline allow you to bring a roll-on deodorant inside a plane? Read on to find out — Is Deodorant Considered A Liquid.
Final Thoughts
Wondering what can I carry in my purse on a plane was once upon a time something familiar to me too. But with many trips, this matter has now become simple and nothing confusing. If this is your first time flying, or perhaps you don't know about the latest regulations of planes, then these guides can really help.
Make a quick research on this matter a bit more so you can pack your things accordingly. Have a safe and pleasant flight!