Indulging into the fitness lifestyle is a hard thing to do for you already. And now that there's a trip you cannot (or may not want to) skip is making you think twice if you can keep following the routine.
But then…
You are determined not to leave the lifestyle behind and at the same time keep fit without a skip. You'll go for a jog and keep up with the spinning sessions. And you will bring your energy supplies along.
That's why you need to learn how to pack your powdered protein for air travel because you need it the most. Don't worry, I've got exactly what you need to know!
How to Pack Protein Powder for Air Travel Without Breaking Any Rules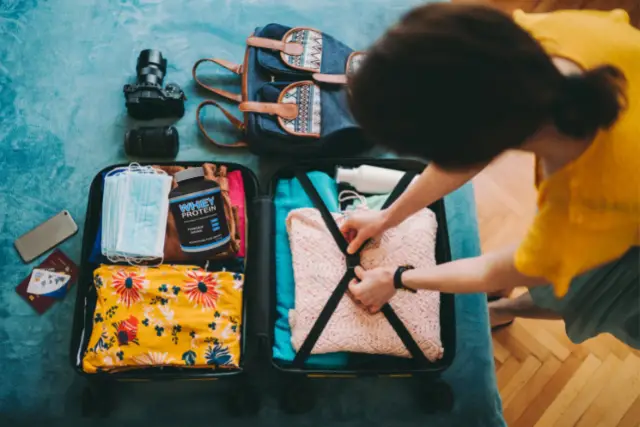 According to the TSA Protein Powder Regulations, you can bring your favorite protein powder on a plane. Yay! That's great news, isn't it? But then, there are more things you should keep in mind. I'll walk you through them, don't worry.
Learn the ropes…
Tips & Tricks
You should first think about the size and space in your luggage in an efficient and effective way. Then think about the airport security checks through the x-ray screening of airports and customs agents.
Be organized in putting which stuff where. Keep in mind that when packing protein powder and your other muscle-building stack to bring your powder on a plane, there are more things to consider.
Packing & Traveling with Protein Powder
Some people think that packing capsules are a pain. However, it's still simpler than bringing protein powder, portable pre workout, or any similar consistency.
If you have enough space inside your carry-on, you can also put it there so that way you will have the chance to explain to TSA what it is and have the opportunity to prove its contents. Due to the powders being white in color, they can often be misunderstood for something else.
And that can lead to a situation where you are required to go through search and seizure. That's why checked suitcases are a bit tricky because there are times they keep on guessing what the item is and that can lead to delay.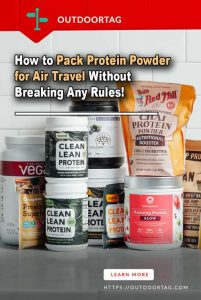 If the protein powder is completely white, don't carry it in any other bag or box. You should bring its original retail packaging so that the airport agents can figure out the origin quicker rather than leading them to doubt the whole situation.
Protein powders these days are hardly white in color. Also, the white-colored ones are not very easy to carry.
If it's a BCAA powder you need for a workout, then pack it inside the carry-on luggage. While for calcium and magnesium formula, you may need to carry it inside the checked bags. This is because there's some scrutiny to the matter.
The plain vanilla flavor ones are usually cream color. So, the chance of it drawing interest is also less. If the color is not an issue, you can repack it.
Also, the original packing of protein powders often comes with a lot of wasted air inside that can cause the container to burst or crash. So, there's a chance the TSA officer will tell you to leave them behind.
After packing one serving of powders in one small Ziploc bag, and keeping all one serving Ziploc bags together, pack them in one transparent plastic bag so that there's no chance of leaks.
Also, if you are wondering how much protein powder you can carry on your luggage, any powder-like substances greater than 12 oz will not be allowed to pass. You can buy plastic bags and scoop them in, one serving on each.
Quick Fact: You can bring protein bars on a plane because it is considered solid.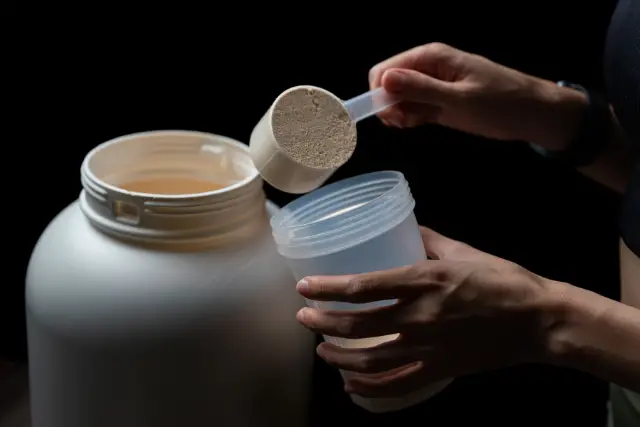 Outdoor Speak: Be aware that airports are tight in terms of security and safety! Did you know that there is an airport terminal that spans two countries? Learn here — What Is The Only Airport That Has A Terminal In Two Countries.
Watch This!
Final Thoughts
And that was how to pack protein powder for air travel without facing any problems. Of course, powder consistency items and belongings are a bit tricky to pass through the airport's strict security. But if you learn the tips and advice from this post, it will be less likely that there will be any issues.
There are no two ways about taking safety steps and knowing the rules and regulations. So, make sure to do the necessary on packing all your protein powder and similar muscle-building supplies the right way for a flight.
Pack safely, fly smoothly!