Taking a plane for a trip is fun until your kid is also accompanying. Making sure your little one is not frustrated and scared of the whole experience is one thing. Being not sure of how to protect stroller when flying is another huge one.
As you may know, your kid will surely need the stroller on a flight. You might have already got to know about a nice single or double type, paid for it and now you're not sure if it will come back, or even reach the destination in one piece.
Well, put on your reading belts as today I'll be sharing some thoughts on what you can do to protect your baby's one of the most important items.
Here's How to Protect Stroller when Flying with Your Child.
If you went through the phase of asking "What kind of stroller can I take on a plane", then the matter of bringing a lightweight and compact one should be already inside your head. Now anything that has a little bit of weight is usually fragile, and there are more chances of damages to such things. This fact right here can be enough for you to understand why a discussion of protecting the stroller is so necessary. If you are nodding your head right now, then keep on right.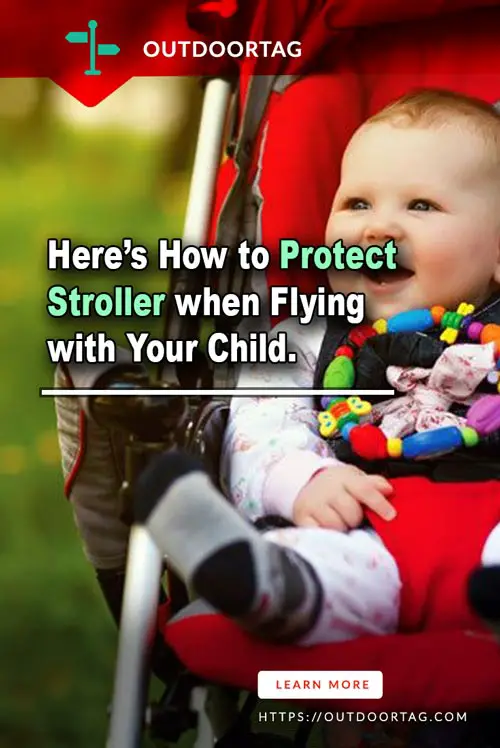 Even If It's Fragile, You Should Still Bring Only Compact Ones.
When choosing a stroller for the flight, there's a good chance you will go for compact ones anyway. And most of the time, your reason to go for a portable one is the fact that these are easy to travel with. But there's another benefit quite directly related to this whole stroller protection part.
If you consider the worst-case scenario to this matter, then it must be your stroller being damaged. Now if this stroller was an inexpensive and lightweight one, the thing would feel a tad bit less frustrating.
Imagine taking the one you bought for a good price and something bad happens to it. That situation would feel much burdened. So, for the sake of taking risks as little as possible, you should think about getting compact, cheap options for a stroller. Not just because of the lightweight design but because you want to face less damage overall.
Getting a Stroller Bag Is Your Next Task.
Checking the stroller at the gate must be very bothering. Especially when you know the fact that most of those items will go below the airplane. And there's no guarantee you will receive the stuff in one piece. One of the most effective solutions to this is getting a suitable stroller bag.
Not only will the bag protect your stroller from any hurtful situation buts also it's going to keep it clean. You will find more than just a few options with it. But don't take the stress and try to go for a convenient one. Something you know would help to keep your kid's stroller safe.
Getting a Tag for The Stroller Bag.
Now comes the part of using stroller bag. When you are going through security, simply fold and keep it on the bottom of stroller. You can walk to the gate with your child sitting on stroller. Once the time to board your flight shows up, ask for a tag. You need it for the bag.
This is for the airport personnel to identify the stroller bag. They will only then be able to know the bag belongs to you and there's a need to return it on gate area of where you'll land. If you skip this important part, then there's a good chance the bag will get lost among all ] items that came without a tag. The ones without a tag can also enter the baggage claim area.
For Smaller Stroller That You Can Store in Plane.
If you carry a small stroller and also the flight seems to be not full, then carrying it on plane can be possible. Most of the time, these strollers stay right in the overhead bin. This is where your carry-on luggage stays. You can easily access the stroller here. If you bring it on board then there's very little chance of losing it.
In Case of a Connecting Flight.
There can be a situation of connecting flights. There should be some extra space on the gate that you are supposed to fill for checking stroller at gate. Here you can simply write down your next flight's number.
Some people like to avoid this situation. As there's a good chance of the stroller getting lost. Especially when it's a pretty short layover. You can also try picking and checking it on the next gate all by yourself.
Watch This!
Wrap Up
And on that note, you now know how to protect stroller when flying with your kid. Strollers that are quite bulky and can be a pain to deal with, especially in a flight. And so, if it's not very urgent you can think of skipping it.
However, usually, the case is not like that and it is actually a very essential thing for your kid that you cannot sidestep. In such cases, you need to take a little bit of risk. But still, I'll suggest you try your best to protect it. If you are not absolutely unlucky and the situation favors, then hopefully nothing will go wrong, and your kid's stroller will land in one piece.