You are having a trip to Peru. It's going to be very surprising if you don't stop at Machu Picchu as this is one of the 7 wonders of modern world. And anybody who doesn't want to fall into the unlucky group of people will definitely include this place in their journey.
However, your trip to this spot is itself going to be very adventurers. As you'll be accompanying a good pair of trekking shoes paired with a waterproof jacket on the journey that comes with a lot of sights you won't be able to forget any time sooner. The architectural works with amazing landscape on road will make you want to not leave this breathless experience undoubtedly.
Today, I'm here to talk about one of the common routes to get here. We'll be discussing how to get to machu picchu from cusco, from where the actual journey begins usually.
Here's How to Get to Machu Picchu From Cusco.
The whole piece of writing is designed with some tips that will help you to have a better experience along with the actual route guidance. Keep on Reading…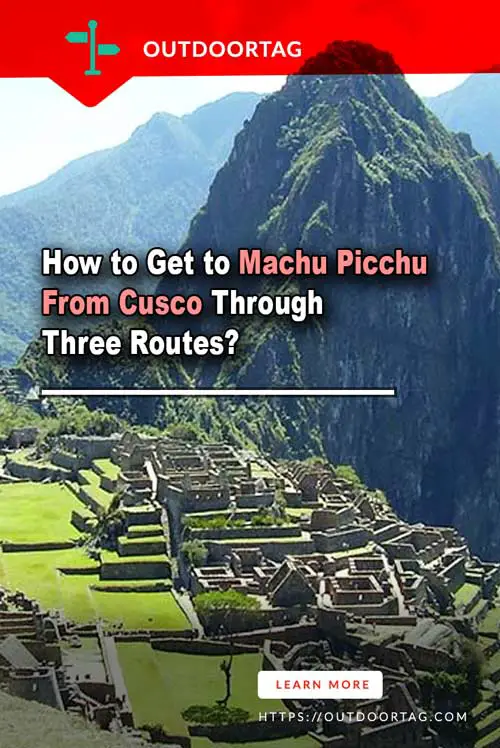 A Summary About the Routes
If you are planning to visit Machu Picchu, you'll need to take a flight for Lima and then a connecting one for Cusco. As there's one airport which is close to your destination. Taking a bus from Peru can be a great thing to do if you wish for seeing more of the place. There are Lima to Cusco busses available.
Once you arrive at Cusco, there are three options for you to get to Machu Picchu. You can hike and reach your destination. Or take a bus that routes to the place. The last one is hopping on a train that goes to Machu Picchu. Let's talk about all the possible ways.
If You Want to Trek
The elevation for Machu Picchu is actually 7,982 feet. Compared to the Cusco altitude, it's pretty lower. So that's a fascinating thing you'll discover hiking to the spot. There's an Inca trail that you can choose for hiking and it's pretty short. Here you'll go over 13,123 feet.
Before you try any trail for reaching Machu Picchu, you should prepare with proper training. There are treadmill set climbing exercises as well as stairclimbing activities that really help. Your muscles get properly prepared for the hill's steepness.
And so, you won't feel the trail to be very hard for the body. Even if you don't choose to hike, it's best to include such gym workouts. Because the entire area is pretty surrounded with hills. And you will need a lot of leg activity once you arrive on the spot.
If You Want to Travel Through Train
Some people do not have a vast amount of time to spend hiking. So, choosing the train option can be only route in that case. You can take a train from Cusco to get a fast and convenient ride, there are more than a few different services available.
The premium train travels are great to experience with railway cars included. You get to enjoy huge windows on both sides. And so, the views feel even more amazing to watch. There are also overarching skylights with some of them.
These make the incredible mountaintops and forest views available for you. Most of the tickets will include non-alcoholic beverages for you to enjoy. Also, the premium trains provide WIFI services.
Once you chose the rail travel option, make sure to book your tickets in advance if possible. There's the option of buying it in person. However, you cannot be sure of getting a seat. So pre-booking is the best and safest thing to do.
If You Want to Take the Bus
Some of you may want to take a bus to reach Machu Picchu and that's very well possible. You need to mix up a bit of rail travel with bus riding in that case. Simply take the collective from Cusco. This will take you to Ollantaytambo.
From this spot, you can ride the Inca Rail. And the rail should help you get to Aguas Calientes. The trip on IncaRail needs your advance reservation, so keep that in mind. After you reach the Aguas Calientes, there should be a bus available to take to reach the entrance point. Or you can simply walk and arrive at the site.
Outdoor Speak: From seeing the ancient temple in Peru to riding the auto train in the USA, your adventure never stops — Cost For The Auto Train From Florida To Virginia.
Watch This!
Final Words
And that was some guidance on how to get to machu picchu from cusco. There are many routes but mostly these three are usually available ones. You can install a navigation app on your phone to be even assured about the routes.
Choosing a flexible tour guide can also be an option. Before you actually leave, there are some other things to do as well. For example, do your research on what you need to pack for the site. Also, don't forget to check the various lodging options.
The weather patterns of Machu Picchu are also something to be aware of. And finally, take notes on what activities you can engage in after arrival. That way your tour will be full of discoveries and memories to last you a lifetime. Good Luck!