Imagine you're taking a flight that allows carryon as much as you want to. No matter the place or time, you have no restrictions on baggage to follow. Sweet Dreams, right? Well, we all know that's never the case and probably won't ever be any time sooner. After dreaming such a sweet thing, let's jump into the blunt reality. Airlines are pretty strict on baggage. And if it's American Airlines we are talking about, then the case is pretty severe.
If you have an upcoming flight to take with them, finding out in detail how strict is American airlines with carry on size as well as the charges for extra things is necessary. Let's help you with that today…
Discussing How Strict is American Airlines with Carry on Size.
Form baggage size, weight, and the whole behind charge let's go through all one by one below. Keep on Reading…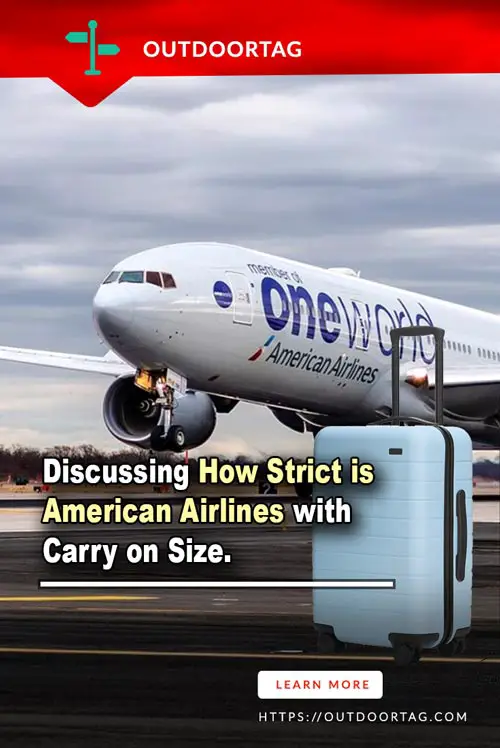 Allowance for Carry-on Baggage.
The whole scheme for carry-on standard baggage includes a personal and one carry-on item for each passenger. By personal item, it means something small and handy, such as a purse or small handbag. Anything that can easily fit right below your seat will fall under the personal item something. However, the dimension cannot be anything more than 18x14x8 inches.
In case you are traveling with a child, you're not allowed to carry a diaper bag as a personal item. You cannot bring car seats of child's safety, medical items, breast milk included soft side cooler bags, and strollers as personal items, however.
In case you are bringing a car seat or stroller, those will need to be included as checked baggage. Now the item you are going to bring a carry-on need to fit within the overhead bin. Or at least beneath your seat. Or else there will be a checking required. There are their carry-on bag restrictions available that you'll discover after reaching airports.
Also, when traveling with carry-ons, you should consider labeling those too. Another good news is that you can carry a soft side garment bag as a carry-on item. It should be not exceeding 51 inches summed by height, width, and length.
If you are taking musical instrumental that fits inside the overheard bin or seat underneath, then those are also considered a carry-on. Your kennel or container carrying pet is also counted as carry-ons. However, there is a carry-on pet fee applicable.
In Case of a Carry-on That is Oversized.
Fitting your bag within AA sizer is the thing you need to ensure. Until then, you should face no trouble altogether. Also, airline would show you generosity when it comes to the bag's depth. Because it's a common thing to know that suitcase may have bulge here or simply the area is expandable. And that's why the size will allow a slightly extra leeway. Which is usually the depth of bag.
Also, if your bag does not seem to be very larger bulky, they won't even bother measuring it. So, here's another good news that might just be your case. However probably can also hit anyone, and it is hard to guarantee that you won't be one of the unlucky ones who'll go through a measurement checking.
Suppose you are carrying bag that looks pretty large and bulging to make things noticeable even more, then taking out a few personal items can be a solution. For example, there may be a huge jacket inside that you can simply take out and carry in your hands. Usually, those extra bulky jackets are the reason behind pack mule. And it makes you stand out from a crowd. This can be a very sure proof invitation for bag size check in sizer frame.
However, you should also keep in mind that American Airlines doesn't actually try enforcing such checks. It is just that they are fearful of the whole thing. This is a kind of ritual you can say that the AA would want to do on certain passengers from time to time. So that people around can see and learn to always follow the carry-on size restrictions.
Free Gate Checking.
Now for most cases, the carry-on bags that are checked are usually done for free. However, if the reason is something else, then case can be different. For example, sometimes, American Airlines will force someone for checking the carry-on. Because it was very obvious that the bag can't fit overhead bins.
Now if during checking, it is discovered that the carry-on size is restricting maximum dimension rules, then there's a fee applicable. You can see a lot of customers not understanding the rule and feel like a mess.
Sometimes the commuter jet you are flying on is also small. So, the whole process becomes even stricter with the carry-on bag. There can be a lot of reasons for checking and charging fees. The best way to avoid such a mess is always packing light and following regulations by all means.
Getting Quality Bag That Fall Under AA's Carry-on Limits.
When you are trying to look for a suitcase or bag that would be under the American Airlines carry-on limits itself, there are a few tips that can further help.
First of all, it should feel lightweight and come with a durable hard case if possible, so that there's no chance of hurting fragile items inside. Not to forget the wheels, better if it's 4-spinner type as these are super effortless in transporting.
Next, you want a good lock system, built-in TSA combination locks are ideal. Something that comes with 5-6 years of warranty is also a preference as these are pretty expensive and you want to invest for a long time rather than spending again and again.
And finally, to easily arrange smaller items, shoes, and clothes, look for internal separators included suitcases.
Watch This!
Wrap Up
And finally, we have come to a conclusion about how strict is American airlines with carry on size. Now your job is to utilize the information and pack according to avoid any cost shock when at airport or flight. And such researches are highly recommended in every case.
You should reach out for data on how strict is Qatar airways on baggage when traveling in it. Or perhaps you are taking a flight with some other airways. No matter which one you are traveling in, it's best to know the most about baggage rulings, allowance, and similar things. Travel Safe & Enjoy Your Flight.